11 Awesome Movies You Need To Watch Before They Leave Netflix In May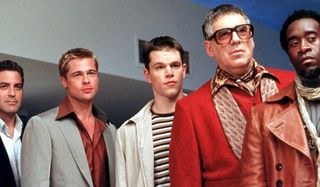 The promise of summer leads to such exciting possibilities, and we've seen quite a few of them on May's incoming lineup of Netflix titles. But with renewal comes departure, and as such there are a number of films that will be leaving the halls of your streaming library in the coming month. Of course,, we're here to help you prioritize which ones to watch before you get to the more obscure titles on the list. April's lineup may have seen some iconic departures, which you can always revisit to make sure you didn't miss anything, but the following titles leaving in May give those films a run for their money.
Bridget Jones's Diary
Don't let the preconceived notion of this Renee Zellweger romantic comedy's charms fool you, as there's something for everyone with Bridget Jones's Diary. At least, there is if you have an open mind. Sure, there's a fair amount of romance and the dramatics involved with the pursuit of true love, but Bridget herself is such a warm yet sharp character that the wit of this film helps turn the mushy stuff other films would limp by on into something with more solid laughs. That, and the combination of Hugh Grant and Colin Firth is one that should not be rejected lightly.
Field Of Dreams
Baseball season is already in full swing, with fans starting to talk up how this year is going to be their team's big run at the bigger show. Yet past all of the competitive talk, and the commentary on what's going right or wrong, the game sits squarely in the middle, just wanting to be respected. That said, Field of Dreams is one of the best films that respects the sport of baseball, showing it as a common thread in the lives of Kevin Costner's Iowa farmer, Ray Kinsella, his family, and the baseball players whose spirits show up in his cornfield baseball pitch. This is a legendary film that "makes men cry," but if you're a human with a pulse, that last scene's going to pitch a curveball into your tear duct.
GoodFellas
When Martin Scorsese gets into a story he can really riff on, the product is a rambling narrative that flows as easily as Goodfellas does. Whether you're a newcomer or a returning fan, watching this movie always feels as fantastic as the first time you saw it. Keeping that in mind, you might want to get in on one last round of Henry Hill's true to life antics, as they're leaving your instant queue at some point in the next month. See it, or be prepared to go home and get your shinebox.
Ocean's Eleven
File this one under the "wrong timing" category as Ocean's Eleven is leaving Netflix in the month prior to the debut of Ocean's 8. Although, that very same filing could be turned around and made into a "perfect timing" call, as how better to motivate a person to experience George Clooney and his merry band of robbers? Almost two decades of heist films stand in the shadows of this slick reintroduction that was made between the world and exciting criminal capers. Yet for as many films that were inspired by Steven Soderbergh's Ocean's Trilogy, few can hold a candle to Ocean's Eleven successfully.
Silent Hill
Video game movies are supposedly cursed, as they tend to be products that both undermine the original and produce horrific films as a result. That's not the case with Silent Hill, as this underrated adaptation of the best selling Konami franchise takes the source material, and turns it into a truly cinematic experience. Atmospheric horror rules every frame of this film, with a good mix of actual drama and emotion thrown in to ground the entire film in a way that most video game adaptations, and the source material, so rarely achieve. Also, a fun fact, this is one of those rare films Sean Bean gets to survive through!
The Exorcism of Emily Rose
Big time film directors all have to start somewhere, especially if they're gunning for a spot in the Marvel Cinematic Universe. In the case of Doctor Strange director Scott Derrickson, his first big studio gig was the horror drama The Exorcism of Emily Rose, which is partially based in reality and partially based in nightmares. The story involves a Catholic priest being charged with negligent homicide after an exorcism gone wrong, making what could have been a standard religious horror film into something that also stands as a legal thriller. So if the presence of divine possession doesn't shred your nerves, the fate of Laura Linney's case to exonerate Tom Wilkinson's clergyman certainly will.
To Wong Foo, Thanks for Everything! Julie Newmar
Patrick Swazye, Wesley Snipes, and John Leguizamo are the last three people anyone would have expected to play a trio of drag queens in a film like To Wong Foo, Thanks for Everything! Julie Newmar. And yet, that fact only makes their performances as three performers stuck in a southern town on the way to a big competition all the more entertaining. It may be a comedy, but Swayze, Snipes, and Leguizamo bring true heart to their characters, playing them for more than just laughs.
Phineas and Ferb the Movie: Across the 2nd Dimension
While Netflix and Disney have had a hell of a partnership over the past couple of years, it's hard to ignore that it will be over soon, what with the studio starting its own streaming service. It's especially present when you see content like the entire Phineas and Ferb library leaving Netflix -- which also includes the film Phineas and Ferb the Movie: Across the 2nd Dimension. Adults, as well as children, have been known to have a soft spot for this franchise, so if you're a regular visitor to the exploits of this extraordinary family, plan accordingly. Though even if you're a newbie who loves animation, you should at least give this one a spin as an appetizer to the rest of the series.
Talladega Nights: The Ballad of Ricky Bobby
Will Ferrell and John C. Reilly are comic forces of nature, and science has proven this fact time and time again. And to think, nobody would have ever picked up on it if they weren't cast together for the first time in Talladega Nights: The Ballad of Ricky Bobby. Sure, Step Brothers is the preferred choice for most of the modern world when it comes to their epic team-up films, and this year's Holmes and Watson might be something to rave about. Still, this comedic romp through the world of NASCAR started it all, and could use a little more love before it crosses the finish line, and leaves Netflix for the time being.
Disney's The Jungle Book
In a removal that also feels like suggests you'll miss the entire Disney library leaving Netflix if you blink, Disney's The Jungle Book is heading off to the human village and leaving the jungle entirely. Jon Favreau's first live-action adaptation of an animated classic was so good it not only attracted a hell of a crowd, but also secured him the gig for The Lion King adaptation that recently showed off footage at CinemaCon. If that footage is as memorable as what Favreau did with this update to the Rudyard Kipling classic, then consider my ticket already bought.
The Hurt Locker
Out of all of the films inspired by the second Iraq war, The Hurt Locker has to be one of --if not the most -- memorable. While most films try to focus on the mindset of the warfighter alongside showing off huge action set-pieces, Kathryn Bigelow's Best Picture winning film doesn't seem to put a preference on either side. Rather, she mixes the wartime imagery with a dissection of Jeremy Renner's bomb disposal tech, creating a portrait of combat that shows a profession not commonly portrayed in such a film. However, if you still want tense moments of action and war, you'll find yourself more than pleased with this one. Just be sure to prepare yourself to feel a little more than you think you would.
Senior Movies Contributor
CinemaBlend's James Bond (expert). Also versed in Large Scale Aggressors, time travel, and Guillermo del Toro. He fights for The User.
Your Daily Blend of Entertainment News
Thank you for signing up to CinemaBlend. You will receive a verification email shortly.
There was a problem. Please refresh the page and try again.