A Behind-The-Scenes Look At Deadpool 2's X-Force, Thanks To Our Buddy, Peter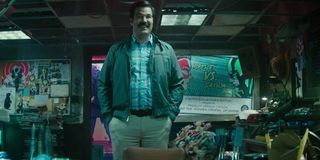 When forming a superhero team, you want to be sure that each member has their unique set of powers/special abilities so that they can pull their weight in battle. For the most part, that's not an issue for the X-Force in Deadpool 2, but in keeping with his trollish personality, Wade Wilson has also added Peter (played by Rob Delaney) to the team, who's not a superhuman or any kind of costumed crimefighter. He's just a normal guy with a cheerful demeanor. It will be fun (and undoubtedly hilarious) to see how Peter fares when the X-Force is thrown into combat during Deadpool 2, but in the meantime, we've continued following Peter's A+ Twitter account, and today he dropped a cool behind-the-scenes photo of his teammates.
Peter may be a great fighter like the rest of the X-Force, but at least he brought his Nikon camera with him to chronicle his time with the team. In the above photo, we see Domino (Zazie Beetz), Bedlam (Terry Crews), Shatterstar (Lewis Tan) and Zeitgeist (Bill Skarsgard) together for their first day of training, and Peter is clearly fond of all of them. Judging by his Twitter account, the most exciting thing Peter does regularly is beekeeping, so to be able to hang out with superheroes and tag along as they go on an adventure is a big deal for him. Fingers crossed that he isn't immediately blown to pieces upon dropping into the battlefield during Deadpool 2, but in case he is, at least we'll have his social media contributions to remember him by.
Wade Wilson will bring the X-Force together in Deadpool 2 to help him protect a young mutant named Russell who's been targeted by the time-traveling Cable. Along with the X-Force operatives, Shioli Kutsana is playing a still-to-be-identified mutant, and Negasonic Teenage Warhead and Colossus will be back for another round of superheroics. The X-Force has been part of the Marvel Comics universe since the early 1990s, so to see the team finally being realized in live action as this film franchise closes in on two decades is great. Better yet, this is just the beginning of the X-Force on the big screen, as an X-Force movie is in development, with Drew Goddard attached to write and direct. There's no word yet on if Peter will be back for that movie, but assuming he survives Deadpool 2's craziness, maybe he'll be stung by a genetically-altered bee and get to buzz around with powers in the future.
Deadpool 2 arrives in theaters on May 18. Keep checking back with CinemaBlend for more updates about the movie, and don't forget to look through our 2018 release schedule to learn what other movies are coming out this year.
Connoisseur of Marvel, DC, Star Wars, John Wick, MonsterVerse and Doctor Who lore. He's aware he looks like Harry Potter and Clark Kent.
Your Daily Blend of Entertainment News
Thank you for signing up to CinemaBlend. You will receive a verification email shortly.
There was a problem. Please refresh the page and try again.