A Black Panther Deleted Scene Confirms Relationship Details For Two Characters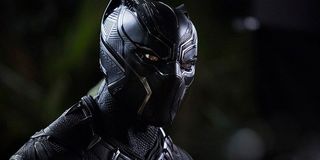 Warning: spoilers ahead for Black Panther! Read ahead at your own risk!
Ryan Coogler's Black Panther introduced the Marvel Cinematic Universe to an entirely new world when it debuted in February. T'Challa (Chadwick Boseman) was obviously the star of the show, but the dynamics and relationships of other Wakandan heroes and villains also played notable roles in the overarching narrative. One such relationship that captured the attention of the audience was the dynamic between Okoye (Danai Gurira) and W'Kabi (Daniel Kaluuya), and now a new Black Panther deleted scene has been released online showcasing the fact that they are actually husband and wife, and had already tied the knot during the events in the film.
The deleted Black Panther scene in question comes courtesy of USA Today (opens in new tab). It takes place shortly after Michael B. Jordan's Erik Killmonger beats T'Challa at Warrior Falls, which sees a massive shift in power take place as the film's villain takes his (potentially rightful) place on the throne of Wakanda. In the cut sequence, W'Kabi and Okoye argue over whether or not T'Challa was fit to lead the country as King, and yell at each other over the fate of Ulysses Klaue (Andy Serkis). They scream and yell at each other, but then the scene turns quiet as they somberly discuss if this is the type of world that they want to bring children into, seemingly confirming their romantic entanglement and marriage with one another. They embrace as the scene fades out, not coming to a definitive consensus in their argument, but doubling down on their love for one another.
One of the most striking things to note about this deleted scene is the way in which it hammers home the moral nuances of Black Panther's story. It is not a matter of good vs. evil; both Okoye and W'Kabi make valid points that come from logical and emotional points of view. Okoye maintains her loyalty to T'Challa even in (presumed) death, while W'Kabi stands by his belief that Black Panther failed him and the country in his handling of the Klaue situation. Nevertheless, the two eventually let their anger melt, and the romance (tense as it may be) between them shines through as they contemplate their future together in an ever-changing world.
It is reasonably easy to understand why Ryan Coogler had to omit this sequence from Black Panther's final cut -- as enjoyable and interesting as it is. The film is already one of the MCU's more well-populated stories, and it has a large number of plates to keep spinning while telling T'Challa's story. This scene between Okoye and W'Kabi goes a long way towards fleshing out the nature of the power vacuum created when Killmonger arrives in Wakanda, but it also ultimately slows things down and keeps audiences from T'Challa slightly longer than necessary. The film already has so many subplots that Coogler likely just didn't see a place to focus on the marriage between these Wakandan warriors without detracting from the main story.
With that in mind, it will be intriguing to see how Ryan Coogler and the folks at Marvel take this idea and flesh it out as the MCU progresses. Both W'Kabi and Okoye survive the events of Black Panther, and while they both end up on opposite sides of the conflict in the movie's third act (and W'Kabi ends up in custody by the end), this scene confirms a complex and fascinating relationship between them. Given their history, it seems reasonable to assume that they will need to put in some work to get over their differences. Maybe Wakandan couples therapy is in order?
With Black Panther now standing out as one of the Marvel Cinematic Universe's most promising burgeoning franchises, we will have to wait and see how this dynamic between Okoye and W'Kabi evolves as the MCU continues to explore the nuances and dimensions of Wakanda. For now, you can catch Okoye and T'Challa in Avengers: Infinity War, which is currently in theaters and making historic money at the box office!
As for Black Panther, make sure to catch Ryan Coogler's Wakanda-based MCU adventure when its home release rolls around. The film will be available on Digital HD on May 8, and the Blu-ray and DVD editions of the film will hit shelves on May 15. Here's what else is coming up this month.
This poll is no longer available.
Your Daily Blend of Entertainment News
Originally from Connecticut, Conner grew up in San Diego and graduated from Chapman University in 2014. He now lives in Los Angeles working in and around the entertainment industry and can mostly be found binging horror movies and chugging coffee.