There's A Long-Term Plan For Kraglin, According To James Gunn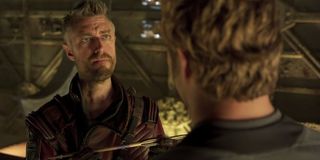 Now that Avengers: Infinity War has debuted to a historic box office opening, the film has generated an insane number of fan questions. For Guardians of the Galaxy fans, one of the most pressing queries involves the whereabouts of Sean Gunn's Kraglin, who hasn't been seen since The Guardians took on Ego in Guardians of the Galaxy Vol. 2. Despite his absence, it turns out that he's still out there somewhere, and there is a long-term plan to keep him around in the MCU. In response to a fan question online about what happened to Kraglin in Marvel's latest adventure, Guardians director James Gunn wrote:
So, although Kraglin is nowhere to be seen during the events of Avengers: Infinity War, there's most certainly a plan in place for how to use him in another Marvel Cinematic Universe adventure. James Gunn has an idea as to where he wants to take the fan-favorite Ravager next, but at this stage, he doesn't seem ready to reveal it to fans.
Warning: MAJOR spoilers ahead for Avengers: Infinity War! You've been warned!
On the other hand, while James Gunn's Twitter post made sure to hammer home the fact that there is a plan for what he intends to do with Kraglin in a future movie, that doesn't necessarily tell us what happens to him during the ending of Avengers: Infinity War. At the end of the film, Thanos successfully manages to wipe out half of all life in the universe. This devastating finger snap means that Kraglin has a 50/50 chance at survival and it's entirely possible that he faded away to nothingness -- presumably waiting in limbo for The Avengers and the surviving Guardians to resurrect him in Avengers 4.
If Kraglin did survive the events of Avengers: Infinity War, there's still a hope that he could become a principal ally in the continuation of the Infinity War story when Avengers 4 premieres. As the new leader of The Ravagers in the wake of Yondu's death, he has access to a vast army of ruthless warriors to help replenish the hero ranks. Beyond that, he also has Yondu's Yaka arrow, which could be a massive asset to The Avengers and The Guardians if he has been practicing how to control it. (It probably would have helped out a lot during that massive Wakanda scene.) James Gunn could also simply be alluding to what he has planned for the character in the next Guardians of the Galaxy-based adventure, so we'll have to wait and see how that all pans out.
End of Avengers: Infinity War spoilers.
Although Kraglin doesn't appear in Avengers: Infinity War, that doesn't change the fact that the film is chock full of classic heroes and villains -- not to mention an awesome array of shocking and hilarious moments. The film is now in theaters, so check it out for yourself to see what all of the fuss is about!
Your Daily Blend of Entertainment News
Originally from Connecticut, Conner grew up in San Diego and graduated from Chapman University in 2014. He now lives in Los Angeles working in and around the entertainment industry and can mostly be found binging horror movies and chugging coffee.
Your Daily Blend of Entertainment News
Thank you for signing up to CinemaBlend. You will receive a verification email shortly.
There was a problem. Please refresh the page and try again.