Solo's Emilia Clarke Explains Why She Hates The Phrase Strong Women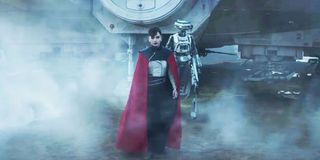 Since superheroes really started to becoming popular in both big screen and TV storytelling, the phrase "strong women" has started being bandied about a whole lot. Strong women have sort of become a catch-all for a lot of things, things like kicking ass and standing up for yourself. Characteristics like having a sharp tongue or not taking crap. Facets that help define a lot about female characters with stronger personalities than they may have had in past generations of Hollywood blockbusters. If you ask Solo: A Star Wars Story's Emilia Clarke, however, she doesn't feel that catch-all phrase is at all a good thing for actresses, mostly because of what it oppositely implies. She said:
Emilia Clarke is a lady in movies and TV who also frequently happens to be a lead, earning fairly meaty roles, and she also told Variety at Cannes that unless she's "packing guns"---and not the kind with bullets -- in future movies, she really hopes she never has to hear that phrase come out of someone's mouth ever again. She has pretty "strong" opinions about the use of strong women, noting it's the fact that women often get that if they are playing mentally capable characters or just interesting characters in general and that it frustrates her that the opposite side of the coin is simply a "weak" female characters.
Emilia Clarke was at the Cannes Film Festival when she explained how she feels every time she is asked how it feels to play "s strong woman" in an upcoming acting project. She also spoke out about what she'd like to hear instead, noting,
In recent years, Emilia Clarke has played a lot of characters that are neither soft nor vulnerable. In Game of Thrones, she plays a leader who often has to make ruthless decisions, and has seen people she loves falter, including one of her dragons, for her gain. She's also played action-heavy characters, like Sarah Connor in Terminator: Genysis. In Solo: A Star Wars Story, we don't know a ton about her character Qi'ra, but we do know that she is a fighter, and someone who will make ends meet to "stay alive." It's not too much of a stretch to guess how many times she's already gotten a lot of "strong woman" comments for this one, especially since Solo: A Star Wars Story certainly hasn't spelled out the whole movie in its trailers. If you've seen previous interviews with the actress, it's a phrase she's asked about fairly often, too.
We'll find out just what kind of character Qi-ra is when Solo: A Star Wars Story hits theaters on May 25th. In the meantime, you can take a look at what we know about the movie with our full guide.
Reality TV fan with a pinch of Disney fairy dust thrown in. Theme park junkie. If you've created a rom-com I've probably watched it.
Your Daily Blend of Entertainment News
Thank you for signing up to CinemaBlend. You will receive a verification email shortly.
There was a problem. Please refresh the page and try again.