Ron Howard Responded To One Star Wars Fan Who Is Sad About Solo's Box Office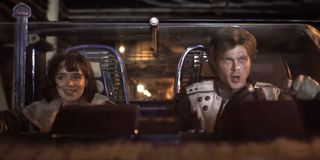 We're a few weeks out from the release of Solo: A Star Wars Story, and there's been a big discrepancy between audiences who seem to feel positive about the movie and people who are just flat-out avoiding the Lucasfilm and Disney venture at the box office. We've known for a whole the movie was expensive to make, and looks like it won't make money because of it, and this week Ron Howard spoke out about the box office for the first time, responding to a fan who seemed sad people are missing out on the movie. He said:
Ron Howard hasn't exactly been quiet on social media following the release of his new Star Wars movie. When the opening weekend for Solo: A Star Wars Story was lower than estimates and Lucasfilm expected, Ron Howard looked on the bright side, pointing out that it was still his biggest opening weekend for a movie, ever. In the weeks following, it became clear the movie wouldn't make up enough money to net a profit for Disney and Lucasfilm, and this week was the first time that Howard addressed that he feels the movie turned out great and should be seen on the big screen. While he doesn't directly address the lack of interest to some people's dislike for Star Wars: The Last Jedi, the fact he tied his comment to one addressing the potential issues is telling. The original commenter who spoke out on social media had this to say:
Full disclosure: I totally agree with Ron Howard on this issue.
Granted, we don't know how much Star Wars: The Last Jedi actually had an effect on the Solo box office. There have been myriad reasons listed for why Solo: A Star Wars Story hasn't been a huge movie either domestically or worldwide over the past few weeks. People's dislike for Star Wars: The Last Jedi has been oft mentioned, while outlets have speculated about the movie simply coming out too soon after the last Star Wars title. Other issues mentioned have included a lack of marketing--remember how late we got the trailer?--as well as the fact there was a lot of controversy surrounding the movie as it was coming together. That could have inspired a lack of confidence in the audience, even though Ron Howard seemed confident about the project once he took over.
Regardless of the reasons for the lack of interest in Solo: A Star Wars Story, the movie has only made a little over $312 million worldwide. Of that, $176 million has been made domestically since the flick's May 25 release. At this rate, the movie may not even hit the $200 million mark domestically. While over $300 million might be a win for some movies, considering Disney and Lucasfilm only rake in a percentage of the box office and the movie reportedly cost upwards of $250 million to make, these numbers don't look so great. Still, it's a shame because people who see Solo have tended to like it, at least well enough.
Reality TV fan with a pinch of Disney fairy dust thrown in. Theme park junkie. If you've created a rom-com I've probably watched it.
Your Daily Blend of Entertainment News
Thank you for signing up to CinemaBlend. You will receive a verification email shortly.
There was a problem. Please refresh the page and try again.