Confession: I Went To See Hotel Artemis Thinking It Was A Kids Movie About A Clock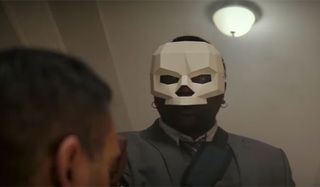 I have a confession to make. I went to the movies over the weekend, and it was one of the most disorienting, confusing and frankly, embarrassing experiences of my entire life. You see, I went to see Hotel Artemis, only I saw the wrong movie. Now, I paid for the right movie. Unlike Dwight Schrute, I even went into the right theater. I just didn't see Hotel Artemis. Or, well, actually, I saw a movie called Hotel Artemis, it just wasn't the movie my brain thought was called Hotel Artemis.
This is getting complicated so let's back up.
It all started on Saturday morning. My wife asked if I wanted to go see Hotel Artemis, and I immediately agreed. I saw the trailer awhile ago, and it was delightful. Live action movies for kids are my jam. Cate Blanchett is one of the best alive, and I'm back on Team Jack Black after he made me laugh out loud several times in Jumanji: Welcome To The Jungle. All kinds of in. I'm pretty sure everyone else in the world is too. I mean, look at how much fun the trailer for Hotel Artemis is...
Now, you see how like 5 seconds into the trailer for Hotel Artemis, it says The House With A Clock In Its Walls? Apparently it says that because the movie is actually called The House With A Clock In Its Walls. It is not, in fact, called Hotel Artemis, and it has nothing whatsoever to do with Hotel Artemis. I'm a strong man. I'll step up and admit that's on me. When I watch a trailer for a movie, I should file all of that footage away inside my brain drawer with a label that has the proper title to prevent confusion. I did not do that in this case. So, once again, my B. I'm raising my hand to admit I may have made some mistakes here, but I can't beat myself up all year about it. It could have happened to anyone.
Anyhoo, I went inside the theater, waiting to see Hotel Artemis presents The House With A Clock In Its Walls, and suddenly, I was hit with a first jarring and confusing clue that maybe something was off. One of the trailers used the word "Shit." I'm a pretty open guy when it comes to swearing. If you need it to express yourself and it starts with an "f" or an "sh" or a "c" or whatever letter other bad words start with, then that's your business and you should do you. But a hard "shit" before a "PG" movie was still alarming to me. Whatever. I didn't question it too much because like Truman Burbank, I accepted the reality of the world in which I was presented.
Then the movie started and it was just chaos. I mean do you know what Hotel Artemis, like the real Hotel Artemis, is about? Watch this trailer right quick...
The movie opens with a riot. Then there's a bank robbery. People are just getting shot up left and right. Not like cartoon violence or underplayed violence either. When people get shot, blood actually comes out of their wounds. This is all within the first 15 minutes. So, I looked over at my wife who is sitting next to me, and I said, "How is this a kids movie?" And she looked at me like I was crazy and said, "It's not a kids movie." You would think at this point it would have all clicked, and I would have shouted, "OHHH Hotel Artemis!" I did not. There was no clicking. So then the characters actually get to the title Hotel Artemis, and there is no frigging clock, and there's no precocious kid trying to solve a mystery and save the day. There's only more criminals and death. So, I leaned over to my wife and said, "Where the hell is Jack Black?" And then it all came crashing down via 90 seconds or so of hushed whispers in which my mistake was fully laid bare. Jack Black was not coming.
You can make fun of me if you want for this little snafu. Lord knows my wife has and probably will continue to, but I have to admit, there was something utterly amazing about watching a movie with expectations being subverted at every single turn. Even after I found out Hotel Artemis wasn't The House With A Clock In Its Walls, I had no idea where this thing was going or even who it starred. So, imagine my surprise when a new all-world supporting actor strolled in every 15 minutes. Sterling K Brown. Jodie Foster. Charlie Day. Sofia Boutella. Dave Bautista. Jenny Slate. Zachary Quinto. Even Jeff Goldblum uhhh found a way into Hotel Artemis.
Long story short: I enjoyed Hotel Artemis. 3.5/5. Could have used more Jack Black.
Enthusiastic about Clue, case-of-the-week mysteries, the NBA and cookies at Disney World. Less enthusiastic about the pricing structure of cable, loud noises and Tuesdays.
Your Daily Blend of Entertainment News
Thank you for signing up to CinemaBlend. You will receive a verification email shortly.
There was a problem. Please refresh the page and try again.