6 Awesome Movies In Theaters Right Now That Need Your Support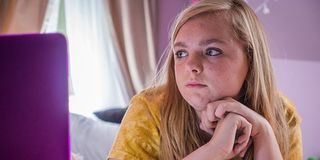 The summer movie season is coming to a close and we are now in the doldrums of August with barely a blockbuster in sight. Mission: Impossible - Fallout is behind us and the only real blockbuster left in the traditional sense is this week's giant shark movie, The Meg. After that there isn't really a blockbuster until The Predator (if you consider that one) in September. But just because you've seen Fallout three times and Christopher Robin and The Equalizer 2, doesn't mean that there's no reason to go to the theater. In fact, there are plenty of great movies in theaters to get you out of the sweltering summer heat.
In addition to the superheroes, mustaches and dinosaurs, this summer has actually been full of an eclectic mix of acclaimed titles. Fortunately for you, many of them are now playing. Some of these you may have heard of and some might be new to you, but they all provide something different, ranging from shocking and hilarious to heartfelt and revelatory. These films deserve your patronage because by voting with your dollar, we can get more films that provide unique experiences like these ones. As mostly smaller films, you may have to do some searching to see where these are playing near you, but they are all worth a little extra drive time. Each of these films also boasts a certified fresh rating on Rotten Tomatoes, so there is pretty universal consensus that they are good.
Here are 6 awesome movies in theaters right now that need and deserve your support.
Three Identical Strangers
We are living in a golden era of documentaries, and this summer has provided some truly great ones. The phrase 'stranger than fiction' is probably overused, but it certainly applies here. Three Identical Strangers tells the true story of how identical triplets found out about each other as young adults and it only gets stranger from there. This is the kind of story that needs to be told, and while something like this might usually get tons of buzz as a streaming series or a podcast, there is a ton of value to big screen documentaries and this one deserves some support in theaters. Also, you want Three Identical Strangers to be as pure of an experience as possible, so if you can, don't read anything else about it or watch any trailers, just go see it.
Eighth Grade
Eighth Grade just released wide on over 1,000 screens this past weekend, so it still has plenty of time for audiences to see it and you should definitely endeavor to do so. Bo Burnham's directorial debut deserves your support because it captures adolescence in a way that few films do or ever have, telling a story in the social media age, but one that would fit in any time. Elsie Fisher's performance announces her as someone to watch, and Bo Burnham proves he is far more than just someone who used to do comedy songs about Helen Keller. Eighth Grade needs to be seen by teens and their parents for how it honestly, with humor and heart, conveys the struggles of growing up in a way that is never pandering. This week you can even see Eighth Grade for free.
Sorry To Bother You
People often complain that Hollywood has run out of ideas and that they don't make anything new or original anymore and it's all just remakes, sequels and reboots. If you've ever thought that and want to see something truly unlike anything else out there, you need to see Sorry to Bother You. The debut from writer and director Boots Riley is a confident and scathing satire that has a lot to say and does so in positively bonkers fashion. Even among the other titles on this list, this film stands out. LaKeith Stanfield shows he's more than just the guy from Get Out and Atlanta and Tessa Thompson continues to shine. Weird and unsettling, but also hilarious and visually unique, Sorry to Bother You is overflowing with imagination. It also provides one of the most shocking moments in cinema this year that you have to see to believe.
Won't You Be My Neighbor
If there is a movie that deserves some support in these contentious times, it's one about the beloved Fred Rogers. The host of the legendary children's program, Mister Rogers' Neighborhood, taught valuable life lessons to multiple generations of children and this doc examines how his show came to be. It may be remembered as a quaint children's program but Won't You Be My Neighbor illuminates what a revolutionary concept the show was in format and in how Fred Rogers talked to children. This film is already one of the most successful documentaries ever and even if you didn't really watch Mister Rogers' growing up, you'll find his message and impact inspiring. If you need to put a smile on your face and maybe shed a few tears, you can't go wrong with Won't You Be My Neighbor.
Leave No Trace
All of the films on this list are certified fresh, but only one of them boasts a perfect 100% on Rotten Tomatoes, and that's Leave No Trace. This film has made $5 million at the box office so far and it deserves some more love before it leaves theaters. Writer and director Debra Granik's follow up to Winter's Bone is quiet, contemplative and just like that film, introduces a talented young actress to the world in Thomasin McKenzie. Also, anytime Ben Foster is in a movie, it's worth checking out. This exquisitely photographed movie tells a story of a vet suffering from PTSD who lives with his daughter in the woods of an urban park. It's a small story that eschews every opportunity to do the obvious thing and make proceedings more melodramatic. You don't see movies like this too often and it is well worth your time.
Blindspotting
Like some of the other entries on this list, Blindspotting comes from a first time feature director in Carlos López Estrada. Starring Hamilton breakout Daveed Diggs, who has also had TV roles in Black-ish and Unbreakable Kimmy Schmidt, Blindspotting is a relevant and timely film that vacillates between tones and subverts expectations throughout. A buddy comedy that's also a drama with pointed social commentary, Blindspotting should be seen because it speaks to our current time in a way that is funny and insightful. Blindspotting has been compared to Spike Lee's early work and would probably make for a great double feature with Sorry to Bother You as both tackle real issues in their own entertaining ways. Some movies should be seen because they force you to examine how you view and treat other people and this one does so but in a way that is entertaining instead of preachy.
Nick grew up in Maryland has degrees in Film Studies and Communications. His life goal is to walk the earth, meet people and get into adventures. He's also still looking for The Adventures of Pete and Pete season 3 on DVD if anyone has a lead.
Your Daily Blend of Entertainment News
Thank you for signing up to CinemaBlend. You will receive a verification email shortly.
There was a problem. Please refresh the page and try again.