Laura Prepon And Ben Foster Just Got Engaged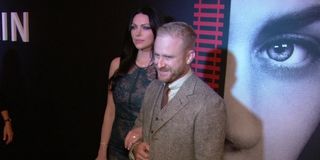 Things have heated up very quickly for Laura Prepon and Ben Foster. The actors announced their engagement after dating for a few months, and about a year after Foster ended his previous engagement to actress Robin Wright.
Laura Prepon showed off her shiny new engagement ring while on the red carpet for the premiere of her new film The Girl on the Train on Tuesday, and cuddling up with Ben Foster. A source later confirmed to E! News that the couple is indeed engaged. If you didn't even know that Prepon and Foster were dating, you're not alone. The actors have been keeping their relationship very low-key, and have only been sighted together a few times since they reportedly began dating this summer.
Ben Foster has been engaged twice before now, both times to House of Cards star Robin Wright. Foster and Wright first became engaged in 2014 after dating for two years, but Wright broke it off the same year, reportedly due to her growing work schedule and a difference in maturity levels. Then, the couple tried a second engagement in 2015, but it only lasted a few months.
Both Laura Prepon and Ben Foster share links to the controversial Church of Scientology, which many are speculating is what brought them together. Prepon has been vocal about her devotion to Scientology for nearly a decade, beginning when she was dating fellow Scientologist actor Christopher Masterson (brother of her That '70s Show co-star Danny Masterson) in the mid-2000s. While Foster has not explicitly spoken about his connection to Scientology, many sources have claimed that he is involved with it. Foster is also heavily involved in the practice of Transcendental Meditation.
And love must be in the water at Litchfield prison, because Laura Prepon was actually the second Orange Is the New Black star to announce her engagement this week. On Tuesday, Samira Wiley (Poussey Washington on the Netflix hit) announced her engagement to her girlfriend Lauren Morelli. The two actually met on the set of Orange Is the New Black, on which Morelli is both a writer and producer, and began dating in 2014.
Maybe there could be a double wedding on the horizon? I know a prison theme doesn't exactly scream "romance," but I'm sure they can find some way to make it cute, maybe? Until then, Prepon is starring in the novel adaptation The Girl on the Train and Wiley has a recurring role on the current season of FX's You're the Worst.
Your Daily Blend of Entertainment News