How Captain Marvel Might Retcon A Key Piece Of Carol Danvers' Origin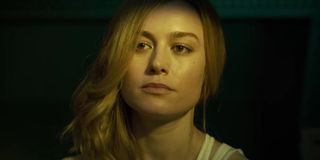 Before Avengers 4 picks up where Avengers: Infinity War left off and wraps up the Marvel Cinematic Universe's Phase 3 with the biggest of bangs, we'll be taking a trip back to the 1990s to see what Carol Danvers was up to. This morning, the first Captain Marvel trailer finally dropped and packed with all kinds of awesome moments, but it also revealed something unusual about our heroine: she doesn't remember who she is. A few weeks back, we learned that at the start of Captain Marvel, Carol is serving on the Kree military team known as Starforce, but as this preview showed, evidently she's missing most or all of her memories of living on Earth. That by itself is interesting enough, but it also appears to be a retcon of Carol's earliest days fighting evil as Ms. Marvel (her original superhero identity), where she suffered from a split personality.
For those unfamiliar with Carol Danvers' origin in the Marvel Comics universe, she gained her special abilities when her genetic structure was changed by the Psyche-Magnitron machine, turning her into a half-human/half-Kree hybrid. This kicked off Carol's superhero career, but initially, Carol and Ms. Marvel were two distinct personalities. Whenever a super villain or other crisis would pop up on her radar, Carol would black out, Ms. Marvel would take control and once the situation was resolved, Carol would revert back to normal, with no memory of what she'd done in her costumed guise. It was similar to Bruce Banner and The Hulk's dynamic, although eventually Carol received treatment for her fractured mind, and ever since then Carol and Ms. Marvel/Captain Marvel/whatever identity she's using have been one and the same. Captain Marvel, however, looks to be flipping the split personality on its head by making Carol forget she's human.
Here's what we can piece together from the Captain Marvel trailer and the news that's come out recently. The above shot seemingly confirms that Brie Larson's Carol Danvers will obtain her powers through a similar situation as her comic book counterpart, although whether the exploding device is the Psyche-Magnitron or another Kree device remains to be seen. However, this will likely be shown as a flashback, as it's already been confirmed that Captain Marvel begins with Carol already a Starforce member. We later hear Carol in the trailer saying she "thinks" she had a life on Earth, but she isn't sure if these memories are real or not.
So for whatever reason, upon receiving her powers, Carol forgot about her past as a human, and at the start of the movie, she believes that she's a Kree warrior, similar to how the Ms. Marvel personality functioned back in the day. This explains why she's so dedicated to the Kree and expands upon why Jude Law's Mar-Vell has a special relationship with her. Although then we enter dicey territory when considering that not only does Mar-Vell almost certainly know about Carol's past and isn't telling her about it, but that he (or someone high up in the Kree hierarchy) also might be taking measures to ensure that doesn't regain her memories, thus ridding the heroine of her agency. Either way, upon returning Earth, Carol will put the pieces together and remember her old life.
Back in 2016, Nicole Perlman, who worked on the Captain Marvel script with Meg LeFauve before Geneva Robertson-Dworet took over, said that the movie wouldn't be doing a straightforward adaptation of Carol Danvers' origin story, otherwise it would come off as being too similar to Green Lantern's. Plus, Carol's energy-based powers come from a separate experience after Rogue drained stole her original powers, and all of that is way too convoluted to adapt for film and impossible to faithfully pull off since the X-Men film rights don't reside at Marvel Studios yet. So it was to be expected that MCU Carol's backstory would differ from comic book Carol's, and split personality angle is frankly cliched, so it's for the best that this isn't being adapted for the big screen. Giving her amnesia, on the other hand, is an intriguing approach and provides inner conflict for Carol to struggle through. By the end of Captain Marvel, we can likely expect Carol to revert back to her regular self (albeit changed by her experiences fighting for an alien species), and by Avengers 4, hopefully she'll more closely resemble the Carol we know from the printed page.
Captain Marvel flies into theaters on March 8, 2019, so stay tuned to CinemaBlend for continuing coverage. In the meantime, look through our Marvel movies guide to find out what else the MCU has in development, as well as our 2018 release schedule to learn what movies are left to be released this year.
Your Daily Blend of Entertainment News
Connoisseur of Marvel, DC, Star Wars, John Wick, MonsterVerse and Doctor Who lore. He's aware he looks like Harry Potter and Clark Kent.