Suicide Squad's Director Has Addressed A Joker Plot Hole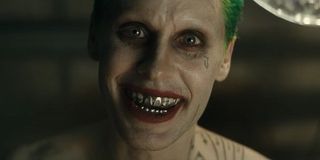 Although Jared Leto's Joker in the DC Extended Universe retains traditional, distinguishing physical features like green hair and bleached white skin, Suicide Squad director David Ayer also took some creative liberties with the Clown Prince of Crime's look, namely by giving him a lot of tattoos and substituting grills for his natural pearly whites. After Suicide Squad was released, Ayer revealed that the reason Joker's teeth were gone was because Batman smashed them in retaliation for his arch-nemesis killing Robin, but this presented a plot hole given Harley Quinn's relationship with The Joker. More than two years later, Ayer has attributed this inconsistency to the DCEU timeline changing after Suicide Squad finished filming, as he wrote below:
Here's more context for those who need it. When Amanda Waller "introduces" Harley Quinn at the beginning of Suicide Squad, the villainess is listed as an "accomplice to the murder of Robin," and that by itself wouldn't have presented any problems. The problem came when David Ayer said that the reason Joker had those grills was because Batman broke them before locking him in Arkham Asylum, which is why the cackling evildoer got that 'Damaged' forehead tattoo afterwards. However, since Joker had the grills and ink on his forehead when he met Dr. Harleen Quinzel, the sequence of events don't match up.
Now thanks to Ayer answering fan questions on Twitter, we know this is a result of the DCEU timeline being altered after Suicide Squad wrapped principal photography, which was unfortunately out of the director's hands. Plot hole explained! The easy way around this is to just deem David Ayer's explanation for Joker's grills and 'Damaged' tattoo non-canon and simply come up with a different reason for why Jared Leto's Clown Prince of Crime has them. It's not hard to imagine Batman punching Joker in the face hard enough to break his teeth for a different reason.
Of course, the DCEU timeline wasn't the only thing changed during the Suicide Squad creative process. Much like Justice League later on, Suicide Squad went through significant reshoots in the first half of 2016 to reportedly alter the tone. As a result, many of Leto's Joker scenes were cut from the final product, which the actor wasn't too pleased about. In the end, while Suicide Squad wasn't a critical hit, it was successful commercially, enough for Warner Bros to order a sequel. For Suicide Squad 2, however, the directing reins have been passed to Gavin O'Connor, though the project was recently delayed due to Will Smith's schedule. Whenever Suicide Squad 2 gets off the ground, let's hope there aren't any more of these sudden DCEU timeline changes, especially concerning Batman's greatest enemy.
Along with Suicide Squad 2, Jared Leto's Joker is also set to be featured in Gotham City Sirens, an untitled movie about his relationship with Harley Quinn and even his own standalone movie, although it remains to be seen which of these projects will actually move forward. As for Harley, she'll be back next for Birds of Prey, which is dated for February 7, 2020. As for what else the DCEU has in the works, head to our DC movies guide for that information.
Your Daily Blend of Entertainment News
Connoisseur of Marvel, DC, Star Wars, John Wick, MonsterVerse and Doctor Who lore. He's aware he looks like Harry Potter and Clark Kent.