The Dark Phoenix Trailer Is Intense And Powerful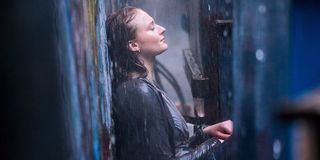 Although Logan and Deadpool 2 kept the X-Men film franchise in the public consciousness in 2017 and this year, respectively, 2019 marks our return to the main series of films with Dark Phoenix, following more than two and a half years after X-Men: Apocalypse drew mixed reactions. Originally set to be released this November, the latest adaptation of The Dark Phoenix Saga was pushed to next Valentine's Day to accommodate reshoots. With a little less than five months to go until that date, and on the heels of the first poster, 20th Century Fox has finally released the first trailer for Dark Phoenix, which you can watch below!
In 2006, X-Men: The Last Stand showed audiences Jean Grey succumbing to the Phoenix Force for the first time on the big screen. The end result was not received well by fans, to the point that X-Men: Days of Future Past wiped that movie from continuity. Now that the X-Men franchise is operating in a new timeline, The Dark Phoenix Saga is getting a shot at cinematic redemption through Dark Phoenix, which will see Jean unleashing her Phoenix abilities nearly a decade after she used it to destroy En Sabah Nur in X-Men: Apocalypse. Along with the different time period, you can tell from the trailer that Dark Phoenix is handling this storyline differently, though still hitting some of the same beats as The Last Stand.
Just like Patrick Stewart's Professor X, James McAvoy's version took measures to keep Jean from being taken over by the Phoenix Force when she was young. TheDark Phoenix trailer doesn't make it clear how these contingencies are broken, but as previously revealed, the main story kicks off when the X-Men go on a rescue mission in space, during which time they're hit by a solar flare. Presumably this is what causes Jean to lose control, leaving it up to both her teammates (including Cyclops, who looks to now be romantically involved with Jean) to stop her. Well, them and Magneto, who as per usual is willing to take more drastic measures. Oh, and let's not forget Jessica Chastain's unnamed character, an alien shapeshifter who wants to harness Jean's incredible powers so that her species can rule the galaxy.
The main X-Men movies have never shied away from being dark, but all the footage in this trailer, as well "The end" repeating as the music plays indicates Fox is aiming for this entry to kick it up a notch or two. That being said, "The end" could have another meaning. With Disney acquiring 20th Century Fox, it's only a matter of time before the X-Men and Fantastic Four properties are absorbed into the Marvel Cinematic Universe. So even though spinoffs like New Mutants and X-Force are on the way, it's possible that Dark Phoenix could be the last of the main X-Men movies. If that's the case, this trailer indicates this series is going to go out with a bang, and rightly so. After nearly 20 years of watching these mutant characters, if this is the last hurrah, it should be extremely memorable.
Stay tuned to CinemaBlend for more coverage concerning Dark Phoenix as we count down to its release on February 14, 2019. In the meantime, check out our X-Men movies guide to see what else this franchise has in development, as well as our 2019 release schedule to learn what non-mutant-centric movies arrive next year.
Your Daily Blend of Entertainment News
Connoisseur of Marvel, DC, Star Wars, John Wick, MonsterVerse and Doctor Who lore. He's aware he looks like Harry Potter and Clark Kent.