All The Fantastic Beasts Actually Seen in the Fantastic Beasts 2 Trailer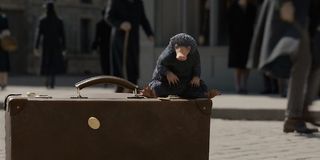 The next entry in the Fantastic Beasts series is sneaking up on us, and it's all about Grindelwald. The marketing for Fantastic Beast 2: The Crimes of Grindelwald has been big on growing conflict led by the infamous dark wizard, with young Dumbledore recruiting Newt Scamander to be his eyes and ears. The final trailer for the movie teased that big things were in store for Newt and the gang, and while the focus is undoubtedly on Grindelwald and his crimes, we can't forget the actual fantastic beasts of Fantastic Beasts 2.
The first film was heavy on the beasts, with Newt's hunt to recapture his escaped monsters taking up a sizable amount of screen time, but the creatures have always felt like a means to an end. They feel more like an afterthought this time around as Grindelwald's war takes center stage, but that doesn't mean we should just ignore the beasts! The final trailer introduced some new and familiar faces, and while earlier footage included other creatures, these are the majorly beastly characters who appeared in the latest trailer.
Pickett The Bowtruckle
Newt's little buddy is back! Pickett is a tiny twig-like creature called a bowtruckle, and he appeared in the first film. Unlike the other beasts in Newt's care, Pickett sticks to Newt like glue and rides shotgun in his pocket (he has separation anxiety). Other than providing cute, Groot-like moments, bowtruckles are exceptionally good at picking locks, a skill that comes in very handy for Newt and will likely continue to do so in Crimes of Grindelwald.
Kappa
It may look like a spell due to its spirit-like appearance, but this is actually a fantastic beast called a kappa. Derived from Japanese mythology, the kappa is a water demon that feeds on human blood. They kind of look like monkey-turtle hybrids and the water stored on their hollow, dish-shaped heads are the source of their strength. People thought they could appease kappas by throwing cucumbers inscribed with that person's name on it. I don't know if Newt Scamander has any cucumbers handy, but he's making some use out of the creature. As to what this water demon is doing on dry land, well, you'll have to see the movie.
The Niffler
Here's another familiar face from the first movie and a fan-favorite one at that. The niffler is a platypus-hedgehog with a kangaroo pouch, and it's a kleptomaniac; it steals anything shiny and stores it in its almost infinitely-spaced pouch for safe keeping. The niffler was a scene stealer and one of the more memorable beasts from the first film, so it's no surprise that it's making a second appearance. The niffler will no doubt be getting into some mischief, but it might not be alone. Word on the street is that there is a baby niffler in the movie and it's gunning for the most adorable beast.
Kelpie
At a few points in the trailer, you may have glimpsed Newt Scamander riding what looked like a horse made of seaweed underwater. That creature is called a kelpie, a shapeshifting water creature that usually prefers the form of a horse. It can also take the form of a sea serpent, with the largest one residing in Loch Ness. (Yup, that's the Loch Ness Monster.) Despite the silly names, kelpie are really dark. They trick people into getting on their backs, then they drag them underwater and eat them, letting their entrails float to the top. However, they can be rendered docile by placing a bridle over their heads, which is what Next, the Ace Ventura of Harry Potter, assumedly does to ride one in the movie.
Zouwu
There's not too much known about the Zouwu, the big cat creature seen in multiple shots of the final trailer. The beast apparently has origins in Chinese mythology, which states that it can see the past and present. There's no indication of that in the footage, but we do see the Zouwu loose in the muggle world. New can be seen trying to calm it down, and given his history with animals, he likely succeeds. The Zouwu has a fairly big presence in this trailer, and it reportedly is an attraction at the magical circus inhabited by Credence and Nagini. I have a feeling this beast might have a role to play in fighting Grindelwald, but we won't have to wait much longer to find out.
Fantastic Beasts: The Crimes of Grindelwald will hit theaters on November 16, 2018. To find out what else is coming, take a look at our full schedule, and vote on your favorite creature, below.
This poll is no longer available.
Matt has lived in New Jersey his entire life, but commutes every day to New York City. He graduated from Rowan University and loves Marvel, Nintendo, and going on long hikes and then greatly wishing he was back indoors. Matt has been covering the entertainment industry for over two years and will fight to his dying breath that Hulk and Black Widow make a good couple.
Your Daily Blend of Entertainment News
Thank you for signing up to CinemaBlend. You will receive a verification email shortly.
There was a problem. Please refresh the page and try again.