The Fantastic Beasts Creatures That Are Returning For The Crimes Of Grindelwald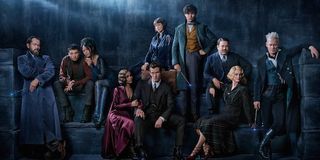 Although Fantastic Beasts and Where to Find Them wasn't lacking for spells both old and new used in the Wizarding World, the main hook of the movie was seeing all of the amazing creatures that Newt Scamander kept in his TARDIS-like suitcase. Newt successfully stopped his creatures from running rampant in New York City during the first movie, and when we reunite with him next year in Fantastic Beasts: The Crimes of Grindelwald, the awkward wizard will still be carrying around a portable zoo. As for some of the specific creatures that will be back for the sequel, here's what actor Eddie Redmayne had to say:
We'll have to wait a little longer to find out what this Chinese addition to Newt Scamander's animal collection is, but the Niffler and Picket are well familiar to Fantastic Beasts and Where to Find Them fans. Resembling a mole, the unnamed Niffler (seen above) is quite the kleptomaniac, stealing anything shiny it can get its little hands on. Turning to Pickett, he is a Bowtruckle, a small, insect-eating, tree-dwelling critter. Newt keeps several Bowtruckle in his suitcase zoo, but he's taken a particular shine to Pickett, often carrying him around in his pocket to keep him warn and because that particular Bowtruckle has attachment issues. Bowtruckles are good at picking locks, so perhaps Pickett will help Newt out if he's been chained up by a nefarious individual. As for the Niffler, if it's gotten loose again, the nearby jewelry shops and banks will be in trouble.
Eddie Redmayne also informed EW that while Newt's creatures will still be crucial to Fantastic Beasts: The Crimes of Grindelwald's storyline, they won't be quite as important compared to the previous movie given that this new story isn't a repeat of Newt and his friends trying to retrieve the escaped beasts. As Redmayne put it:
For the second Fantastic Beasts adventure, Newt Scamander will be recruited by his former Hogwarts instructor, Albus Dumbledore, to apprehend Gellert Grindelwald, the dark wizard who Newt helped defeat in the first Fantastic Beasts movie. Having escaped custody, Grindelwald will gather followers to his side to help him create a society where pureblooded wizards are ruling over nonmagical beings. Obviously adept spell-casters will be required to bring Grindelwald back in, but surely Newt's special creatures could provide an advantage in this conflict.
Fantastic Beasts: The Crimes of Grindelwald will work its magic in theaters on November 18, 2018. As for what else will arrive next year, look through our 2018 premiere guide.
Connoisseur of Marvel, DC, Star Wars, John Wick, MonsterVerse and Doctor Who lore. He's aware he looks like Harry Potter and Clark Kent.
Your Daily Blend of Entertainment News
Thank you for signing up to CinemaBlend. You will receive a verification email shortly.
There was a problem. Please refresh the page and try again.