We Finally Know What The New Walt Disney World Pricing System Looks Like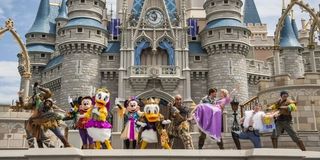 (Image credit: Image Courtesy WDWnews.com/Disney)
It was revealed several weeks ago that Walt Disney World would be changing the way it sells its theme park tickets. Today, the new prices and structure went into effect. The good news is that, the new structure, which asks you to purchase tickets for specific dates, rather than the previous open-ended method, has kept pricing more or less the same, though tickets can actually be cheaper now than they were under some circumstances.
Previously, if you wanted to purchase Walt Disney World tickets, you simply decided how many days worth of tickets you wanted, then added the park Hopper option if you wanted the ability to visit more than one park on the same day. Now, you start by deciding if you want the Park Hopper option. Then you select the number of days you want to visit the parks, then which day you plan to start your trip.
The first thing that's important is that you won't be forced to visit the park on consecutive days. If you buy a single day ticket, you must use it on that day, but a two-day ticket can be used over a four-day stretch. A 10-day pass can be used over a 14-day long period, so you do have some flexibility if you plan to do other things on your Florida vacation.
Magic Kingdom tickets were slightly more expensive than a single day ticket to the other parks under the old system. Now, all parks will see the same prices. This means there has essentially been a price increase at the other parks, as a single day ticket now tops out at $129, which was the old Magic Kingdom max price.
However, if you plan to visit for multiple days, and let's face it, you probably do, it's actually possible to pay slightly less for your tickets than previously. As an example, a 6-day pass with a Park Hopper for January of 2019 (as an arbitrary date that has no personal relevance to me whatsoever) would have cost $480 before tax just a couple days ago. The same ticket today comes out to $473.31. The savings isn't exactly mindboggling, but it is there.
If you do want to keep the freedom that you used to have with Walt Disney World tickets, you can add a "Flexible Dates" option that gives your tickets the ability to be used anytime between now and the end of 2019, though after the first day of use, additional days need to be used within 14 days. This option will cost you, however. It's an additional $20 per ticket for a single day ticket. It's an additional $82.11 for a 10-day pass.
All in all, the new structure looks to be a slightly better deal for the majority of guests who are going to visit Walt Disney World for multiple days. The only real downside would be if something happened after you bought the tickets and you could not make your trip at all. However, the fine print on the Walt Disney World website does say that wholly unused tickets can have their price applied to the purchase of new tickets. You can also contact Walt Disney World to change the date of your tickets up until midnight the night before the first day of your pass. There's no fee for changing, though if you change to dates with more expensive tickets, you'll still have to pay the difference.
This new pricing structure is designed to help guests plan their trips in advance and also give Disney Parks a better idea of how many people will be in the parks on any given day. That way, Walt Disney World can be sure that everything is properly staffed. This can also help guests plan trips better. Cheaper ticket prices mean potentially smaller crowds so if you can save yourself money, as well as hassle, by shifting your next Walt Disney World vacation a few days one direction or the other, so much the better.
Image Courtesy WDWnews.com/Disney
Your Daily Blend of Entertainment News
Content Producer/Theme Park Beat
CinemaBlend's resident theme park junkie and amateur Disney historian. Armchair Imagineer. Epcot Stan. Future Club 33 Member.