The Flash Gordon Reboot Is Back On Track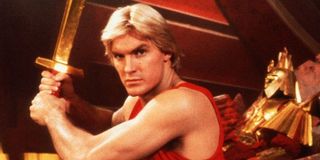 Believe it or not, it's been nearly 40 years since Flash Gordon hit theaters, and while the movie hinted that a sequel might follow, that ultimately never came to fruition. Regardless, the character still lingers on the fringes of pop culture, and for nearly half a decade, there have been various attempts to make a Flash Gordon reboot. Now it looks like this project is back on steady ground, as Overlord director Julius Avery has been tapped to tackle this new Flash Gordon tale.
20th Century Fox has hired Julius Avery to write and direct the Flash Gordon reboot. Matthew Vaughn was previously being eyed to helm this feature, but now he will instead produce with John Davis and Hearst. Given that Vaughn is expected to direct the upcoming Kingsman 3, just like he did the previous two movies, I can't say I'm surprised that he won't step in the director's chair for Flash Gordon, but it is good to hear he'll still be involved in its creation.
That being said, now it's up to Julius Avery deliver a new Flash Gordon movie for a new era, first by writing it and then overseeing it being brought to life in front of the cameras. After directing many short films, Avery made his feature filmmaking debut in 2014 with 2014's Son of a Gun, which starred Ewan McGregor, Brenton Thwaites and Alicia Vikander.
In a couple weeks, we'll see how well Julius Avery handles the horror genre with Overlord, which was produced by J.J. grams through Bad Robot Productions. Overlord follows a team of paratroopers during World War II who are caught behind enemy lines after D-Day, and upon finding their target, not only will they have to contend with standard Nazi soldiers, they'll also have to fight grotesque, zombie-like soldiers that are the product of a secret Nazi experiment. And contrary to initial belief, Overlord is not part of the Cloverfield franchise. It stands on its own, and you can get a taste of what it has to offer by watching the below trailer.
We'll have to wait and see how Overlord performs in theaters, although it's already collected a lot of positive reception from early reviews. Regardless, evidently Fox is confident enough in Julius Avery's talent that it's tasked him with helming the Flash Gordon reboot. According to Deadline, Avery grew up being a fan of Flash Gordon, and when he went to Fox to pitch his take, the studio "sparked to it" and hired him for the job. Mark Protosevich had previously been working on the Flash Gordon script, but this latest report makes it sound like Avery is starting from scratch on the story.
Flash Gordon was created by Alex Raymond and made his comic strip debut in 1934, four years before Superman was introduced in Action Comics #1 and kicked off the superhero genre. In the original source material, Flash Gordon was a professional athlete who battles the evil Ming the Merciless on the planet Mongo, which Ming rules with an iron fist. Flash is aided by allies Dale Arden (his girlfriend) and Dr. Hans Zarkov (one of the world's most renowned scientists).
In later years, Flash Gordon would become an astronaut who traveled to other words, but he's chiefly known for his adventures on Mongo. In the late 1930s, Flash made the jump to the big screen and was played by Buster Crabbe in the film serials Flash Gordon, Flash Gordon's Trip to Mars and Flash Gordon Conquers The Universe.
Over 40 years later, the feature-length Flash Gordon movie came out, which was directed by Mike Hodges and starred Sam J. Jones as the eponymous character, Melody Anderson as Dale, Chaim Tool as Zarkov, Max von Sydow as Ming, Ornella Muti as Princess Aura, Timothy Dalton as Prince Barin and Brian Blessed as Prince Vultan. That movie only made $27 million worldwide, but earned a fair amount of positive reviews, and nowadays it's considered a cult classic. Alas, we'll never find out who picked up Ming's ring in that last frame.
Flash Gordon has also been the subject of various radio serials, television shows (both animated and live action) and comic books over the decades, and the movie even got a lot of love in both of Seth MacFarlane's Ted movies (which included Sam Jones playing as an unhinged version of himself). However, like his sci-fi hero predecessor Buck Rogers, he's not nearly culturally relevant nowadays as he was long ago. In fact, if it wasn't for the 1980 movie, I doubt most people would know who Flash Gordon is, and Fox almost certainly wouldn't be working to get a live action adventure starring the hero off the ground.
But with so much time having passed since both Flash Gordon was at the height of his popularity and the original movie came out, this reboot is an opportunity to reintroduce the character to the masses and put a different spin on the source material. It helps that Julius Avery grew up appreciating the Flash Gordon stories, so not only will he do the mythology justice, but, as is important with any reboot, he'll find a way to make this new version different than the first movie.
Whether that means returning Flash Gordon to the 1930s time period, redesigning the look of Mongo and its inhabitants, or taking the action to other corners of the galaxy, we'll have to wait and see. But above all else, the Flash Gordon reboot needs to stand out from the crowd, and let's not forget that sci-fi and superhero movies are much more popular than they were in 1980. If Julius Avery has figured out a way to make Flash Gordon appeal to a modern audience, then I'm game to see what he comes up with.
Stay tuned to CinemaBlend for more updates on how the Flash Gordon reboot is developing. In the meantime, you can plan your trips to the movie theater over the next year accordingly by looking through our 2018 and 2019 release schedules.
Your Daily Blend of Entertainment News
Connoisseur of Marvel, DC, Star Wars, John Wick, MonsterVerse and Doctor Who lore. He's aware he looks like Harry Potter and Clark Kent.