Amber Heard Joined Aquaman Because Of A Sword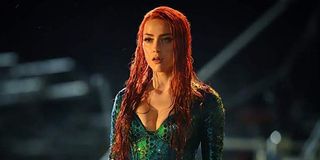 Arthur Curry is the star of the show in Aquaman, but without Mera by his side, you get the sense from watching the movie's previews that the half-human, half-Atlantean superhero would have a much harder time accomplishing his mission. Amber Heard is bringing Mera to life in the DC Extended Universe, and as she recalled, it didn't take much to get her to join the franchise; just the promise that she would wield a sword and be royalty. Heard stated:
Although Mera is arguably the most important supporting character in Aquaman, the character has already been introduced in Justice League, which was helmed by Zack Snyder. As Amber Heard admitted when speaking with ET, she never thought she would star in a comic book movie, but when Snyder came to her with the opportunity to play Mera, a badass, water-dwelling warrior with royal blood, she was immediately ready to take the role.
Luckily for the actress, she grew even more enamored with Mera once she started delving into the Aquaman source material, as there was further proof that the character isn't a damsel in distress. This helped her with stepping outside of her comfort zone. Continuing in her interview with Entertainment Tonight, Heard revealed:
Amber Heard added that her iteration of Mera and Jason Momoa's Arthur Curry have a "very special dynamic" that doesn't require Mera to be relegated to a "position of dependency or subservience." She's powerful, self-possessed and in control of her destiny, and when paired with Arthur, the dynamic is fair and balanced. If it wasn't that way, I suspect that Heard wouldn't have joined the DCEU. At least visually, Heard's Mera looked like she jumped straight from the printed page, and we won't have to wait much longer to get a full sense of her characterization.
Mara has been part of the Aquaman mythology since appearing in 1963's Aquaman #11. Like Arthur Curry and other Atlanteans, she can breathe underwater and super strength, but she is also gifted with hydrokinesis, i.e. being able to manipulate liquid, an ability that others from the penal colony of Xebel share.
In recent years, in addition to being an integral member of the Aquaman comic book, Mera has also led her own solo title and was briefly a member of the Justice League. Outside of the comics, Mera has appeared in TV shows like the Justice League animated series, Batman: The Brave and the Bold and Young Justice, but needless to say that the Aquaman movie will introduce her to a lot of people who aren't at all familiar with DC lore.
We met Amber Heard's Mera in Justice League when Steppenwolf attacked Atlantis to obtain the Mother Box that the Atlanteans had been protecting ever since the Apokoliptan general first tried to conquer Earth thousands of years ago. Sadly, even with Arthur Curry's help, Mera and the other Atlantans were defeated and Steppenwolf made off with the Box. Afterwards, Mera tried to convince Arthur that he had the wrong idea about his mother, Atlanna, who Arthur felt had abandoned him.
Mera and Arthur will reunite in Aquaman when the former asks for the latter to finally accept his royal duties and take the Atlantean throne so that Arthur's half-brother Orm, known in the comics as Ocean Master, doesn't declare war on the surface. As the trailers have shown, that conflict is going to unfold regardless, but Arthur and Mera will be together for a lot of the ride, thus resulting in them growing closer.
Along with showcasing a lot of underwater action, Aquaman will see Arthur and Mera traveling to an ancient Atlantean temple in the Saraha and facing off against Black Manta and his goons in an Italian village. It's also worth noting that in the DCEU, Mera is the daughter of Xebel's ruler, Nereus, a drastic departure from the comics, where Mera was betrothed to Nereus before meeting Arthur.
From the footage shown so far, it doesn't look like Amber Heard is lacking for screen time in Aquaman, let alone action scenes. While it's far too soon to tell if Aquaman will get a sequel, assuming the DCEU does delve back into its aquatic realms, Heard is definitely excited about reprising Mera, and is particularly eager to team up with other heroines, like Wonder Woman.
Along with Jason Momoa and Amber Heard, Aquaman stars Dolph Lundgren as Nereus, Patrick Wilson as Orm, Yahya Abdul-Mateen II as Black Manta, Willem Dafoe as Vulko, Nicole Kidman as Atlanna and Temuera Morrison as Thomas Curry, among others. The Conjuring mastermind James Wan directed and the script was penned by David Leslie Johnson-McGoldrick and Will Beall, based off a story by Geoff Johns, who wrote the Aquaman comic book at the start of the New 52 reboot.
Aquaman dives into theaters on December 21, so stay tuned to CinemaBlend for continuing coverage. In the meantime, look through our DC movies guide to learn what else the DCEU has in development, as well as our 2018 release schedule to track what's coming out before the year is over.
Connoisseur of Marvel, DC, Star Wars, John Wick, MonsterVerse and Doctor Who lore. He's aware he looks like Harry Potter and Clark Kent.
Your Daily Blend of Entertainment News
Thank you for signing up to CinemaBlend. You will receive a verification email shortly.
There was a problem. Please refresh the page and try again.