A Walt Disney World Roller Coaster May Be About To Undergo A Major Change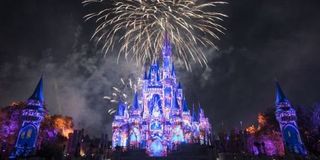 UPDATE: Following publication of the original story, we spoke to someone at Disney who confirmed there are no current plans to retheme the Rock N Roller Coaster. You can read the entirety of the original story published below...
The one constant at Walt Disney World is change, and it looks like another part of the theme park is about to undergo such a change. A new report claims that the Rock N' Roller Coaster Starring Aerosmith at Disney's Hollywood Studios is set for a major retheming, so it may not feature Aerosmith much longer.
The detail is little more than a footnote in a story about all the money that Disney is set to spend on its global theme park business over the next few years. Walt Disney World just saw the recent opening of Toy Story Land at Disney's Hollywood Studios. Star Wars: Galaxy's Edge is set to open at both Walt Disney World and Disneyland next year, and a new Marvel-themed area is set for Disney California Adventure the year after that. Disneyland Paris and Hong Kong are also set for new lands and attractions featuring everything from Frozen to Ant-Man and the Wasp.
These are all changes that were known, but among all of them is listed one item in the New York Times story that hadn't been previously reported. A map of Disney's Hollywood Studios is included which, along with items like the upcoming Mickey Mouse ride and Galaxy's Edge reads "Re-themed roller coaster (overhauled)." The spot on the map where this note is made is over the current location of the Rock N' Roller Coaster.
There are two Rock N' Roller Coasters in the world, though the one at Disneyland Paris we already knew was on the way to being replaced by an Iron Man/Avengers roller coaster. It's possible there's been some confusion and the NYT is claiming the Disney's Hollywood Studios' version is being replaced when it is not, confusing it with Paris.
However, if one version of the ride is being taken out, it could mean that Disney Parks has eyes on replacing both. The roller coaster is nearly 20-years-old at this point, and the last time it made any sort of news it wasn't for a good reason. Disney had to deal with what was viewed by some as an obscene gesture from Steven Tyler in one of the video clips played as part of the attraction. Even though the moment had been part of the ride for over a decade, it became "a thing" a couple years back.
The current attraction sees guest move through a queue designed to look like a recording studio. Guests are supposed to be special guests of Aerosmith at a concert, but you're running late, so your limo needs to floor it. Your limo, in this case, is the roller coaster vehicle, themed to look like a really stretched limo. The coaster uses a magnetic launch, which means there's no need to go up a hill to get moving quickly, the ride hits full speed immediately. It also immediately goes into a loop. It's the only coaster at all of Walt Disney World that has an inversion. It has three in total. Of course, Aerosmith music plays loudly over in-car speakers throughout the ride.
The fact that the note states the ride is set to be "overhauled" means the change, if it is, in fact, happening, means more than a simple retheming. If whatever deal Disney has with Aerosmith was coming to an end, the park could record new material with a new band, and simply replace who was "starring" in the attraction. But overhaul makes it sound like the whole concept is being reset.
It's not all that shocking an idea. Disney's Hollywood Studios has been undergoing some serious changes in recent years. It's the one park at Walt Disney World that has been underperforming in the eyes of the company. The inclusions of Toy Story Land, Star Wars: Galaxy's Edge, and the new Mickey Mouse ride are part of those changes. It's unlikely any part of the current park is really safe. And with the two new lands being open a year from now, if any other part of the park was going to close down, that would be the best time to do it.
It will be interesting to see what the plan is if indeed the attraction is being replaced. It's unlikely that Disney's Hollywood Studios will see the same new coaster that Disneyland Paris is getting. previous deals that Marvel made with Universal Studios prior to being purchased by Disney limit what Marvel characters can appear at Walt Disney World, so unless Disney is in negotiations to end that deal, its language basically allows Universal to keep using Marvel in its parks for as long as it wants.
It's possible we could see some other sort of Marvel coaster though. The Guardians of the Galaxy coaster currently under construction at Epcot is open to Disney because Universal never used those characters in its park. If there are other Marvel characters that are available for Disney to use, they might try to theme a new attraction around them.
With the coaster being on the opposite end of the park from where Star Wars: Galaxy's Edge, and the fact that the new area will include it's own thrill rides, we can guess it won't be a Star Wars themed ride.
Recent rumors have implied Indiana Jones could be in line for his own area of the park, but those rumors are focused on the part of the park currently home to the Indiana Jones Stunt Spectacular, which is in more or less the middle of the park.
This would seem to limit the options to more traditional Disney animated properties or a non-Toy Story Pixar brand. Maybe Hollywood Studios will see its own, indoor, version of the Incredicoaster.
Disney is having a major event in Florida right now for its D23 fan club members, Destination D. We're expecting to get some news about the theme parks over the course of the weekend. It's been rumored that the same Mickey Mouse attraction going into Hollywood Studios will also be coming to Disneyland and that the official announcement will come this weekend. Perhaps we'll get some confirmation of this change, one way or the other, very soon. If the change is happening, we'll likely find out what will be replacing it as well.
CinemaBlend's resident theme park junkie and amateur Disney historian. Armchair Imagineer. Epcot Stan. Future Club 33 Member.
Your Daily Blend of Entertainment News
Thank you for signing up to CinemaBlend. You will receive a verification email shortly.
There was a problem. Please refresh the page and try again.