What DC's Gal Gadot Would Look Like As Marvel's Black Widow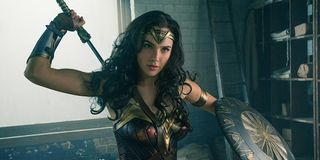 In her three cinematic outings as Diana Prince, Gal Gadot has shown the compassion, physicality and power that prove she is Wonder Woman. But what if she wasn't? What if she had entered the comic book movie realm as a different character, one on the Marvel side of things? That's exactly what some new fan art imagines, showing Gal Gadot as Marvel's Black Widow. Take a look:
As if it wasn't obvious by now, it is pretty clear here that there aren't many badass pop culture characters that Gal Gadot wouldn't look great as. She looks like she could totally be playing the character currently inhabited by Scarlett Johansson. If this was official concept art for Black Widow before Iron Man 2, I think we all would have been sold on Gal Gadot in the role.
Gal Gadot's Black Widow also looks quite tall here, which makes sense considering the actress is much taller than Scarlett Johansson. The only thing I'm not sure about in this image is the red eye color. It looks a little strange and I'd prefer her to have her natural dark eyes. The red accents on the suit though are a nice touch that match Black Widow's red hair and add some style to the tactical outfit.
You'll also notice the Wonder Woman 'W' symbol on Black Widow's arm patch and her belt buckle. It's a cool nod to what the DC character we know Gal Gadot as, while also kind of working to stand for 'Widow' in the Marvel universe. That makes this fan art something of an Amalgam of the DC and Marvel characters.
Because we now have an idea what Gal Gadot would look like as Black Widow, it's only right that we get to see what Scarlett Johansson would look like as Wonder Woman. Well, fear not, because BossLogic also posted the counterpart image to his Twitter account. Check it out:
It's strange at first to see someone else as Wonder Woman, but we know Scarlett Johansson has the action chops to play the Themysciran. You see here she retains some of the redness of her locks that her Natasha Romanoff is known for, again making this something of a DC/Marvel hybrid.
These are neat looks at what might have been had casting turned out differently, and maybe it did in an alternate universe. That's the idea behind BossLogic's 'ElseBothworlds' series of art; taking the concept of DC's Elseworlds or Marvel's 'What If' comics, which imagine alternate realities and what could have been for our favorite superheroes, and applying that idea to the actors who portray those heroes for Marvel and DC on the big screen.
The Gal Gadot/Scarlett Johansson swap isn't the only one he did either, BossLogic also swapped Chris Hemsworth and Jason Momoa as well as Henry Cavill and Chris Evans to name a few.
While we'll never know what might have been had different actors been cast as these superheroes, we do know that things have worked out pretty well for most of these actors and characters. Scarlett Johansson is getting paid a boatload of money for her long-awaited solo Black Widow film and Gal Gadot is currently the shining star of the DCEU, next appearing in Wonder Woman 1984.
Wonder Woman 1984 was recently delayed until 2020, but there are still plenty of movies to look forward to next year. Check them out in our 2019 release schedule.
Nick grew up in Maryland has degrees in Film Studies and Communications. His life goal is to walk the earth, meet people and get into adventures. He's also still looking for The Adventures of Pete and Pete season 3 on DVD if anyone has a lead.
Your Daily Blend of Entertainment News
Thank you for signing up to CinemaBlend. You will receive a verification email shortly.
There was a problem. Please refresh the page and try again.