Creed II Reviews Are In, Here's What The Critics Are Saying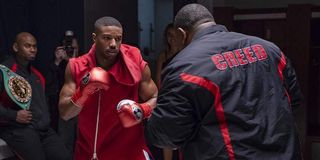 The Rocky film series proper officially wrapped up in 2006 with Rocky Balboa, but the mythology continues through the Creed spinoffs. In 2015, we met Adonis Creed, the son of the late Apollo Creed, and with Rocky Balboa in his corner, Adonis' journey to the big leagues echoed Rocky's own journey four decades earlier. Now we're reuniting with him in Creed II, where he's facing off against Viktor Drago, son of Ivan Drago, the man who killed Apollo in Rocky IV. Creed II is less than a week away from theaters, but reviews are now coming in, and it sounds like this movie is a decent follow-up to the first Creed movie, even if it doesn't do quite enough to stand on its own.
Starting off, CinemaBlend's own Mike Reyes awarded Creed II 4 out of 5 stars in his review, saying it did just as good of a job as Creed "when it comes to pumping an audience up." The sequel asks the question, 'What are you fighting for?', and while Adonis is the main character having to answer this, resulting in both his body and heart being challenged, but the other important characters also deal with that question, allowing the cast to be used to their full potential. There are issues with pacing and not exploring the Drago family's post-Rocky IV history enough, but these don't detract from the movie being "totally inspiring."
Uproxx's Mike Ryan echoed these sentiments, highlighting how Creed II works well as a sequel of sorts to Rocky IV. With Adonis being Apollo Creed's son, it stands to reason that eventually Ivan Drago would have to be directly addressed in the Creed movies. But rather than tease out a confrontation with the Drago family over several movies like this is the Marvel Cinematic Universe, Creed II jumps straight into the action, and as a result, the movie "feels pleasantly refreshing with its retro-ness."
Variety's Owen Gleiberman complimented Creed II for being a "rousing and effective sequel," and even though much of its content feels familiar, there are a "couple of surprise punches" thrown in to keep us on our toes. However, compared to Creed or some of the earlier Rocky movies, the sequel feels "less exhilarating and more programmatic," though there's still enough to appreciate from it. Michael B. Jordan in particular delvers a great performance.
Tom Jorgensen from IGN saw Creed II in a more mixed light, giving it a 6 out of 10. Despite the movie's lesson being that the only way to live up to a legacy is to create your own, Tom felt that Creed II doesn't have much of an identity on its own, as it's so heavily entrenched in what went down in Rocky IV. Subsequently, both of the Drago men fail to make much of an impression. However, Michael B. Jordan, Sylvester Stallone and Tessa Thompson's respective characters help carry the movie through its "shakier parts."
Angie Han from Mashable felt similarly, noting that in some ways Creed II feels like a "regression" from its predecessor. However, the sequel still works for the most part, whether it's "finding personality" in everyday events to the "odd sympathy" it engenders for Ivan and Viktor Drago. However, assuming this film series moves forward, Angie mentioned that it could learn a lesson from Adonis and "start making a name on its own" rather than keep looking back to the past.
Finally, Entertainment Weekly's Chris Nashawaty gave Creed II a B+. In his review, he said that while it may have seemed desperate for Creed II to follow up on the events of Rocky IV, it actually worked for this movie. In the end, it serves as an "effective" sequel, though it's probably not a good idea for a hypothetical Creed III to not follow suit and do something like bring in Clubber Lang and his son as adversaries.
Overall, it sounds like Creed II will be enjoyable enough for fans of the Rocky franchise, even it relies a little too much on the past and doesn't to enough to build something special for itself. We'll have to wait and see whether the Creed franchise continues after this particular movie, but if it does, whoever helms the next installment will probably want to take measures to make it feel more unique.
You can judge Creed II for yourself when it opens in theaters on November 21, the same day as Ralph Breaks the Internet, Robin Hood, Green Book and Roma. As for what else there is to look forward to in the final weeks of 2018, head to our holiday premiere guide for that information, or you can get a head start on next year by looking through our 2019 release schedule.
Connoisseur of Marvel, DC, Star Wars, John Wick, MonsterVerse and Doctor Who lore. He's aware he looks like Harry Potter and Clark Kent.
Your Daily Blend of Entertainment News
Thank you for signing up to CinemaBlend. You will receive a verification email shortly.
There was a problem. Please refresh the page and try again.