7 Great Raunchy Holiday Movies For When You Aren't Feeling Hallmark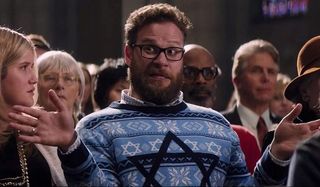 The holiday season is largely promoted to be a wholesome time, especially for those who watch the Hallmark Channel. While that programming is typically great, some may feel the need to break up the monotony of the same heartwarming stories and find some movies that touch on the naughtier times of the holiday season. In no particular order, here are some raunchy holiday movies folks should enjoy when they aren't feeling in the Hallmark spirit.
The Night Before
The Night Before follows three friends on the night they undergo what may be their final Christmas Eve celebration tradition together as a friend group. Ethan (Joseph Gordon-Levitt), knowing this may be the last time he convinces his buddies Isaac (Seth Rogen) and Chris (Anthony Mackie) to cut loose before family and super-stardom drag them elsewhere, snags tickets to a high profile event that could make this year's Christmas Eve celebration one they'll never forget.
This wild, drug-fueled, Christmas Eve ensemble comedy is one capable of creating a few belly laughs, especially for those who may still have that friend stuck in a rut. Those that don't will still appreciate the performances of the main three cast members, as well as the cameos from several high-profile comedians and a rare comedic performance by Michael Shannon. That alone is worth the watch, although there's a pretty funny midnight mass scene worth sticking around for as well.
Surviving Christmas
Ben Affleck plays advertising executive Drew Latham, who can't find anyone to spend the holidays with. In order to not be alone during the holiday, and to win back his girlfriend, Drew brokers a deal with the Valcos family, who live in his childhood home. Drew offers the family a large sum in exchange for pretending to be his family for the holidays, resulting in a holiday escapade that only gets crazier as it unfolds.
I personally believe Surviving Christmas is the most criminally underrated Christmas film of all time. Ben Affleck has a great chemistry with the Valcos patriarch played by the late James Gandolfini, and the plot manages to make sense of what originally feels like a kooky Hollywood premise at the start. The raunch level is a bit uneven in this flick compared to others on the list, but rest assured, it hits the mark just as well as the rest.
Bad Santa
In what is perhaps viewed as the epitome of raunchy holiday films, Bad Santa puts Billy Bob Thorton in the shoes of mall Santa Willie, who has been running a Christmas heist with his partner Marcus for years. They've had a good thing going, but unfortunately, Willie's become increasingly sloppy as of late, and his behavior leaves them at risk of exposure in their latest gig. Can Willie hold it together enough to finish this job?
Bad Santa's raunch is so infamous that even those who haven't seen it seem to be aware of its naughtiness. It's perhaps the gold standard for irreverent holiday films far removed from what may be shown on Hallmark this season, albeit one that most people know about by now. Still, those that haven't seen this romp need to chisel out some time to do so during the holiday season.
A Very Harold And Kumar 3D Christmas
Here we have the third installment of the Harold And Kumar series, and an adventure that begins with the friends in dire straights. Harold (John Cho) and Kumar (Kal Penn) haven't seen each other in quite some time. The two are reunited thanks to a shared marijuana-related Christmas present they receive, which accidentally sets a special tree grown by Harold's future father-in-law on fire. Together, they set out to find a replacement and save Harold's Christmas.
This stoner comedy may be funnier for those that have seen the two previous entries, although most should be able to follow the plot even if they haven't. There's a lot of Christmas weirdness to be enjoyed in this one, including the return of Neil Patrick Harris in one great Christmas show. As a fun side note, this movie has a claymation sequence that was animated by Laika, the same folks behind Coraline and Kubo and the Two Strings.
Why Him?
Bryan Cranston and James Franco play opposite each other in Why Him? as Cranston's Ned Fleming and his family go to visit his daughter and her new boyfriend Laird Mayhew (Franco) over the holidays. Laird's wealth and opulence can't make up for his shocking and uncouth behavior, as Ned becomes increasingly certain Laird isn't the right man for his daughter. Unfortunately, Laird makes matters even worse by informing Ned he intends to propose in the near future.
Weird and funny are two things James Franco does very well, and he's allowed to spread those wings to the fullest in this film. Bryan Cranston plays a good straight man to Franco's wild antics, and the disapproving father some may have seen when they brought a less than desirable significant other home to meet the folks during the holiday season. Perhaps pop this one in if that happens this year to see if the new visitor gets the hint?
Office Christmas Party
A work Christmas party to end all Christmas parties goes down in Office Christmas Party, in an event that goes off the rails rather quickly. That's kind of okay, however, as branch manager Clay (T.J. Miller) needs a crazy party in order to convince a potential financial partner that the firm is in good standing. If not, his sister and the company's interim CEO (Jennifer Anniston) will lay off 40% of the staff.
Much like The Night Before, this adventure is loaded with comedians and actors who each contribute to the film's comedy in wild and unique ways. It's a movie that hits the rarely touched upon subject of corporate holiday parties, and how they can occasionally get wild. That said, they probably won't get nearly this wild, so viewers should watch this after their own corporate Christmas party to keep expectations low.
How The Grinch Stole Christmas (2000)
Without question, this is the tamest entry on the list, but the fact that this classic Dr. Seuss tale has even a hint of raunch makes it unlikely Hallmark would air it on its holiday lineup. The live-action romp where Jim Carrey plays the iconic Grinch and steals Christmas is a memorable Christmas classic, if not a little weird.
For example, whose idea was it to have How The Grinch Stole Christmas feature a swingers scene? The scene's inclusion is a bit more understandable when one learns earlier screenplays were said to be raunchier and feature potentially more offensive stuff than free love. Luckily, E! News reported Dr. Seuss' widow stepped in and vetoed some of the wilder moments, and helped craft a final product that, while good, may come in second to the latest remake.
Viewers who feel a raunchy holiday classic was left off this list that others need to be aware of should post their suggestion in the comments below. For those looking to keep in the Christmas spirit, check out some questions we still have for Home Alone after all these years.
Your Daily Blend of Entertainment News
Mick likes good television, but also reality television. He grew up on Star Wars, DC, Marvel, and pro wrestling and loves to discuss and dissect most of it. He's been writing online for over a decade and never dreamed he'd be in the position he is today.