The New Hallmark Christmas Movies Coming To TV In 2018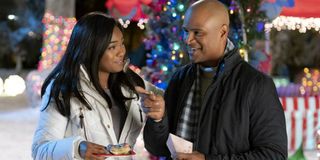 If you haven't noticed, 2018 is winding right on down. Halloween has now passed us by, which can only mean that it's time for one, wondrous, glorious thing: brand new Hallmark Christmas movies! For tons of holiday obsessed folks, this festive season just wouldn't be the same without a binge (or seven) of the best and brightest in made for TV Christmas movies from the good people at Hallmark. And, as in years past, there are lots of new options for you.
This year, Hallmark and Hallmark Movies & Mysteries have outdone themselves, compared to last year, with a record breaking 37 all new Christmas movies for you to enjoy. So, prepare yourselves for a season of Christmas themed small towns, overworked single parents, magical decorations, real Santa Claus stories, soldiers who want to get home in time for the holidays and major coincidences that lead to long-term love!
This list includes, in order, all of the new Hallmark Christmas movies for this year. They are listed by network, with Hallmark Channel movies coming first and Hallmark Movies & Mysteries films coming next. Keep in mind that all Hallmark Channel movies will debut at 8 p.m. EST/7 p.m. CST and all Hallmark Movies & Mysteries films begin at 9 p.m. EST/8 p.m. CST. Also, keep in mind that if you miss a premiere, many of these movies will replay throughout this holiday season, and likely for years to come. OK, get the hot beverage of your choice ready, grab your favorite blanket, light your most festive candles and get ready to fill out your viewing schedule with all of the new Hallmark Christmas movies for 2018!
Hallmark
Christmas at Pemberley Manor - 10/27
Stars: Jessica Lowndes and Michael Rady
Plot: When New York event planner Elizabeth gets sent to a small town to organize its Christmas festival, she finds billionaire William in the process of trying to sell the estate she wanted to use as a venue.
Christmas Joy - 11/3
Stars: Danielle Panabaker and Matt Long
Plot: When Joy visits an ailing relative in her quaint hometown, she gets roped into organizing the town's holiday cookie crawl with her old crush, Ben.
Road to Christmas - 11/4
Stars: Jessy Schram, Chad Michael Murray and Teryl Rothery
Plot: When TV producer Maggie tries to reunite her secret crush Danny and his brothers with their mom for Christmas, she learns what the true meaning of the holiday really is.
It's Christmas, Eve - 11/10
Stars: LeAnn Rimes and Tyler Hines
Plot: School superintendent Eve has decided the music program run by her handsome neighbor Liam must be cut. Will their burgeoning relationship survive?
Christmas in Love - 11/11
Stars: Brooke D'Orsay, Daniel Lissing, Mary-Margaret Humes
Plot: When the employees at Ellie's small town bakery have their jobs threatened by new CEO Nick, she has to show him that the people are what make the business special in time for the holidays.
Christmas at Graceland - 11/17
Stars: Kellie Pickler and Wes Brown
Plot: When Laurel heads to Memphis for work, she ends up reconnecting with old flame Clay and remembering their shared dream of making music together.
Christmas in Evergreen: Letters to Santa - 11/18
Stars: Jill Wagner, Mark Deklin, Holly Robinson-Peete, Barbara Niven, Andrew Francis and Ashley Williams
Plot: Lisa takes a Christmas trip back to her hometown of Evergreen and ends up restoring the general store with local contractor Kevin while becoming involved in a mystery surrounding a 25-year-old letter to Santa that was somehow never sent.
Christmas at Grand Valley - 11/21
Stars: Danica McKellar and Brennan Elliott
Plot: Burned-out artist Kelly goes home to Grand Valley for Christmas and gets to re-experience her favorite childhood traditions with stressed single dad Leo and his kids.
Christmas at the Palace - 11/22
Stars: Merritt Patterson and Brittany Bristow
Plot: Former professional skater Katie is hired by Alexander, the king of a small country, to train his daughter for her Christmas ice skating performance.
Pride, Prejudice and Mistletoe - 11/23
Stars: Lacey Chabert and Brendan Penny
Plot: When Darcy goes home for Christmas, she reconnects with an old rival, Luke, and is forced to plan a charity event with him which leads to her learning what's really important in life.
Christmas Everlasting - 11/24
Stars: Tatyana Ali, Dondre T. Whitfield, Patti LaBelle and Dennis Haysbert
Plot: After Lucy's older sister dies unexpectedly, she finds out from Peter, her former sweetheart and her sister's lawyer, that she'll need to spend 30 days over the holidays at the family home in order to claim her inheritance.
A Shoe Addict's Christmas - 11/25
Stars: Candace Cameron Bure, Luke Macfarlane and Jean Smart
Plot: After getting locked in the department store where she works on Christmas Eve, Noelle meets her guardian angel who lets her experience holidays past, present and future.
Mingle All the Way - 12/1
Stars: Jen Lilley, Brant Daugherty and Lindsay Wagner
Plot: When Molly joins the dating app she founded to prove to her family that it works, she ends up paired with Jeff, whom she's already had two disastrous dates with.
A Majestic Christmas - 12/2
Stars: Jerrika Hinton and Christian Vincent
Plot: Architect Nell has been chosen to turn her town's playhouse into a modern theater, but when she clashes with the new owner, Connor, she tries to change his mind by giving him a crash course in Christmas during the town's holiday festival.
Homegrown Christmas - 12/8
Stars: Lori Loughlin and Victor Webster
Plot: When Maddie and her high school love Carter are forced to plan a Christmas dance for the local high school, they remember what made them fall in love all those years ago.
Welcome to Christmas - 12/9
Stars: Jennifer Finnigan and Eric Mabius
Plot: While stranded in Christmas, Colorado, resort developer Madison falls for the town as the inhabitants try to convince her that they have the perfect location for her new resort.
Entertaining Christmas - 12/15
Stars: Jodie Sweetin and Brendan Fehr
Plot: In order to prove that she's worthy of taking over her mom's lifestyle empire, Candace responds to a young fan's request to help welcome her deployed dad home for Christmas.
A Gingerbread Romance - 12/16
Stars: Tia Mowry-Hardrict and Duane Henry
Plot: The architectural firm that Taylor works for entered her in a contest to build a life size gingerbread house, but when her teammate backs out, she happens upon baker Adam and asks him to help her.
Jingle Around the Clock - 12/22
Stars: Brooke Nevin and Michael Cassidy
Plot: When Elle leads a Christmas campaign relaunch to prove she's ready for a promotion, she's forced to team with Max, who has a very different view of the holidays.
Christmas Made to Order - 12/23
Stars: Alexa PenaVega and Jonathan Bennett
Plot: When Christmas novice Steven is chosen to host his family's holiday festivities, he hires holiday coordinator Gretchen to set it all up for him and the two become closer than they expect.
When Calls the Heart Christmas - 12/25
Stars: Erin Krakow, Lori Loughlin, Jack Wagner, Pascale Hutton, Kavan Smith, Paul Greene
Plot: The residents of Hope Valley band together to make it a Christmas to remember for a group of orphans who get stranded there for the season.
A Midnight Kiss - 12/29
Stars: Carlos PenaVega and Adelaide Kane
Plot: When party planner Lisa is left alone to plan the biggest event in her company's history, she has to enlist the help of her brother's visiting college friend, David.
Hallmark Movies & Mysteries
Marrying Father Christmas - 11/4
Stars: Erin Krakow, Niall Matter and Wendie Malick
Plot: As Miranda and Ian prepare for their Christmas wedding, Miranda must decide if she wants to let a mysterious visitor who claims to have ties to her late parents attend the event.
A Veteran's Christmas - 11/11
Stars: Eloise Mumford and Sean Faris
Plot: Decorated veteran Grace has to rediscover the magic of Christmas after being separated from her K9 partner, and is helped along by local judge, Joe.
Return to Christmas Creek - 11/17
Stars: Tori Anderson, Stephen Huszar, Steven Weber and Kari Matchett
Plot: Driven app developer Amelia heads back to her small hometown to rediscover her Christmas spirit and reconnects with her childhood best friend, Mike.
A Godwink Christmas - 11/18
Stars: Kimberley Sustad, Paul Campbell and Kathie Lee Gifford
Plot: When Paula reluctantly accepts a marriage proposal from her boyfriend, her aunt whisks her away to Nantucket to help teach Paula that sometimes we get signs from above.
Last Vermont Christmas - 11/19
Stars: Erin Cahill and Justin Bruening
Plot: Megan and her sisters reunite every Christmas in their childhood home, but this year their parents have put the house up for sale, and Megan's former sweetheart, Nash, is the buyer.
Hope at Christmas - 11/20
Stars: Ryan Paevey and Scottie Thompson
Plot: When recent divorcee Sydney decides to spend time in a home she inherited with her daughter for Christmas, she meets teacher Mac who helps her open to the spirit of the season again.
Christmas On Honeysuckle Lane - 11/24
Stars: Alicia Witt and Colin Ferguson
Plot: After their parents' passing, Emma and her siblings decide to spend one last Christmas in their childhood home and when she finds a surprise in their mother's things, it leads them to realizing the power of family and love during the holidays.
Christmas Wonderland - 12/1
Stars: Emily Osment
Plot: When Heidi goes home for the holidays and has to help her high school sweetheart, Chris, plan the Christmas SnowBall, she becomes torn between her life in the big city and the one she's reclaiming in her home town.
Once Upon a Christmas Miracle - 12/2
Stars: Aimee Teegarden and Brett Dalton
Plot: Heather needs a liver transplant and stranger Chris decides to donate. The two become close as we follow their journey over three Christmas seasons.
Memories of Christmas - 12/8
Stars: Christina Milian and Mark Taylor
Plot: Noelle inherits her late mother's house and finds out her gorgeous yearly Christmas decorations were actually done by Dave. He convinces her to let him carry on the tradition, and Noelle begins to soften and enjoy the holidays.
Time for Me to Come Home for Christmas - 12/9
Stars: Josh Henderson and Megan Park
Plot: When small town business woman Cara and country music star Heath get stranded in New York after the flight to Tulsa they were both booked on gets canceled right before Christmas, the strangers end up traveling together and helping each other through the holidays.
Northern Lights of Christmas - 12/15
Stars: Ashley Williams and Corey Sevier
Plot: Pilot Zoey plans to sell the ranch in Alaska that she inherited from her uncle, but she changes her mind when she meets ranch hand Alec.
Small Town Christmas - 12/22
Stars: Kristoffer Polaha and Ashley Newbrough
Plot: Author Nell goes on a Christmas book tour and has a chance meeting with Emmett, a man she knew years ago who stood her up and then disappeared from her life.
Christmas Bells Are Ringing - 12/23
Stars: Emilie Ullerup and Josh Kelly
Plot: When Samantha heads home to Cape Cod for her dad's Christmas Eve wedding, she gets her childhood friend Mike to help with a project that could ignite her career and learns that Christmas is always where your family is.
Bachelor Nation, Gilmore Girl; will Vulcan nerve pinch pretty much anyone if prompted with cheese...Yes, even Jamie Fraser.
Your Daily Blend of Entertainment News
Thank you for signing up to CinemaBlend. You will receive a verification email shortly.
There was a problem. Please refresh the page and try again.