The Spider-Man: Far From Home Trailer Finally Shows Jake Gyllenhaal's Mysterio In Action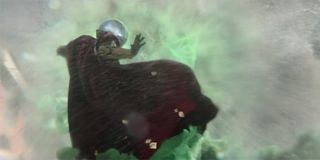 It's crazy that we've waited as long as we have to see a version of Mysterio in a live-action film. The character from the comics has an origin story set in the movie industry -- originally introduced as Quentin Beck, special effects extraordinaire -- and yet villains like Green Goblin, Doc Ock, Sandman, Venom, Lizard, Electro, and Vulture all got time on the big screen before he did. Thankfully, that particular period of ignorance is coming to an end with Spider-Man: Far From Home, and today we got our amazing first look at Jake Gyllenhaal in the role courtesy of the blockbuster's debut trailer.
With most of the footage in the preview catching the audience up with Peter Parker (Tom Holland) as he makes his way to Europe for summer vacation, the reveal of the Marvel Cinematic Universe's big new antagonist is saved for basically the very end. An attack on Venice requires a hero, and with Spider-Man out of uniform/incapacitated the job is left to Mysterio -- who makes one hell of a dramatic entrance. Calling out, 'You don't want any part of this,' he quickly jumps into battle against some anthropomorphic water (perhaps Hydro-Man?), and gives audiences the world over an amazing official first look at his perfect, comic book-accurate costume.
Surely part of what has kept Mysterio out of movie theaters in the last 17 years is the fact that the outfit he wears is pretty over-the-top even by comic standards -- but director Jon Watts and the various production heads have done an amazing job overcoming that hurdle for Spider-Man: Far From Home, as seen in the screenshot above. The green and purple coloring isn't as vibrant as it is on the page, but they blend just as well in their muted shades, and it's amazing that he's sporting that huge cape and giant gold gloves. The movie could have taken a shortcut and tried to create a look that would be a bit more grounded for the character, but the fact that they didn't is bold, and the results are amazing.
Of course, as excellent as the costume is, there is no question that the helmet featured later in the footage is what totally completes the look. Like the purple and green garbs, it was unclear exactly how the big glass bubble that Mysterio wears in the comics would translate into live-action for Spider-Man: Far From Home, but it looks genuinely perfect. It is still perhaps a little bit silly (you have to make it so that the wall-crawler can still make jokes about it), but it also looks totally natural and surprisingly practical. It really brings the whole look together.
Beyond just the aesthetics, the Spider-Man: Far From Home trailer also gives us a look at what Jake Gyllenhaal's Mysterio can actually do. Specifically, it seems like he has the ability to release some kind of green energy from his hands, which seems to work quite effectively in his battle against the living water. Given that the character from the comics doesn't actually have any superpowers, just the ability to generate supremely realistic and sometimes dangerous effects, one might assume that what we're seeing on display is some kind of an illusion based in some advanced technology that he has, but I suppose that we'll have to wait until the film is actually released before we find out the secret.
As an extra bonus, I'll also point out that you can see Mysterio's eye symbol in his green projections, the same logo that is typically featured on the emblems on his shoulders:
At this point we still can't say that we know too much about Mysterio's role in Spider-Man: Far From Home, but we are definitely fascinated by this first look. Not only does the character look absolutely perfect, but it's notable that it appears that he will be introduced to the story as a hero helping civilians in danger by taking down monstrous supervillains. We can assume that his arc will eventually turn him into an antagonist that Spider-Man has to defeat in a big third act battle, but at this point we really have no clue how he winds up going from point A to point B.
We shall continue to wait patiently for all of that information and a whole lot more, but between now and then we at least have the Spider-Man: Far From Home trailer to watch over and over again on repeat:
Starring Tom Holland, Jake Gyllenhaal, Zendaya, Samuel L. Jackson, Marisa Tomei, Jon Favreau, Cobie Smulders, and more, Spider-Man: Far From Home will be the first Marvel Cinematic Universe movie released after Avengers: Endgame, and will be kicking off Phase 4 with its arrival this summer. The film will be in theaters everywhere on July 5th, and be sure to stay tuned here on CinemaBlend for a whole lot more of our upcoming coverage.
Your Daily Blend of Entertainment News
Assistant Managing Editor
NJ native who calls LA home and lives in a Dreamatorium. A decade-plus CinemaBlend veteran who is endlessly enthusiastic about the career he's dreamt of since seventh grade.