The Matrix Turns 20: Here's What The Cast Looks Like Now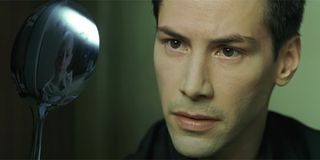 Next month marks the twentieth anniversary of the 1999 action sci-fi film The Matrix. Two decades after its release in one of the best years for movies ever, The Matrix still holds up and it is plain to see how much it has influenced the movies that followed it in the new millennium. Despite a pair of sequels that couldn't live up to the original (an arguably impossible task) The Matrix remains a seminal film of the 90s, the sci-fi genre, and cinema as a whole.
The success of The Matrix and its lasting impact are due as much to the film's cast as they are to its groundbreaking special effects and mind-bending cyberpunk story. Twenty years is a long time and, while not all of the cast members of that beloved film have become blockbuster mainstays, many of them can still be seen today on screens big and small.
So let's catch up with the crew of the Nebuchadnezzar and one particularly nasty program to see the cast of The Matrix then and now. Take a look.
Keanu Reeves (Neo)
If you don't know what Keanu Reeves has been up to in the twenty years since he got the role Will Smith turned down in The Matrix, your name must be Rip Van Winkle. Already an action star thanks to Speed and Point Break, Keanu Reeves has remained a constant presence on the big screen to this day.
After The Matrix and its sequels, Keanu Reeves remained an actor known for action and science fiction with roles in films like Constantine, A Scanner Darkly, The Day the Earth Stood Still and 47 Ronin. Keanu Reeves also achieved an incredible feat, starring in another popular action trilogy, the John Wick series, the third film of which releases later this year.
Keanu Reeves has also continued his career as a leading man in romance movies and rom-coms in films like Sweet November in 2001, The Lake House in 2006 and Destination Wedding in 2018. In 2019, besides his return as John Wick, Keanu Reeves also joins Toy Story 4 in an unspecified role. Beyond that, there is a fan hope he will one day show up in the MCU as well as the always-lingering possibility of Bill & Ted 3.
Carrie-Anne Moss (Trinity)
Carrie-Anne Moss was primarily a TV actress prior to 1999, but her role as Trinity in The Matrix took her career to the next level and in the two decades since she has been a presence on both film and television. She has even lent her voice to the popular Mass Effect series of video games.
Carrie-Anne Moss showed up in Christopher Nolan's 2000 breakout Memento. She also had roles in a wide range of films like Chocolat, The Chumscrubber and Disturbia. In more recent years, Carrie-Anne Moss has been in the swords-and-sandals flick Pompeii as well as the based-on-a-true-story drama Brain on Fire.
Like a few of her Matrix co-stars, Carrie-Anne Moss has also found herself in the realm of superheroes with her role as Jeri Hogarth on Netflix's recently cancelled Marvel series, primarily Jessica Jones, which will air its final season later this year. Next up for Carrie-Anne Moss is the Norwegian limited series crime drama Wisting.
Laurence Fishburne (Morpheus)
Laurence Fishburne had a long a career prior to his role as the enigmatic Morpheus in The Matrix and in the two decades since he gave us a choice between red and blue pills, the actor has been cast in a diverse array of projects across film and television.
In just the twenty years since The Matrix blew people's minds, Laurence Fishburne has worked with a who's who of Hollywood directors including Clint Eastwood, J.J. Abrams, Steven Soderbergh and Richard Linklater in Mystic River, Mission: Impossible III, Contagion and Last Flag Flying respectively. He has also remained a genre favorite, showing up in both the DC and Marvel comic book movie universes, in the former as Perry White in Man of Steel and Batman v Superman: Dawn of Justice, and in the latter just last year as Bill Foster in Ant-Man and the Wasp.
Laurence Fishburne has also had long stints on TV in CSI: Crime Scene Investigation, Hannibal and black-ish. The man they call Morpheus has a big 2019 lined up for him too. He will again work with Richard Linklater in Where'd You Go, Bernadette and he reunites with Keanu Reeves for John Wick: Chapter 3 – Parabellum.
Hugo Weaving (Agent Smith)
Hugo Weaving's Agent Smith was a truly diabolical entity with utter contempt for the human race. He wound up becoming the primary antagonist throughout The Matrix trilogy and the fact that it still might not be his best-known role says a lot about the career Hugo Weaving has had. There are few, if any, actors known more for their memorable roles in genre films than Hugo Weaving, who has played both detestable villains and heroic freedom fighters.
After the original Matrix, Hugo Weaving appeared as Elrond in The Lord of the Rings trilogy and went on to reprise that role in The Hobbit films. Hugo Weaving voiced Megatron in the Transformers franchise, played V in V for Vendetta and was Red Skull in Captain America: The First Avenger. He also reunited with the Wachowskis for Cloud Atlas. Most recently, Hugo Weaving starred as the villainous Valentine in Mortal Engines.
His talents aren't strictly for science fiction and fantasy fare either. The prolific actor also starred in The Dressmaker in 2015 and in Mel Gibson's Hacksaw Ridge in 2017. Hugo Weaving has shown up on the small screen too, just last year opposite Benedict Cumberbatch in the miniseries Patrick Melrose.
Joe Pantoliano (Cypher)
In The Matrix, Joe Pantoliano played the weasely Cypher who betrayed his friends and crewmates to Agent Smith, desiring to return to the blissful ignorance of the Matrix to be "someone important, like an actor." That didn't work out for Cypher but Joe Pantoliano has certainly had a prolific career as an actor since 1999.
Some of the highlights of Joe Pantoliano's post-Matrix career, which includes parts in both film and television are Memento in 2000, along with his Matrix co-star Carrie-Anne Moss, and his role as Ralph Cifaretto on HBO's The Sopranos. Joe Pantoliano also reunited with his Matrix directors the Wachowskis for a role in the Netflix series Sense8. On the horizon, Joe Pantoliano is reprising his role as Captain Howard for the action-comedy threequel Bad Boys for Life.
Matt Doran (Mouse)
In The Matrix, actor Matt Doran played the heroic and hilarious Mouse, designer of the woman in the red dress and philosopher about machine taste buds. After The Matrix, Matt Doran had a small role in Star Wars: Episode II – Attack of the Clones as death stick dealer hilariously named Elan Sleazebaggano on Coruscant.
In 2013 Matt Doran starred with Dolph Lundgren in Battle of the Damned and he also had a role in 2017's Ashley Judd film Trafficked. His next onscreen appearances will be opposite Vikings' Travis Fimmel in Danger Close and in the thriller Intersection.
Belinda McClory (Switch)
Belinda McClory's Switch stood out from the rest of the Nebuchadnezzar crew who had dark hair and donned all black with her bleached blond locks and all white attire. Her "Not Like This" death is now immortalized in memes and the actress herself has racked up plenty of film and television credits in the twenty years since that blockbuster.
The Australian actress starred with Ben Mendelsohn in the comedy-drama Mullet in 2001 and opposite Joel Edgertonin 2008's Acolytes. Belinda McClory also starred in four seasons of the Australian television series The Doctor Blake Mysteries, which U.S. audiences can find on Netflix. She next returns to the sci-fi genre for The Wheel, which is scheduled for release this year.
Julian Arahanga (Apoc)
Julian Arahanga's Apoc was probably the member of the Nebuchadnezzar crew that got the least to do in The Matrix, mostly standing in the background as a quiet badass and lamenting the "bowl of snot" they were forced to eat. Julian Arahanga hasn't done much acting since The Matrix with his most notable roles coming in his father's film Fracture in 2004 and The Ferryman in 2007, in addition to several short film appearances.
Julian Arahanga has mostly moved behind the camera through his AWA Films company in his native New Zealand. He has directed 21 episodes of his documentary series Songs from the Inside about musicians teaching inmates songwriting, as well as the doc Beyond the Battalion. Next up he executive produces his wife Becs Arahanga's short Hinekura.
Marcus Chong (Tank)
Marcus Chong played Tank, a homegrown child of Zion in The Matrix. Tank was the ship's operator who first helped Neo to learn Kung Fu. Despite his character surviving the first film, he did not return for the sequels and was replaced by Harold Perrineau's Link.
In the time since The Matrix, Marcus Chong has mostly had one-off roles on TV series like Law & Order: Criminal Intent, Numb3rs and Burn Notice. He also starred opposite Tara Reid, Danny Trejo and David Boreanaz in The Crow: Wicked Prayer. Marcus Chong's most recent film credits are a pair of short films in 2013.
Anthony Ray Parker (Dozer)
Like his brother Tank, Dozer was born in Zion, not grown. The pilot appeared to be a warm comforting presence on the Nebuchadnezzar brought to life through actor Anthony Ray Parker's performance. Cypher's betrayal and murder of Dozer meant that Anthony Ray Parker didn't show up in The Matrix Reloaded or The Matrix Revolutions, but his career continued outside of the Matrix.
Anthony Ray Parker has lent his voice to multiple Power Rangers series and has also appeared on TV in the series The Resolve and Starz's ambitious and underrated Spartacus. On the movie front, Anthony Ray Parker had a role in John Cena's feature film debut The Marine in 2006. More recently, he was in the fantasy thriller Muse in 2017 and opposite Eric Roberts in 2018's Lone Star Deception. Next up he's got the horror film Hoax and the sci-fi flick Ara.
It's been twenty years but many of the stars of The Matrix are still kicking ass and entertaining audiences on TV and in the theater, long after they taught us that there is no spoon. As the science fiction classic celebrates its twentieth anniversary, the cast should look back with pride, knowing that they were a part of a film that stands an important moment in cinematic history.
Stay tuned to CinemaBlend for all your movie news and check out our 2019 release schedule to see the movies you can look forward to this year.
Your Daily Blend of Entertainment News
Nick grew up in Maryland has degrees in Film Studies and Communications. His life goal is to walk the earth, meet people and get into adventures. He's also still looking for The Adventures of Pete and Pete season 3 on DVD if anyone has a lead.