Final Destination's Devon Sawa Had A Scary Coincidence On Its Anniversary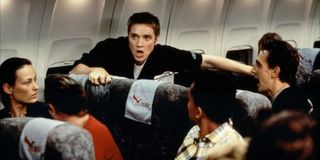 19 years ago, Final Destination took off into movie history with its first entry in a series that would span five films and a little over a decade's worth of time. And if it wasn't for Devon Sawa's Alex receiving that premonition on board Flight 180, we wouldn't have had a franchise to look forward to! So it seems more than a little weird that Sawa would notice on the exact date of the 19th anniversary of that first film, his flight number seemed a little... scary.
In a twist that would surely fit in a Final Destination movie of its own, Devon Sawa was on flight 317 yesterday, which was not only St. Patrick's Day, but also the opening day back in 2000 for his first film in the saga. While Sawa originally noted that it was 20 years ago, he corrected himself in the subtweets below, right past the point where Seth Rogen admitted he tried out for Seann William Scott's role in the first film.
Though, to be fair, he was probably filming the movie 20 years ago, and when you've worked on a film like Final Destination, the production and opening dates can sometimes get a big muddled. Still, 19 years after the smash hit opening of Final Destination is a funny day to have a flight number so inexorably linked to the day of his own flight. Some would say he should have played the lottery, especially taking into account the fact that spawned around $665 million internationally.
If New Line and Warner Bros wanted to really get spooky, they should think about putting together a Final Destination reunion tour and re-release for the 20th anniversary proper next year, in service of getting at least $1 million to hit that magic number of the devil. It certainly wouldn't hurt, what with the studio partners considering a reboot at this moment. Though if the grosses tend to be a little better coming from any sort of hypothetical anniversary, they may want to think about a potential reboot that changes the continuity to reintroduce Alex back into the game of death.
Are you ready for this whole situation to get scarier? As if the whole flight number coincidence wasn't enough of a Twitter moment, Devon Sawa had another encounter that invoked the spirit of the Final Destination franchise. This time though it wasn't a number, it was a person who tied it all together again, as he ran into fellow co-star Tony Todd, known partially for his role as the dire but oh so smooth undertaker who taught the kids a lesson about death in that very first film. Take a look for yourself:
Now we're not saying Devon Sawa is cursed or anything, but two coincidences almost add up to a movie's worth of danger. So maybe he'll want to find a nice, cozy spot of the world to relax in; just in case anything is lurking around the corner. But for all we know, it's just a bunch of crazy coincidences, and nothing else. It's not like there's any sort of plan working through the wheels of fate or anything.
If all this talk about Final Destination has you a bit nostalgic, you'll be happy to know that the first three films are streaming on Netflix at this very moment.
Your Daily Blend of Entertainment News
Senior Movies Contributor
CinemaBlend's James Bond (expert). Also versed in Large Scale Aggressors, time travel, and Guillermo del Toro. He fights for The User.
Your Daily Blend of Entertainment News
Thank you for signing up to CinemaBlend. You will receive a verification email shortly.
There was a problem. Please refresh the page and try again.