Good Boys Red Band Trailer Has Jacob Tremblay Dropping F-Bombs And Playing With Sex Toys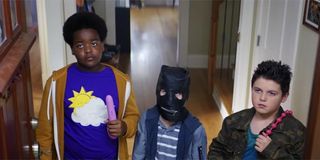 We've entered the era of Jacob Tremblay getting into raunch comedy. The adorable 12-year-old kid from Wonder and Room will next star in Good Boys, a raunch comedy about three friends who get into trouble while trying to figure out how to kiss girls. You can can check out the ridiculous premise, as well as sex toys, drones, drugs and more in the full trailer below.
As you can probably tell with the early explanation to this trailer it's Red Band and thus NSFW.
Jacob Trembley is joined by fellow actors Brady Noon and Keith L. Williams in the Good Boys trailer. The Red Band look at the movie has a funny intro featuring Seth Rogen, who produced the flick alongside Evan Goldberg, Joe Drake, Nathan Kahane and James Weaver. Basically the gist is that the middle schoolers in the movie can't actually watch the red band trailer because they aren't old enough, even though the were the ones tasked with dropping f-bombs and more here.
Although the kids are much younger in this trailer, obviously this movie has some of the same "kids getting into shenanigans" narrative that Superbad did more than 10 years ago. Universal Pictures and Good Pictures make a point to connect the new movie with "the guys who brought you Superbad." (Superbad was written by Seth Rogen and Evan Goldberg.)
It's always a little bit of a shock factor when 12-year-old boys are dropping f-bombs, but that's something they often do with their friends. Otherwise, despite the references to Molly and the specific and varied uses of dildos, this trailer is witty and heartwarming.
Seriously, though, there are so many sex toys here.
Also, there are plenty of f-bombs from the youngsters who aren't Jacob Tremblay and more. The general plot is that these kids are trying to figure out how to kiss. They use a drone to spy on some nearby women, which then leads to them stealing a purse to exchange it for the drone. Unfortunately, there are drugs in the purse and shenanigans ensue.
These shenanigans involve frat boys, stealing beer from a gas station, watching porn and seemingly causing a major traffic accident on a freeway. Just a regular Saturday for these young men. (Actually they are in way over their heads.)
Good Boys doesn't currently have a release date, but we'll let you know as soon as the Universal Pictures movie does get a date. In the meantime, take a look at the full movies schedule to see what else is coming up in 2019. If you are keeping tabs on Jacob Tremblay's career at all, you'll also be able to catch him in Doctor Sleep and The Twilight Zone coming up.
Amazing Race & Top Chef superfan with a pinch of Disney fairy dust thrown in. If you've created a rom-com I've probably watched it.
Your Daily Blend of Entertainment News
Thank you for signing up to CinemaBlend. You will receive a verification email shortly.
There was a problem. Please refresh the page and try again.