New Shazam! Video References Superman And Justice League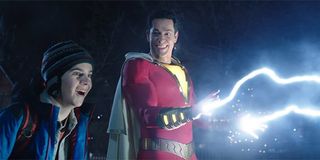 Shazam! will be the first DCEU solo film that features a superhero who wasn't introduced in Zack Snyder's Batman v Superman: Dawn of Justice and didn't fight alongside the trinity in Justice League. At a glance, Shazam! might appear to take place in a different world entirely, but a new video from the film makes it clear that Billy Batson's superhero exists in the DC world with references to Superman and the Justice League. Take a look:
This Chinese spot for Shazam! on Twitter shows that this movie takes place in a world like ours where kids are big fans of superheroes, but unlike ours it is a place where superheroes actually exists. Freddy Freeman is a big superhero fan and is thrilled to find that his new foster brother has superpowers, dropping references to Superman and other members of the Justice League.
As we've seen in the previous trailers, Freddy has one of Batman's Batarangs, so not only is Batman someone kids idolize, he has his own memorabilia. It's also fun to hear Freddy say "heroes fly" after the first Shazam! trailer, where Billy Batson was testing out his new powers and having difficulty doing much more than impressive jumping. To Freddy and kids like him, Superman is at the top of the superhero mountain, in large part due to his powers of flight.
Freddy specifically references Superman's death in Batman v Superman: Dawn of Justice, showing how the events of the previous films are common knowledge in Shazam!
The best reference to the Justice League in this video is when a clearly out of his element Billy Batson tells Freddy Freeman that he can't talk to fish, asking what good that power would be even if he could. This is a hilarious reference to the long-standing criticism and joke about Aquaman that he is the hero that talks to fish.
Freddy Freeman dunks on this oversimplification, saying that Aquaman's powers allow him to command an army of billions of ocean dwellers. This seems to reference the events of December's Aquaman and the war that took place beneath the surface. While saying this Freddy also tugs at his shirt that appears to have the Aquaman logo on it.
Unlike The Walking Dead, which takes place in a world where zombies were never part of pop culture, Shazam! takes place in a world where superheroes are something kids obsess over while also being real. That's what makes the conceit of this movie so fun, a kid gets the kinds of powers that every kid dreams of having. He gets to experience all the joys of those powers while also discovering that with great power…you know the rest.
These little Easter eggs are fun for DC fans but they do raise some interesting questions about the DCEU overall and where Shazam! fits in it. The underwater world was being denied in the media in Aquaman, Superman was a controversial public figure and Batman was being viewed as a criminal in BvS. In Shazam! these superheroes are beloved by kids and have their own merchandise.
That makes the timeline for Shazam! in relation to the rest of the DCEU kind of murky. We know that at one point Henry Cavill's Superman was expected to make a cameo in Shazam! and Zachary Levi is still hoping for his character to be part of the Justice League one day, but the continuity is all a bit unclear.
It's probably best not to overthink it. The DCEU may be dead as Warner Bros. seems to be moving further and further away from the shared cinematic universe model and just focusing on making the best movies it can one at a time. To that end the early reactions to Shazam! are very positive teasing that the actual film is just as fun as the trailers and videos like the one above make it out to be.
Shazam! bolts into theaters on April 5. Check out our 2019 Release Schedule to keep track of this and all the other big movies coming this year.
Your Daily Blend of Entertainment News
Nick grew up in Maryland has degrees in Film Studies and Communications. His life goal is to walk the earth, meet people and get into adventures. He's also still looking for The Adventures of Pete and Pete season 3 on DVD if anyone has a lead.