The Addams Family First Trailer Has A Classic IT Joke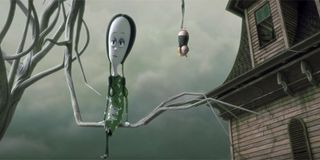 We've known for a while now that The Addams Family would be coming back to the big screen in 2019. Now that we've gotten the first look at the upcoming animated venture, I can confirm they're still creepy and they're kooky, plus they're absolutely mysterious and spooky. But you don't need to take my word for it. You can catch the first preview of the new movie, below.
The Addams Family trailer takes great pains to let us know this isn't your average family. In fact, there's a whole section at the beginning filled with stick figures to explain how the Addams differ from other people you've met in your lifetime.
My favorite moment, however, features Wednesday Addams and a red balloon. She walks into a room her parents are currently occupying with said red balloon and her mother Morticia declares, "Strange there's usually a murderous clown attached to the other end of these." Nods to IT are pretty timely right now, given the popularity of the Andy Muschietti venture.
Theme music is present in every corner of this first trailer for The Addams Family and Wednesday is as gloomy as ever in the first look at the computer animated 3D movie, which comes from MGM Pictures and Cinesite.
As for the cast, sometimes with animated movies it can be hard to tell exactly who is involved in all of the voicework, so we'll break it down for you here. Oscar Isaac is on board as Gomez Addams and his lovely wife Morticia (she of the IT jokes) will be voiced by Charlize Theron. Their kids, Wednesday and Pugsley, will be voiced by Chloe Grace Moretz and Finn Wolfhard--the latter is actually in IT: Chapter One and IT: Chapter Two, so that reference in the trailer has an added layer. Nick Kroll will voice Uncle Fester in this iteration of The Addams Family. Bette Midler will voice Grandma and Allison Janney will voice a reality TV host in the upcoming movie.
Related: Take A Look At The The Addams Family Cast
The whole animated venture has two directors in Conrad Vernon and Greg Tiernan, who also worked together on the R-rated animated flick Sausage Party. Matt Lieberman wrote the script for the new movie. This project actually took a long time to come together, as we were already writing about an animated Addams Family venture back in 2013.
Hopefully, the final project will be worth the wait. We'll be able to see for ourselves when The Addams Family hits theaters on October 11, 2019 -- just in time for a family-friendly Halloween. To take a look at what else is hitting theaters later this year, take a look at our full release schedule. And be sure to stay tuned to CinemaBlend as a longer trailer should be forthcoming.
Reality TV fan with a pinch of Disney fairy dust thrown in. Theme park junkie. If you've created a rom-com I've probably watched it.
Your Daily Blend of Entertainment News
Thank you for signing up to CinemaBlend. You will receive a verification email shortly.
There was a problem. Please refresh the page and try again.