Gemini Man Trailer Has Will Smith Fighting Will Smith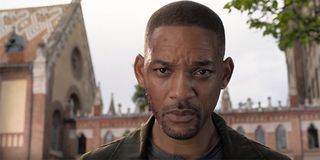 One of the most intriguing under-the-radar movies of 2019 is Ang Lee's Gemini Man. The film from the Academy Award-winning director of Life of Pi stars Will Smith as an over-the-hill hitman who is forced to face off with a clone of his younger self. The first footage from the sci-fi film impressed CinemaCon audiences with its de-aging technology and now we have a full trailer of Will Smith fighting Will Smith. Check it out:
The first thing that must be mentioned upon viewing this trailer is how amazing and impressive the de-aging on Will Smith looks. Despite the fact that he is a CG creation, the clone of Will Smith's Henry Brogan looks nearly indistinguishable from the flesh and blood actor that we saw on film and TV screens in the '90s.
What makes this really stand out is that he is blending in perfectly to real environments with other actors; he's not just surrounded by CGI. If the execution weren't perfect, he'd stand out like a sore thumb, venturing into uncanny valley territory. For a film where Will Smith's younger clone is one of the main characters, this absolutely had to look great, and based on this first trailer, Ang Lee and his team appear to have pulled it off.
There's also some good action in the Gemini Man trailer, with hand-to-hand combat, gun battles and plenty of explosions. I also really liked how the clone launched a dirt bike at his progenitor. Other than maybe Crouching Tiger, Hidden Dragon, Ang Lee isn't really known as an action director, but he looks to have crafted some interesting set pieces here.
It won't be all action though, as the film appears to have a major emotional and psychological element as well, and it is clear that Will Smith's role as an aging hitman is one with a lot of pathos. In the trailer, we hear that the clone is Henry Brogan without the pain, and we see some of that pain, a weariness and melancholy etched on Will Smith's face. One of the questions I'll have going in to this movie is what is the cause of all that pain.
That's not the only question, though. I'm also quite curious about the world this film is set in because it doesn't appear to quite take place in the modern world as we know it. How far is this in the future, what role does Will Smith's hitman play in this world and why is his clone being sent after him are all mysteries that I'm excited to see explored. And what's the deal with that cave of skulls the two Will Smiths are fighting in?
Alongside the double-helping of Will Smith, Gemini Man has a great cast that includes Mary Elizabeth Winstead and Benedict Wong. Gemini Man also stars Clive Owen as Clay Verris, a nefarious looking character who seems to have some unknown agenda. It feels like we don't see Clive Owen in big movies enough, so it's great to see him here.
In addition to the aforementioned de-aging, Gemini Man will also be Ang Lee's second film, after Billy Lynn's Halftime Walk, to employ high frame rate technology. The film is being made in 3D at 120 frames per second in 4K resolution, according to THR. The public hasn't embraced high frame rate films yet, as evidenced by Billy Lynn and the reception to The Hobbit's 48fps, but it will be interesting to see if this kind of blockbuster can give the format a boost, provided audiences can find a theater that can display it the way it was meant to be seen.
Gemini Man opens in theaters on October 4. Check out our 2019 Release Schedule to see all the movies headed to theaters this summer season and the rest of the year.
Nick grew up in Maryland has degrees in Film Studies and Communications. His life goal is to walk the earth, meet people and get into adventures. He's also still looking for The Adventures of Pete and Pete season 3 on DVD if anyone has a lead.
Your Daily Blend of Entertainment News
Thank you for signing up to CinemaBlend. You will receive a verification email shortly.
There was a problem. Please refresh the page and try again.