The Toy Story Scene That Inspired Bo Peep In Toy Story 4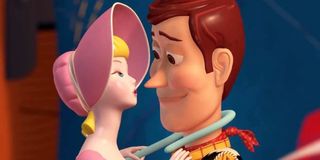 The next adventure in the Toy Story franchise will reunite our hero Woody with his old flame Bo Peep. However, if you've seen any of the new trailers, you'll know that Bo Peep is going to be a very different character this time around. She's been missing in action since the events of Toy Story 2, and in those years, she's seen a lot that has changed her a great deal.
However, it has to be said, that while Bo Peep will be key to the plot in Toy Story 4, she never been particularly relevant to the story before. This means that when the story and animation team behind Bo Peep "nicknamed "Team Bo" at Pixar, began work, they didn't have a lot of previous ideas to refer to. What sort of character was Bo Peep really?
I spoke with some of Team Bo during a visit to Pixar last month and asked them what they saw in Bo Peep's previous appearances that helped inspire who she would be in the new film. Story Artist Carrie Hobson, remembered one specific scene in Toy Story 2 that showed the sort of relationship that Woody and Bo Peep actually had...
The scene in question comes early in Toy Story 2. Woody has lost his hat and he's freaking out that without it Andy won't take him along to Cowboy Camp. Bo Peep is the one that gets Woody to relax, knowing that the hat has nothing to do with Andy's love for his favorite toy. You can watch the exchange between the two as part of the clip below
The Toy Story movies are, at their heart, essentially buddy comedies starring a cowboy and an astronaut. We see Woody and Buzz Lightyear meet, learn to become friends, and work together to overcome the various obstacles that get in their way.
Woody's relationship with other toys before the first movie begins isn't really made clear, he's certainly the leader of Andy's room, but if he has close relationships with anybody, we see little of that. Carrie Hobson saw this moment in Toy Story 2 as evidence of something deeper between Bo and Woody. It wasn't simply that the two had a romantic relationship, but that she could talk to him and get through to him in a way that others couldn't.
The other important piece of Bo's character that the team pulled from the previous films, according to Directing Animator Becki Tower was Bo's sense of humor. She's sarcastic
If Bo Peep and Woody were once truly best friends, what will seeing this old friend again mean for Woody's relationship with his current best friend? It seems that may be the central question the new film is looking to answer. We'll find out next month when Toy Story 4 arrives in theaters.
Content Producer/Theme Park Beat
CinemaBlend's resident theme park junkie and amateur Disney historian. Armchair Imagineer. Epcot Stan. Future Club 33 Member.
Your Daily Blend of Entertainment News
Thank you for signing up to CinemaBlend. You will receive a verification email shortly.
There was a problem. Please refresh the page and try again.