Why It Makes Sense One Character Isn't Really In Avengers: Endgame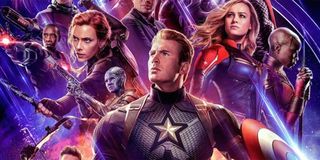 By now, there's a good chance you were one of the myriad people who caught the latest Marvel movie, but if you are in the dark about major plot points, this article will contain some spoilers. Proceed at your own caution.
Overall, people seem to be really digging Marvel's latest flick Avengers: Endgame. That's been shown through the number of butts that sat in seats this weekend, the number of positive reviews floating around online and the flick's A+ Cinemascore. But some fans do have a complaint about the movie specifically related to Okoye.
You know Okoye. She's a prominent member of the Dora Milaje in Wakanda and she's one of the few notable Wakandans who was not snapped out of existence by Thanos during Avengers: Infinity War. However, actress Danai Gurira's character only shows up briefly in a few scenes in Endgame.
Due to the fact she was present at the end of the last movie and was a part of the press tour leading up to this movie, some fans online expressed annoyance that we don't get to see more from Okoye, who is allegedly only in six minutes of Endgame in total.
A typical comment looks something like this:
To look at why Okoye is only briefly in the film, we likely don't have to look much further than shooting schedules.
How Avengers: Endgame's Shooting Schedule May Have Affected Okoye's Role In The Movie
First and foremost, Avengers: Endgame actually wrapped production in January of 2018 (although reshoots later continued until October). Black Panther came out in February of 2018, just after filming had finished on the two epic Avengers flicks.
It's also worth pointing out that Black Panther filmed in the spring of 2017, wrapping just a few months before Infinity War wrapped in July of 2017—meaning all three films were being worked up around the same time at Disney and Marvel.
Marvel's Kevin Feige has talked over and over again about how Wakanda became a major part of Avengers: Infinity War before Black Panther was released into theaters, saying,
The same holds true for Avengers 4, however. The movie was written and wrapping the first phase of filming before Black Panther ever became a cultural phenomenon. In fact, at one point, we learned producer Nate Moore pushed for Black Panther not to be dusted so he could be more omnipresent in the final film, also calling the decision to "murder" Black Panther "personally painful" due to how much the character meant to so many people, himself included. But the story was already cemented at that point.
In the case of Okoye, the character's story was also created for Avengers: Infinity War and Avengers: Endgame at the same time Black Panther was coming together.
When the Russo Brothers were putting their own movies together, they may have understood that Black Panther would be a big deal, but it's hard to know which of the supporting cast members would have a major impact prior to release, which could be one reason Okoye only has a minor role.
How The Walking Dead May Have Affected Okoye's Onscreen Time In Avengers: Endgame
Then, there's the fact that Danai Gurira has a day job, which also may contribute to scheduling. In addition to her work in the MCU, Gurira is a lead on AMC's The Walking Dead. The actress' exit has been confirmed for Season 10, but when all of these movies were coming together, her scheduling was assumedly a whole lot tighter.
Okoye does get a few memorable moments in Avengers: Endgame. She has a snarky exchange with Scarlett Johannson's Black Widow in the stressful period post-snap. She also shows up with the rest of the Wakandans to take on Thanos near the end of the film. As part of that battle, she gets a big girl power moment with some of the other female Avengers.
Regardless, she's certainly not a main character in this movie, and theoretically if the script had panned out differently, she could have gone on the same adventures the original Avengers + Rocket + Nebula + Ant Man did.
Ultimately, however, The Russo Brothers have stood by the script and their vision, and we got the three-hour adventure we did because of it.
In a lot of ways, Avengers: Endgame is more about Marvel's past than its future. Okoye is part of Marvel's future. Catch her in Black Panther 2.
Reality TV fan with a pinch of Disney fairy dust thrown in. Theme park junkie. If you've created a rom-com I've probably watched it.
Your Daily Blend of Entertainment News
Thank you for signing up to CinemaBlend. You will receive a verification email shortly.
There was a problem. Please refresh the page and try again.