Avengers: Endgame Reviews Are In, Here's What The Critics Are Saying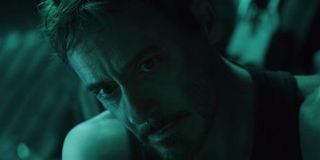 We're almost there, folks! After more than a decade of set-up and following a year after the devastating conclusion of Avengers: Infinity War, Avengers: Endgame is only a couple days away from finally being released to the masses. However, some folks were lucky enough to see the movie early, and now, following the social media reactions that poured in last night after the Endgame world premiere, the first reviews for the movie are pouring in, and they're overwhelmingly positive.
Let's kick off with CinemaBlend's own Eric Eisenberg, who awarded Avengers: Endgame a perfect 5 out of 5 stars in his review, noting that his movie is packed with all sorts of surprises, from actors you never expected to show up popping in to plot twists "coming out of left field." While he felt it would be "reductive" to call Endgame a love letter to Marvel fans, it definitely is a "wonderful gift" for those who've been invested in this franchise over the last 11 years, one which audiences "are going to want to experience over and over again."
Next up, we have Germain Lussier from io9, who described Avengers: Endgame as "everything you've ever dreamed a Marvel movie could be" and called it a "complete, complex, and satisfying conclusion" to the last decade we've spent with these MCU characters. Endgame becomes more complex as it goes along, which can sometimes make the movie feel "overstuffed and overly busy at times," but the payoffs are well worth it.
Entertainment Weekly's Leah Greenblat gave Avengers: Endgame a B+, declaring that the movie promises many things, like revenge, redemption and a ridiculously long runtime, and it "largely delivers" on that. And if you're a fan of Marvel cameos, then brace yourself, because Endgame is filled to the brim with surprise appearances.
Over at Birth.Movies.Death., Russ Fischer, who was not "convinced" by Avengers: Infinity War, found Avengers: Endgame to be a more satisfiable MCU offering. The movie has an "unusual structure," though that's definitely appropriate for the kind of story being told, and the second act plays out as a "Marvel's Greatest Hits" before delving into the final battle. In Fischer's eyes, Endgame doesn't create a "seismic shift" like Infinity War did, but it does put everything on the table.
USA Today (opens in new tab)'s Brian Truitt gave Avengers: Endgame a 3.5 out of 4 score, describing it as the "triple-disc greatest-hits package with the really awesome cover and a slew of familiar, comforting gems inside." The movie loses some momentum over its three-hour runtime, but it delivers those emotional gut punches we've expected and an explosive finale.
Angie Han from Mashable didn't find Avengers: Endgame to be the best, prettiest or even the funniest Marvel movie ever made, but she did call it the "most Marvel movie" ever made, and that's a notable accomplishment. There are some "quibbles" to be had at certain moments, but it ultimately serves as a testament to what this franchise has become.
Finally, IGN's Laura Prudom awarded Avengers: Endgame a 9.5 out of 10 score, calling it a movie that "rewards your knowledge of the MCU in its entirety." There are some parts that might feel like "outright fan service," but they feel more as though they're earned after everything we've seen over the last 11 years. Like most Marvel movies, there's an over reliance on "overproduced CGI battles," but fortunately, the quieter character moments are still able to shine.
These are just a handful of the Avengers: Endgame reviews that are now available, so feel free to venture elsewhere on the interwebs to learn what other critics thought of this movie. Be careful about running into spoilers, though, as there are some reviews that delve into minor plot details that some of you might not want to know. Tread cautiously!
You can judge Avengers: Endgame for yourself when it's released on April 26, but for now, keep up to date with CinemaBlend for more coverage on this blockbuster event, and be sure to look through our Marvel movies guide to learn what else this franchise has coming down the pipeline.
Connoisseur of Marvel, DC, Star Wars, John Wick, MonsterVerse and Doctor Who lore. He's aware he looks like Harry Potter and Clark Kent.
Your Daily Blend of Entertainment News
Thank you for signing up to CinemaBlend. You will receive a verification email shortly.
There was a problem. Please refresh the page and try again.