Wait, Does Spider-Man's Endgame Fate Connect To Captain Marvel?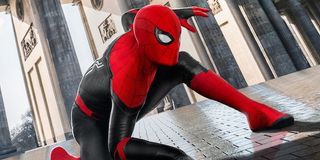 Warning: MAJOR SPOILERS for Avengers: Endgame are ahead!
Even though Marvel remained quiet about whether or not the characters who were turned to dust at the end of Avengers: Infinity War would in Avengers: Endgame, it was generally assumed that some, if not all of these casualties would be brought back to the land of the living. At the very least, Spider-Man would definitely be back, as his next movie, Far From Home, is coming out this summer.
Sure enough, Spider-Man is among the many Marvel Cinematic Universe heroes back in play, and although within the franchise's timeline it's been five years since The Decimation, Peter is the same age as he was when he disappeared, so it's back to high school he goes. And strangely enough, it's now being speculated that Peter Parker's school now has a character we met in Captain Marvel hanging around there: the Skrull known as Talos.
One of the final scenes in Avengers: Endgame showed Peter Parker reuniting with his best friend Ned at school, but before that happens, if you look closely in the background (via Imgur), you'll see a teacher in the background high-fiving some of the students coming in. Although this man is far away, he bares a resemblance to the human guise that Ben Mendelsohn's Talos took during Captain Marvel, which includes him rocking a grey suit.
In case you didn't see Captain Marvel earlier this year or need a refresher, like most other Skrulls, Talos is a shapeshifter, so it was easy enough for him to blend in when he landed on Earth in 1995. He primarily disguised himself as Keller, Nick Fury's boss at S.H.I.E.L.D. Avengers: Endgame takes place nearly three decades after Carol Danvers' origin story, so it would be unusual for Talos to being using the same guise after all this time, although if the real Keller has since passed away, it's not like that would cause any major problems.
Avengers: Endgame included a lot of MCU cameos, but Ben Mendelsohn was not among the credited actors, so it'd be strange if he showed up and wasn't mentioned alongside everyone else. What would be the point in keeping that a secret given all the other bombshells this movie dropped?
Plus, the last time we saw Talos, he, his family and the rest of the Skrull refugees left to find a new homeworld with Captain Marvel. His work on Earth was already accomplished, so what reason would he have to return decades later, and as a high school teacher no less?
I'm guessing that this teacher at Peter Parker's school just looks similar to Ben Mendelsohn, and is not in fact a disguised Skrull who's keen on teaching gifted adolescents about science, math, literature, etc. That's not to say that Mendelsohn couldn't return to the MCU someday, but it's likelier he'd show up in Captain Marvel 2.
As for Peter Parker, his next movie, Spider-Man: Far From Home, will serve as the final installment of Phase 3 and see he and his classmates going on a trip to Europe, where Peter will be recruited by Nick Fury to team up with Mysterio to fight the Elementals. Presumably Far From Home will explore how Peter is coping with the post-Endgame status quo, namely with how five years have passed since he disappeared and his mentor, Tony Stark, dying.
Stay tuned to CinemaBlend for more updates on the MCU as they come in. For now, you can learn what's currently in the works for the superhero franchise by looking through our Marvel movies guide.
Connoisseur of Marvel, DC, Star Wars, John Wick, MonsterVerse and Doctor Who lore. He's aware he looks like Harry Potter and Clark Kent.
Your Daily Blend of Entertainment News
Thank you for signing up to CinemaBlend. You will receive a verification email shortly.
There was a problem. Please refresh the page and try again.