Is Poms' Box Office Failure Tied To Yikes Reviews?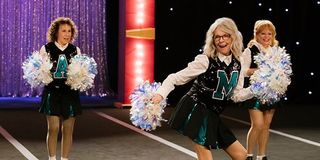 If the box office is perfectly balanced, as all things should be, that means that while Avengers: Endgame is breaking records, something else has to be failing spectacularly, and that something is the comedy Poms. The story of a group of women who start a cheerleading squad at their retirement community is the worst box office flop of the year so far for a film with a wide release on over 2,700 screens.
Poms debuted in 6th place, earning just $5.3 million against a $10 million budget over Mother's Day weekend. Whenever a movie fails like this, it is worth doing a post-mortem and asking what happened. One of the first things worth wondering about are the yikes reviews Poms received, which certainly didn't do it any favors. CinemaBlend's own Eric Eisenberg highlighted the film's lack of originality in his review, saying:
Yikes indeed. Audiences need to be sold to spend their hard-earned money to come to the theater, and when the reviews warn of a cliché-ridden film that people have the impression they've seen before 1000 times, there is no incentive to go see it.
But maybe you're okay with a clichéd and simple story, and you just want to laugh and have a good time. Sadly, Poms comes up short in that regard, according to the Associated Press's Lindsey Bahr, who in her review said:
You can definitely see how potential audiences who read that review might have been reticent to spend money to see a movie where even the hope of cracking a smile is in doubt. And if a comedy can't make you laugh, that's a problem and that is definitely the case here according to IndieWire's Jude Dry, who gave the film a "D" and said:
One of the theoretical selling points of Poms is its cast of legendary actresses, including Diane Keaton, Jacki Weaver, Celia Weston, Rhea Perlman and Pam Grier. However, a common thread among the reviews for the film was lament that the actresses aren't given quality roles in a well-written film to work with. In her review, The Hollywood Reporter's Beandrea July said:
By many accounts, Poms doesn't treat its elderly characters with much respect, which is made even more galling considering the pure talent involved. That lends a sad quality to the film that may have turned off audiences. The Guardian's Benjamin Lee, gave Poms 1 star out of 5, and if you read his review, you probably wouldn't spend your money to see the movie either. He said:
'I left feeling depressed' is not the blurb you want for an ostensibly feel-good Mother's Day movie. And while it might be great that this movie got made and received a wide release, general audiences aren't in the business of voting with their dollar at the box office to advance the cause of older actresses in the industry.
Poms currently has a 32% on Rotten Tomatoes, meaning that the reviews weren't all bad, and opening night audiences gave the film a "B+" CinemaScore, indicating those who saw it generally liked it. So is Poms' box office failure tied to the bad reviews?
It's tough to say, but the reviews certainly couldn't have helped. It's difficult to know how much reviews truly influence audience's moviegoing decisions. Plenty of horribly reviewed blockbusters make bank at the box office and countless critically acclaimed smaller films struggle to scrape together a few pennies.
I tend to think that reviews only influence audiences to an extent and that most people make up their minds before they see the reviews. It's only when the consensus is drastically in one direction or the other that their choice can change. I also don't know what the level or quality of the marketing across the country was for Poms.
If Poms was beloved and the reviews helped spur great word of mouth, maybe it wouldn't have flopped in this way, but it was probably never going to really deliver. These kinds of smaller movies, rightly or wrongly, are a dying breed as blockbusters dominate the theatrical calendar. Counter-programming can be successful, and perhaps that, as well as coinciding with the Mother's Day holiday was the strategy, but everything, including reviews, has to click, and that wasn't the case here.
I can't help but feel like in the current marketplace, Poms was far better suited to be released on a streaming service like Netflix. Perhaps when it arrives on a streaming service down the line, it will get a second life.
Check out our 2019 Release Schedule to see everything headed to theater this summer and stay tuned to CinemaBlend for all the latest box office news.
Nick grew up in Maryland has degrees in Film Studies and Communications. His life goal is to walk the earth, meet people and get into adventures. He's also still looking for The Adventures of Pete and Pete season 3 on DVD if anyone has a lead.
Your Daily Blend of Entertainment News
Thank you for signing up to CinemaBlend. You will receive a verification email shortly.
There was a problem. Please refresh the page and try again.