The Batman's First Two Villains Have Reportedly Been Revealed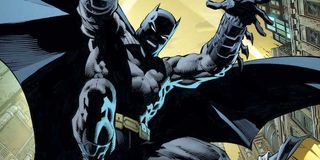 Last night, the news broke that Robert Pattinson, at the bare minimum, is one of the top contenders to play Batman next on the big screen, if not close to signing a deal. We'll have to wait and see if Pattinson does indeed end up leading The Batman or if the eponymous role will go to someone like Nicholas Hoult, but for now, some news about Batman's rogues gallery in the upcoming DC Extended Universe movie has come out. Get ready for some Batman Returns déjà vu, because evidently Penguin and Catwoman will be among the film's baddies.
To be up front, this isn't the first time we've heard that Penguin, real name Oswald Cobblepot, will appear in The Batman. Last summer, it was reported that both the Caped Crusader's next movie and Birds of Prey were considering using the beak-nosed umbrella enthusiast. Since then, it's been revealed that Birds of Prey is using Roman Sionis, a.k.a. Black Mask, as its main antagonist, and he'll be accompanied by Victor Zsasz. Then in January, word came in that Penguin would indeed show up in The Batman, although this hasn't been officially confirmed.
However, THR did reveal today that "another purrfect character" will appear in The Batman. Granted, while Catwoman isn't technically outright named, unless director/writer Matt Reeves is wanting to give the significantly lesser-known Batman baddie-turned-anti-hero Catman his time to shine, then we can reasonably assume this is Selina Kyle who's being talked about.
Penguin and Catwoman have been part of The Batman mythos since almost the very beginning, although nowadays the latter is frequently depicted as an anti-hero who is still the Dark Knight's most recurring love interest. The characters, played by Danny DeVito and Michelle Pfeiffer, respectively, famously teamed up in 1992's Batman Returns, and while that movie remains Penguin's last live action theatrical appearance thus far, Catwoman was played in 2012's The Dark Knight Rises by Anne Hathaway. Penguin and Catwoman were also recently main characters on the TV series Gotham, played by Robin Lord Taylor and Camren Bicondova, respectively.
It's also worth noting that it doesn't look like Penguin and Catwoman will be the only villains to appear in The Batman. Matt Reeves has previously said that the movie will feature a "rogues gallery," and THR has heard from a source that as many as six bad guys could show up, with Collider hearing rumors that Riddler could be part of this group.
Aside from the 1966 Batman movie, which saw Joker, Riddler, Penguin and Catwoman teaming up, the live action Batman movies have never exceeded having three villains per story (not including organized crime figures), so to potentially see half a dozen colorful baddies show up is intriguing. Hopefully this doesn't result in the story being weighed down by so many people, but Spider-Man: Homecoming did prove you can have a collection of supporting and minor villains who don't take away from the menace of the main threat.
No specific story details for The Batman have been revealed yet other than Matt Reeves saying it will be a noir-driven tale that highlights Bruce Wayne's detective skills. And while the actor who plays Batman next, whether it's Robert Pattinson or someone else, will be younger than Ben Affleck's iteration, this movie will not be an origin story.
The Batman is scheduled to begin production within a year and will hit theaters on June 25, 2021. Stay tuned to CinemaBlend for continuing coverage, and if you're wondering what else is coming down the DCEU pipeline, look through our comprehensive guide.
Connoisseur of Marvel, DC, Star Wars, John Wick, MonsterVerse and Doctor Who lore. He's aware he looks like Harry Potter and Clark Kent.
Your Daily Blend of Entertainment News
Thank you for signing up to CinemaBlend. You will receive a verification email shortly.
There was a problem. Please refresh the page and try again.