10 Great Movies Coming To Netflix In June 2019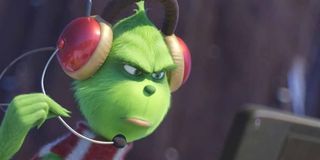 Every month brings its own share of treasure with the periodic updating of the Netflix streaming roster. But taking a look at what's headed our way in June, it's hard to think of a month that beats some of the stuff that's headed our way. In particular, there's 10 titles coming into view that have us looking to update our queues on a basis frequent enough to be considered addictive.
If you're curious about the total incoming lineup for June, head on over to our complete rundown. Otherwise, it's time to head into the future, and see the Netflix streaming titles we're ready to watch at the push of a button.
Spider-Man: Into The Spider-Verse
Right out of the gate, June was going to be a winner the moment that Netflix announced Spider-Man: Into The Spider-Verse was going to become a part of their line-up. A film that has a legitimate claim to the title of "Best Spider-Man Film Ever," the adventures of Miles Morales and a slew of other Spider-People blew everyone's minds upon its release towards the end of last year. Now, after all of the awards and all of the hoopla has died down, it's time to start it up again with an even wider audience to reach this time around.
A.I.: Artificial Intelligence
For years, Steven Spielberg refused to direct A.I.: Artificial Intelligence, a project that started with Stanley Kubrick's vision of a robotic retelling of Pinocchio. With Kubrick conspiring with Spielberg to flesh out his vision for the story of Haley Joel Osment's David, an automaton who could truly love, the idea would eventually become a reality once the legendary mind behind A Clockwork Orange passed away. The end result is a vision worth of Stanley Kubrick's faith in Steven Spielberg being able to do the project, and remains one of his most underrated films in his canon.
Network
Some movies call the shot years, or even decades, before the events they predict come to be in reality. Network is one of those films, as writer Paddy Chayefsky's biting satire of sensationalism in the news media seems more like a tragedy than a dark edged comedy in our trying times. With the Broadway adaptation starring Bryan Cranston being nominated for several Tony awards, and set to close its blockbuster run in the beginning of June, it feels like the right time to bring the film version of Howard Beale's antics, with Peter Finch in the role he made famous, back to the world of streaming services.
Good Night, And Good Luck
While we're on the subject of journalism, director George Clooney's Good Night, and Good Luck will also be available on Netflix's streaming library in June. Based on the true story of television news anchor Edward R. Murrow, and his team's investigation into the McCarthy hearings of the 1950s, David Strathairn stars as Murrow in an all-star cast that includes Clooney, Jeff Daniels, Patricia Clarkson and Robert Downey Jr. A biopic that remains compelling all the way through, Good Night, and Good Luck is a firm reminded of how important the practice of journalism is, no matter what the era.
Small Soldiers
Joe Dante is one of those directors who has a stable of films so unique, they could only have been made by him. And in the fine tradition of Gremlins and The 'Burbs, Small Soldiers is another one of those gems that stand out in his line of proudly weird films. With two factions of warring toys tearing apart a sleepy, suburban town, the film was one of Dreamworks' earliest motion pictures in theaters, debuting shortly after its launch. But even with the late '90s era it incorporates into key moments of the film, Small Soldiers is still a '50s inspired sci-fi romp, much like most of the director's other films.
The Dark Knight
It's starting to feel like Netflix likes to add and subtract The Dark Knight from their lineup as often as people change their car's air fresheners. And who can blame them? The second entry in the Christopher Nolan-directed Dark Knight Trilogy pits Christian Bale's Batman against the late Heath Ledger's Joker, with the soul of Gotham City at stake in their battle of wits. It's been over a decade since it first debuted, and yet The Dark Knight still holds up to the test of time. Whether you watch it as a standalone experience or pair it with the also-returning Batman Begins, a perfectly good flashback is waiting for you in your own personal box office.
50/50
With Long Shot currently in theaters, moviegoers are enjoying director Jonathan Levine's deft hand at portraying laughter and emotion in equal turn. And whether you're already a fan of his work doing such feats, or have just become accustomed to them in your own time, 50/50 is another good reminder of how good he is at what he does. Starring Joseph Gordon-Levitt and Long Shot co-star Seth Rogen, the film is modeled the true story of Will Reiser, who, much like his fictional surrogate played by Gordon-Levitt, was struck with cancer in his mid-20s. At times hysterical and at times devastating, the film is an entertaining ride that will require tissues, but rewards you with deeply felt jokes at the same time.
Dr. Seuss' The Grinch
Illumination has tried its hand at adapting the works of the late, great Dr. Seuss in the past, with The Lorax being a previous claim to fame for the animation powerhouse. With last year's Dr. Seuss' The Grinch, the studio was able to not only outdo its high water mark in the world of Seussian magic, it also put a pretty fresh spin on an old classic. With Benedict Cumberbatch's Grinch, we not only get to see more of what turned him into such a sourpuss, but we also see more of an effective transformation than we've ever seen before. As cute as it is funny, Dr. Seuss' The Grinch can still be enjoyed outside of the festive holiday time frame, as long as you keep an open mind.
Carrie
If Tabitha King had never fished the manuscript for Carrie out of the trash, we'd never have gotten the best-selling novel from Stephen King's hand. Nor would we have ever gotten the classic film adaptation that director Brian DePalma would eventually terrorize teenagers with in the '70s. Featuring young Sissy Spacek as the shy girl who would eventually become a psychokinetic terror, the slow burn of her transformation is something that horror fans still admire to this day. Also, if you've ever wanted to hear John Travolta shout, "Git 'er done," you've got that added bonus coming your way if you choose to watch Carrie.
Cabaret
Maybe it's because FX's Fosse/Verdon has been diving into the creation of director Bob Fosse's most iconic works, alongside a dissection of his darkest demons in life. Maybe it's even the sort of darkening clouds that our culture feels have been upon them for some time. Whatever the reason, having Netflix bring the film version of Cabaret to its streaming lineup sounds like a fantastic idea for this moment. A film that delivered Fosse his resurrection as a filmmaker, it's a dark and glitzy musical that shows the rise of Nazism in early Germany, with an increasingly dismal tone. If you're looking for a purely good time, steer clear of this story; but if you're not afraid to go places most musicals won't, Cabaret will greet you with a warm wilkommen.
While there's plenty of fresh air and sunshine headed our way in the next month, consider these upcoming Netflix addtions as the best ways to spend those rainy days that keep you cooped up inside. Or they could even be fantastic distractions for a day when it's perfectly fine outside, but you're in that special mood of movie watching.
Keep in mind, these titles are subject to change, so you may need to double check the availability of these films periodically. Also, if you want to see what the best and brightest titles from May's incoming lineup happened to be, head over to last month's rundown and fill out your queue! We'll see you here next month, when we look at the top tier titles from July's fresh batch of films.
Your Daily Blend of Entertainment News
Senior Movies Contributor
CinemaBlend's James Bond (expert). Also versed in Large Scale Aggressors, time travel, and Guillermo del Toro. He fights for The User.