10 Great Movies Coming To Netflix In May 2019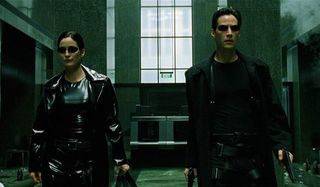 With every month's refresh to the Netflix streaming library comes a list of titles that make up the best and brightest of what the platform has to offer. As such, a new crop of titles means a new opportunity for us to tell you what you should be spending your screen time on, and May has brought a good number of notable offerings to the table.
Before we head into the lineup, we'd like to remind you that if you want to see the full lineup of TV and movie titles headed to Netflix in May, as well as the best films from April's additions to the library, you can find those lists elsewhere. If you're still with us, let's dive into what truly stands out in May's additions to the platform.
Austin Powers: International Man of Mystery
Naturally the news that Mike Myers has landed himself a sketch show on Netflix is a surprise. But with the backbench of characters Myers could revisit, as well as the possibility of the new and exciting ones for him to create, it's an exciting prospect.
Seeing that his iconic spy comedy romp Austin Powers: International Man of Mystery is headed to Netflix, along with its first sequel The Spy Who Shagged Me, it feels like a good time to revisit some material from the peak Mike Myers era of comedy. Maybe, just maybe, we can skip an entire fourth film for the time being and see more Powers on that untitled Netflix series.
Dumb and Dumber
Comedy classics are usually paragons of wit, wisdom and perfect timing. But much like the intelligence of its protagonists, Harry and Lloyd, Dumb and Dumber is only about a third of the way there. And in the name of total honestly, that's just the way we like it.
The Farrelly Brothers broke into the movies with this legendary tale of Jim Carrey and Jeff Bridges' monumental dolts goofing their way through a road trip that turns into a crime caper on the stop of a dime. With a perfect marriage of precise comedic timing and lowball shenanigans, there's a reason Dumb and Dumber still stands as a laugh filled master course in how to do a toilet gag.
Fear And Loathing In Las Vegas
Most people think of Terry Gilliam's Fear and Loathing in Las Vegas as merely a vehicle for Johnny Depp's performance of dear friend Hunter S. Thompson to be a hysterically crude contrast to the world that he navigates in his titular adventure. And to be fair, Depp's performance as Thompson, alongside Benicio del Toro' s Dr. Gonzo, is quite funny in the traditional sense.
But what really makes this adaptation of the writings of Hunter S. Thompson worth your time is how, through his own comedic and drug fueled lenses, Thompson saw the truths of the early '70s and what they represented. So come for the jokes about relations between dogs and The Pope, but stay for the analysis on the impending crash of the peace and love that the '60s represented into a void of rudderless activism. Or keep your eye out for all the famous faces that pepper this film's cast in minor roles; it's your choice, really.
Gremlins
Few films deserve to be shielded from further sequelization and/or full on remakes, and director Joe Dante's classic Gremlins is one such film. There's, quite simply, no way that another version of this film could be as successful as that original streak of madness, and anyone who thinks otherwise is an absolute fool.
The balance of scares and comedy in Gremlins' story of the titular creatures running rampant on small town America is so perfect, very few could ever nail it the way Dante did. So unless you're going to hire James Wan, Jordan Peele or Jason Blum to develop this one into a modern context, you're probably better off watching the original and seeking out the more comedically-inclined sequel.
Just Friends
Ryan Reynolds is a genius, full stop. Between his timing, physical spryness, and handsome air about him that anchors even his most outlandish/egotistical moments in film, you couldn't have cast a better person to play the fat kid turned heartthrob exec in Just Friends.
What's even more impressive is landing the supporting cast of Amy Smart, Anna Farris and Julie Hagerty, among others, to make that particular sandbox even more fun to play around in. Though it should be warned that if you're thinking of watching this one with your kids after Pokemon: Detective Pikachu, you may want to see it for yourself and see if it's right for them.
Scarface
The tragedy of Tony Montana is not an obscure tale of woe, but it's one that still keeps its freshness every time you watch Scarface. A rise-and-fall tale of a man who chased the American dream and wouldn't stop shooting for it even until the very end, it's one of Al Pacino's most magnificent performances outside of The Godfather.
Director Brian De Palma and writer Oliver Stone nail the excess of the '80s before it ever kicked into full gear, and through extreme violence and colorful profanity, they paint a portrait of a landscape that was just beginning to take shape as morning rose in America. Both a perfect period piece, and a timeless classic, Scarface is a quotable classic that maintains its place in pop culture.
Snowpiercer
While audiences will be watching Chris Evans in the latest Avengers film in the very near future, it's nice to take a break and sample some of Evans' finest work outside of that huge tentpole monolith. And if you're not in the mood to watch Not Another Teen Movie, then Snowpiercer is probably your best non-MCU bet for some Evans greatness.
Set in a dystopian future that sees humanity's last survivors permanently living on a train circling the world, Snowpiercer is all about a class struggle between the poor lead by Chris Evans, and the rich lead by Tilda Swinton. These two factions go to war in some of the most impressive action you'll ever see, which only masks the underbelly that truly defines the society, and the message, that the film has to offer.
The Matrix
2019 marks the 20th anniversary of The Matrix, a film that redefined action in its own time and still inspires imitators to this very day. And while the reboot machine is currently trying to find a way to bring this film series back online, the original is still celebrated with great reverence.
The entire Matrix trilogy is coming to Netflix, as it periodically does from time to time, but this most recent addition feels as close to an official celebration of its two decades of existence as we'll get. If you want to skip the sequels, you're more than welcome to, but at the very least, paying homage to the journey that kicked off a new era of action filmmaking seems appropriate.
Zombieland
This October is another anniversary worth noting: it'll be a decade since Zombieland first landed in movie theaters all over. While there is definitely a proper celebration in the works for that event, with the sequel Zombieland: Double Tap being slated for release in that very month, you'll be able to revisit the one that started it all on Netflix in May.
Undoubtedly, a lot has changed since that original film, but the public's obsession with zombies certainly hasn't. And while Zombieland has tried to revive itself a couple of times between then and now, the original film stands as the best example of it particular apocalyptic formula at work.
Olympus Has Fallen
Sometimes cloning the style of a storied franchise can work well enough that the results are exciting in their own right. In a lesser incarnation, Olympus Has Fallen would have been a subpar action film, but thankfully, history shook out differently and provided the world with a highly entertaining spin on the Die Hard style of action-adventure antics.
With Gerard Butler being the John McClane stand-in and his bromance with Aaron Eckhart's president replacing the need for a Holly Gennaro to bookend him, this brutal action flick plays close to the playbook while injecting some of its own charm to spare. And by charm, we mean explosions.
No matter which of these films you're looking to enjoy, you'll want to keep your eyes out for any changes and surprises that may crop up, as all titles are subject to availability. But other than that, we wish you Netflix (opens in new tab) subscribers happy hunting and hope that you enjoy streaming these and other top notch titles available in your own fashion.
Should you want to head out to the movies for something more recent, our 2019 release schedule is your gateway to all that has come to the box office this year and all that's headed our way in the months to come.
Your Daily Blend of Entertainment News
Senior Movies Contributor
CinemaBlend's James Bond (expert). Also versed in Large Scale Aggressors, time travel, and Guillermo del Toro. He fights for The User.