5 Ways Tom Holland's Spider-Man Is Different From His Predecessors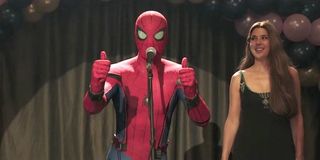 Ever since his fun, memorable introduction — and the character's third (at least) iteration on the big screen — in 2016's Captain America: Civil War, Tom Holland's enjoyable and heart-tugging performance as Spider-Man has renewed public interest in the amazing character and provided audiences with a variation of the character that's winningly unique while also staying true to several of the bedrocks of the character's foundation. By that, what we mean is, this Spider-Man is still the same old Spider-Man, but he's also noticeably different in several ways too.
Through this new version of the character, the Marvel Cinematic Universe has allowed itself the opportunity to change some key details about Spider-Man and provide audiences with a take on the character that's different enough to keep the constantly-seen character feel fresh and vibrant. Without further ado, let's break down the ways that Tom Holland's Spider-Man is different from the previous Spider-Man performances we've seen before him. Of course, we should expect to have a few more examples when Spider-Man: Far From Home swings its way into theaters in just a few months.
Spoilers for a lot of Spider-Man and Marvel movies follow!
He's Younger, And More Boyish/Jubilant, Than Other Spider-Men
While the character of Spider-Man has almost always been in high school or at least in his early-to-mid twenties, with his origin story happening around the time he turns 15, the movies have been flexible — to say the least — when it comes to Spider-Man's age. In Sam Raimi's flicks, the character is believed to be around 17-18 years old, to accommodate for actor Tobey Maguire's 26 years of age when he made that original movie.
Additionally, while it's never clear exactly how old Peter Parker is in The Amazing Spider-Man movies, he's believed to be around the same age, and the age disparity is even starker. Actor Andrew Garfield was 28 when he played the titular web slinger. These actors would be stretching it playing college students — let alone high schoolers. Yet, it wasn't until Tom Holland that we got an actor closer to his teens signed on to play the youthful hero.
While Tom Holland is currently in his early twenties, the actor signed on to the role when he was 19, making it at least a little more believable that he would be 15-18 years in the movies. It also helps that Holland has an earnestly boyish face and captures the youthful enthusiasm vital for this version of the part. The actor gives the role a fun jubilance that was only captured temporarily in the other takes in the past, which makes his supporting appearances in the Avengers movies and Captain America: Civil War all the more memorable, while giving his own movies a goofiness and lightheartedness that separates them from the slightly more serious-minded Marvel movies that came out —away from Thor: Ragnarok —at the time.
The Stories Are Set In Cooler Locations Than Other Spider-Man Movies
At his heart, Tom Holland's Peter Parker is still New York City's friendly neighborhood Spider-Man. But in the character's newfangled MCU take, Spidey doesn't always find himself staying squarely in the Big Apple. When we're introduced to this version of the character in Civil War, it doesn't take long before Tony Stark ships him off to Berlin to meet up with the other Avengers in the midst of internal battle. And in Spider-Man: Homecoming, his daring super-skills are put to great use when a field trip to Washington D.C. goes awry. Hell, in Avengers: Infinity War, Spider-Man even found himself in space.
That tradition will continue with this summer's sequel, Spider-Man: Far From Home, which will find the character leaving New York City again, as the title doth suggest, in order to go to Europe for a summer vacation with his friend. Sure enough, there will be dangers that arrive in this destination. Different place, same troubles, right? No matter where Spider-Man may be, there are dangerous foes lurking around. And in this variation of the popular web-slinger, Spider-Man gets around.
Tom Holland Is More VulnerableThan Previous Spider-Men
As we all know, with great power comes great responsibility. Peter Parker was taught this lesson by his late mentor figure, Uncle Ben, and it has been his guiding principle throughout every iteration of the character to date. At least, until Tom Holland's version. Truth be told, it's unclear if Uncle Ben is even in the Marvel Cinematic Universe.
Unless I'm forgetting something, he hasn't been mentioned or brought up, not even in passing, in any MCU film to date, and it's possible that he doesn't play a part in this variation of the character. With that, as seen in Spider-Man: Homecoming, Spider-Man can often be a little more silly and carefree with his superpowers, tending to be a pretty silly person the way most teenagers can often be goofy individuals. With that said, though, Tony Stark has proven himself to be the primary mentor/father figure for Peter Parker/Spider-Man in the Marvel Cinematic Universe.
While it's perhaps a bit of a leap to assume that he is the intended Uncle Ben of this version, it's probably not a coincidence that he passed away so shortly after giving Spider-Man his sense of responsibility and moral obligations (in addition to a bunch of cool new Spider-Men suits). With that in mind, Spider-Man's youth and lack of responsibility in his first film provided a more vulnerable version on the character than we've seen to date. To be clear, that's not to say that he doesn't have his own sense of obligations and desire to do good. It just comes off a bit differently than the rest.
He's A Little Jokier Than Other Spider-Men (Or More Jokey Than Peter Parker)
Spider-Man is always quick to throw a joke. Part of the reason why he gets under the skin of his various nemesis is because he's making fun of them while he's taking them down. It's part of Spider-Man's charm, and one thing that has been seen more readily in the new versions of Spider-Man is the character's open willingness to throw jokes around while he's fighting bad guys. Sure enough, Tom Holland's Spider-Man is always quick with a joke.
But more than that, Spider-Man's sense of humor in Spider-Man: Homecoming and his various appearances in The Avengers movies can notably be different than his persona as Peter Parker. While he isn't the best at keeping his identity a secret, his version of Spider-Man is a little cockier and bolder, and therefore more joke-friendly, when he's wearing the Spider-Man suit opposed to his normal, everyday demeanor, which tends to be a lot more shy and reserved.
Compare that to Andrew Garfield's Spider-Man, where his sense of humor isn't that much of a departure from the one he gave Peter Parker, and you see how Tom Holland's Peter Parker is a little better at maneuvering between his public persona and the one he adopts with the mask.
He's A Little More Relaxed About His Secret Identity (Kinda, Sorta)
If there's one thing that people often associate with superheroes, it's their inherent need to keep their secret identity, you know, secretive. With the sole exception of Tony Stark, who wasn't afraid to boast that he was Iron Man at the end of his first movie, superheroes like Batman and Superman have been notorious about keeping their real identity unknown by the public-at-large. Oftentimes, particularly with Batman and Spider-Man, the identity of anyone being Spider-Man makes them a bigger symbol of hope and justice. Literally anyone could be Spider-Man; the mystery keeps the spirit alive.
With this new version of Spider-Man, however, much like Tom Holland himself, Peter Parker has a hard time keeping secrets — particularly about his secret identity — from key people in everyday life. For instance, it didn't take long for Tony Stark to figure out who Spider-Man is in Captain America: Civil War. Similarly, in Spider-Man: Homecoming, Peter Parker was a little too clumsy about keeping his super persona a secret, ultimately spilling the beans — unintentionally— to his best friend, Ned, and his primary guardian and caregiver, Aunt May.
In Avengers: Infinity War, Peter Parker revealed his identity to Doctor Strange only moments after he met the guy. There is a theory — perhaps we should call it a plain ole' rumor — that Spider-Man: Far From Home will end with Peter Parker revealing his identity to the world, much like his late mentor Tony Stark did at the end of Iron Man. It wouldn't be too far-fetched to believe, to be perfectly blunt, based on what we already know about Tom Holland's Spider-Man.
These are only a few examples we can give explaining how Tom Holland separates his version of Spider-Man/Peter Parker from the other actors and performances before him. But we're sure there are other examples of how this Spider-Man is different from the rest, and we'd love to hear them. Be sure to let us know in the comment section below what makes Holland's version of Spider-Man different to you. We're sure you have a few examples of your own you can give and we look forward to hearing them from you.
Meanwhile, for more updates on Spider-Man and other MCU-related news bits, you can always be sure to check back with us right here at CinemaBlend for the latest news, developments and a whole lot more.
Will is an entertainment writer based in Pittsburgh, PA. His writing can also be found in The Playlist, Cut Print Film, We Got This Covered, The Young Folks, Slate and other outlets. He also co-hosts the weekly film/TV podcast Cinemaholics with Jon Negroni and he likes to think he's a professional Garfield enthusiast.
Your Daily Blend of Entertainment News
Thank you for signing up to CinemaBlend. You will receive a verification email shortly.
There was a problem. Please refresh the page and try again.