Why King Kong Has No Chance Against Godzilla, According To O'Shea Jackson Jr.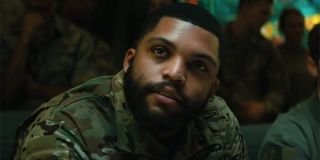 Are you team King Kong or Team Godzilla? While we're a year away from Godzilla Vs. Kong, it's a debate that's already been pretty prevalent in pop culture, and that's unlikely to slow down in the coming months.
In fact, if you were to ask Godzilla: King of the Monsters actor O'Shea Jackson which side of the debate he's on, he'd likely tell you he's Team Godzilla all the way. Don't take it from me, though, take a look at what he had to say in a recent interview with CinemaBlend…
According to the actor, the biggest con to Kong is that he's just a big gorilla and there's nothing special about that. In fact, the big monkey trope came up outside of Kong: Skull Island fairly recently with Dwayne Johnson's Rampage. In short, we've seen big gorillas take on big foes before.
Per O'Shea Jackson Jr., fans need to rally behind characters like the radioactive Godzilla, powerful creatures with prowess outside of the norm. King Kong might be smart and he might have an opposable thumb, but that's nothing compared to radioactive breath. Or as Jackson Jr. put it:
Thomas Middleditch also attempted to interject that King Kong is "the underdog" of the fight, but O'Shea Jackson Jr. was not having any of it in his interview with CinemaBlend's own Jeff McCobb.
Look, although it's clear O'Shea Jackson Jr. has strong opinions, here, it's not like the debate about King Kong and Godzilla is super cut and dried. Godzilla: King of the Monsters director Mike Dougherty has already been very clear that it will be a real "underdog fight," also noting,
Oppositely, it also seems as if Godzilla has grown a ton ahead of Godzilla: King of the Monsters as well.
I'm pretty sure an underdog fight featuring two cinematic creatures that audiences have rallied around for decades is going to get butts into the seats, regardless of whether radioactive breath holds up against a being that can lob tree trunks.
Related: Is King Kong vs. Godzilla Really A Fair Fight?
Still, we'll find out who the ultimate winner is when Godzilla Vs. Kong officially hits theaters on May 22, 2020.
In the meantime, this weekend is Godzilla's chance to shine. You can catch the big, scaly creature in action opposite O'Shea Jackson Jr. in Godzilla: King of the Monsters starting this weekend, and see what else is coming up with our full movie premiere schedule.
Amazing Race & Top Chef superfan with a pinch of Disney fairy dust thrown in. If you've created a rom-com I've probably watched it.
Your Daily Blend of Entertainment News
Thank you for signing up to CinemaBlend. You will receive a verification email shortly.
There was a problem. Please refresh the page and try again.