How Much Did Robert Downey Jr., Chris Pratt, Scarlett Johansson And The Other Cast Members Make From Avengers: Endgame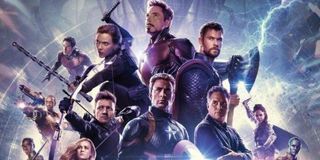 There is a very good chance that you've seen Avengers: Endgame by now. The mega-blockbuster is smashing box office records left and right, and it's well on its way to becoming the highest grossing movie of all-time —domestically and globally — even though it has been in theaters for only a little over two weeks now. It is the cumulation of 22 movies-and-counting inside the Marvel Cinematic Universe, and Phase Three will continue in earnest with July's Spider-Man: Far From Home. In short, the Marvel brand is a money-making machine, and Endgame's payday won't slow down soon.
Now the dust is starting to settle (no unfortunate pun intended, Thanos), and the movie is currently playing in thousands of theaters all around the world, it's time to reflect on the series as a whole and evaluate the star power of some of the franchise's most distinctive actors and actresses, including the likes of Robert Downey Jr., Scarlett Johansson and Chris Pratt. The whole Avengers series is winding down, at least as far as we know it, and the folks who have seen the film can attest the franchise wouldn't be the same now that the credits have rolled on Avengers: Endgame. Nevertheless, with this humungous movie making all kinds of cash at the box office, let's take a look at the paydays for some of its primary performers, and how they were wrestled the amount of money they made through their work.
Also, it should be noted that we were very cautious to not dive our toes into serious spoiler territory. However, if you haven't seen the film yet and you are fearful for anything being revealed in this article (especially with the Russo brothers declaring that the ban on spoilers has been lifted), you should know that there might be a few minor spoilers to be found in this article. So, check out the film already, and learn more about the business side below.
How Much Did Robert Downey Jr. Make For Playing Iron Man?
Having started the whole enterprise with 2008's Iron Man, Robert Downey Jr. has been at the root of the Marvel Cinematic Universe from the very beginning -- the very first scene of the franchise, in fact. And with his star-renewing role in that acclaimed film, Downey Jr. found himself with a second career in the superhero franchise, leading to nine film appearances in total throughout the past 11 years. (Ten, in fact, if you count his brief cameo in 2008's The Incredible Hulk.) In many respects, Robert Downey Jr. became the face of the Marvel Cinematic Universe. And with his final cinematic appearance in the MCU, Robert Downey Jr. made sure that he received a whole lot of moolah for his work in both Avengers: Infinity War and Avengers: Endgame.
According to estimations from THR, Robert Downey Jr. is believed to have made somewhere in the ballpark of $75 million for his final appearance as Tony Stark. That appears to be counting backends and specifically-worded phrasing in his contracts, but it's clear the A-list actor took full advantage of his clout and notoriety in this extensive franchise when it came time to say goodbye to his most famous role. It's only fitting that Robert Downey Jr. would make a hell of a lot of money for playing billionaire Tony Stark in this franchise-spanning character, particularly given the early risk with the role. He signed onto Iron Man without knowing what would become of the project. The whole thing was a crapshoot when he first agreed to play the part, and it was only when that first movie exploded that he had lawyers renew his contracts and make the whole thing more beneficial for his bank account. The Marvel Cinematic Universe wouldn't be the same without him, and he drained out every penny he could make from this series when it came time for his triumphant end.
How Much Did Chris Pratt Make For Playing Star Lord?
Once merely known as "The Guy From Parks and Recreation," Chris Pratt became a bonafide movie star when he first appeared in 2014's Guardians of the Galaxy. Easily among the most profitable installments in the extended franchise, and a more sizable box office hit than most people anticipated, there was no denying that Chris Pratt was now in the big leagues thanks to his endearing performance as Star-Lord. And when it came to his work in Avengers: Infinity War and Endgame, you can bet that the funny man was laughing all the way to the bank with his paycheck.
While his exact budget for the movie is a bit murky, it's believed that Chris Pratt probably made upwards of eight figures for his work in the latest Marvel Cinematic Universe team-up films. Though some reports claim that it might've been closer to $5 million. The actor reportedly made $1.5 million for his work on Guardians of the Galaxy, and while he is certainly a big movie star, his appearance in Avengers: Endgame was definitely minor. Most of his screen time was found in Avengers: Infinity War. While he definitely had a few scenes, it wasn't necessarily his movie in many respects. Nevertheless, Chris Pratt will return to the MCU with Guardians of the Galaxy Vol. 3, which should begin production in the next couple years and should theoretically be the actor's most lucrative MCU project to date.
How Much Did Scarlett Johansson Make For Playing Black Widow?
Since her first appearance in Iron Man 2, Scarlett Johansson has continued to boost her star power by appearing as Black Widow in the Marvel Cinematic Universe. The actress is a bonafide superstar in her own right, but she never quite rose through the ranks as much as some of her fellow co-stars. She doesn't have her own solo movie (yet!), and most of her work in the franchise is found in other actor's films, including Captain America: The Winter Solider. With that noted, while her salary for the Marvel movie isn't known exactly, it's believed that she earned less than her co-stars for her work in Avengers: Endgame.
While Scarlett Johansson's salary isn't quite as high as some people would hope it would be, it appears the actress will make up for the shortage with her own movie, Black Widow, which is expected to hit production within the next year or two. According to early reports from THR, Johansson is expected to make $20 million on the solo feature, which is equal to what Chris Hemsworth and Chris Evans earned for their respective appearances in last year's Avengers: Infinity War. So, even though she didn't make as much as her co-stars in Endgame, she'll definitely be getting a big payout soon.
How Much Did Chris Evans Make For Playing Captain America?
Essentially the leader of The Avengers, Captain America has a lot of responsibilities inside the core superhero group. While he didn't have a lot of screen time in Avengers: Infinity War (to the disappointment of beard-lovers everywhere), Captain America played a significant role in this new film. It was his last curtain call in the part, and the final time we are expected to see the actor play the patriotic day-saver — at least, in any major respect.
Sure enough, as arguably the lead of Endgame, the actor was expected to make a lot of money for his work in the latest two Avengers-based films. It was reported that Chris Evans' contract allowed the actor to make upwards of $15-20 million for his appearances in his final two Avengers movies. That's a great deal of cash, but it was probably to be expected. Similar to Robert Downey Jr, it was Cap's last hurrah, and it was expected even before the release of Avengers: Endgame that it would be the very last time we'd see Captain America in the iteration we've come to know and love. The role has grown to be the actor's most famous to date, and while he wasn't able to wrangle as much cash in his contract as Downey Jr., he certainly made a hefty amount of money.
How Much Did Chris Hemsworth Make For Playing Thor?
Among the first actors to appear in the Marvel Cinematic Universe, Chris Hemsworth first played the part of Thor in the 2011 film of the same name. And since then, he has become a staple of the Avengers series. While there were a few rough spots (notably, 2013's Thor: The Dark World), the actor found himself on top in the end with his well-received work in Thor: Ragnarok and The Avengers films — including, most notably, Avengers: Endgame, in which he plays a very memorable part of the proceedings.
Sure enough, Chris Hemsworth is one of the highest-paid actors in Avengers: Endgame. It's believed that he made roughly the same amount of money as Chris Evans, in fact. His salary is believed to be between $13-15 million, and that's pretty impressive considering how his time in the Marvel Cinematic Universe is hopefully going to continue following the events of Endgame. Nevertheless, he's a core member of the MCU, and that commitment to the franchise earned the actor a healthy payday at the end of the day.
How Much Did Bradley Cooper Make For Playing Rocket?
While Bradley Cooper has proven himself in many different respects outside of his work in the Marvel Cinematic Universe, it can be easy to forget that he plays such a crucial role in the expansive universe. In fact, he's so good at embodying the character of Rocket there is a good chance some people don't even know it's his voice! While some folks were weary about his participation in Guardians of the Galaxy when it was first announced that Bradley Cooper was taking on the role, it didn't take long before people grew endeared to the character, and it's safe to say that in many respects, he's the film's beating heart.
In Avengers: Endgame, Rocket Raccoon plays a much more significant part than his fellow Guardians of the Galaxy. Still, despite Bradley Cooper's popularity and the character's primary position in the new film, his salary appears to be less than you would expect for such a high-grade actor, which may have to do with the fact his work is via voice work only and not live action. In any case, Bradley Cooper continues to impress in the role, as he does in many respects throughout his career, and he is a very welcomed and memorable addition to the Avengers team.
How Much Did Tom Holland Make For Playing Spider-Man?
The friendly neighborhood Spider-Man can often seem like the most humble of the group. He is a fresh-faced newcomer who is still left in awe of his fellow world-saving Avengers whenever he makes contact with them, and his plucky spirit and good morality make him a fun, enjoyable and surprisingly fresh screen presence, considering that Tom Holland is now the third actor to play the role in a significant fashion these past 20 years.
When it comes to his earnings for these new Avengers movies, Tom Holland is believed to have made a reported $3 million for his work in Infinity War, and he is expected to make around the same amount of money for his work in Endgame. The actor is certainly on the up-and-up. He made a good impression on folks in Captain America: Civil War, and his first leading role in Spider-Man: Homecoming was a comfortably free and fun-loving performance in the Marvel Cinematic Universe. With this summer's Spider-Man: Far From Home serving as the official wrap-up for Phase Three, the actor will likely only continue to rise in status in the MCU. And we should expect him to make more money in the future, especially if he's expected to replace Iron Man in a few respects later on down the road.
There was little doubt that Avengers: Endgame would be a monster success at the box office. And with a lot of money spent in this expansive finale-of-sorts, it shouldn't come as much of a surprise that many of the primary actors involved wanted to get their fair share of the pie. While it's safe to say that some actors were compensated way more than others, at the end of the day, they are all making a ton of money — either now or at a later date.
Your Daily Blend of Entertainment News
Will is an entertainment writer based in Pittsburgh, PA. His writing can also be found in The Playlist, Cut Print Film, We Got This Covered, The Young Folks, Slate and other outlets. He also co-hosts the weekly film/TV podcast Cinemaholics with Jon Negroni and he likes to think he's a professional Garfield enthusiast.