This Rotten Week: Predicting Men In Black International, And Shaft Reviews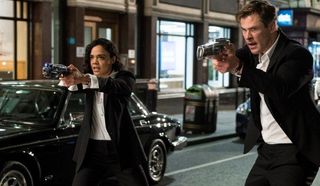 We have two new movies hit the big screen this week in wide release, and they both offer different takes on the action genre. In one we get the return of alien-aware cops to the big screen, and in the other we have a semi-throwback to the 1970s. Get ready for Men In Black International and Shaft.
Just remember, I'm not reviewing these movies, but rather predicting where they'll end up on the Tomatometer. Let's take a look at This Rotten Week has to offer.
After getting our full dose of Agent J and Agent K in the first three Men In Black movies, the franchise is now getting a retooling with Agent H (Chris Hemsworth) and Agent M (Tessa Thompson) and an international spin. The new duo dons the shades, waves around the memory-erasing thingy and wields big-ass laser cannons in the fight against aliens who wish to do humans harm here on Earth.
F. Gary Gray has some hits under his belt like Fate of the Furious (67%), Straight Outta Compton (88%), Friday (77%), and The Italian Job (73%), but there are some major misses as well, including Law Abiding Citizen (26%), Be Cool (30%) and A Man Apart (11%). Based on that track record, Men In Black International is far from a lock as a critical hit. While it does look fun (in line with the rest of the franchise), I don't suspect the hijinks, one-liners and upside down action will be enough for all critics, and it winds up on the Rotten side of the scale.
Been anxiously waiting these last 19 years for the followup to 2000's Shaft? Me neither, but we are getting it anyway. In this new sequel, which does keep in continuity with all of the previous big screen releases, sees a new generation of the titular family (represented by Jessie T. Usher) taking on an investigation working for the FBI. The only way for him to crack the case is with the help of his father (Samuel L. Jackson), who in turn needs help from his father (Richard Roundtree) as well. It looks like a humorless mess.
There's not a lot of hope for Shaft to finish on the positive side of the Tomatometer. The trailer doesn't do it any favors and director Tim Story doesn't have what would be called a glowing directorial resume. He has Fantastic Four and Rise of the Silver Surfer (27% and 37%), and other underwhelming films like Ride Along 2 (13%), Think Like a Man Too (22%), and Taxi (9%). His one critical hit was his first movie, Barbershop (82%). In fact, if you take all of his non-Kevin Hart stand up movies out of the equation, he's averaging 33% per directed film (and that includes the big win with with Barbershop). I don't see this latest film helping to boost that score at all.
I only went one for two last week with my predictions, thanks toDark Phoenix (Predicted: 54% Actual: 22%) underperforming expectations by a lot. The final movie in this iteration of the X-Men franchise ends up being the worst of the bunch (from a review aggregate perspective), and ends what started as a strong run with nothing more than a whimper. It's really a shame considering the popularity of the eponymous comic book arc, as well as the lofty perch the franchise sat on after getting rebooted with the new, younger cast.
The Secret Life of Pets 2 (Predicted: 60% Actual: 53%), meanwhile, finished as a win - a "fine" follow up to the original. Like I said in the write-up, this is just where Illumination Studios tends to finish with its animated fare. They aren't quite in the class of the big boys (Pixar, Walt Disney Animation Studios), but they make fun and kid-friendly flicks that tend to go over well enough. This one was another safe offering that finished right around the middle.
Next time we've got Toy Story 4, Anna, Wild Rose, and Child's Play. It's gonna be a Rotten Week!
Your Daily Blend of Entertainment News
Doug began writing for CinemaBlend back when Terminator: The Sarah Connor Chronicles actually existed. Since then he's been writing This Rotten Week, predicting RottenTomatoes scores for movies you don't even remember for the better part of a decade. He can be found re-watching The Office for the infinity time.