5 John Cena Movies That Prove He's Perfect To Join The Fast And Furious 9 Cast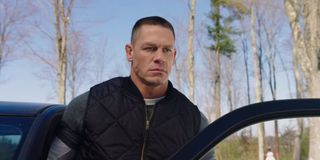 John Cena is a big guy. But would the actor/wrestler's presence be too big even for the jacked-up, fast-driving, action-centric team behind the wheel of the upcoming Fast & Furious 9. We don't think so. While the actor has a lot on his plate at the moment, almost impossibly so, since John Cena did find the time to appear in the extended, expansive and surprisingly elastic car-racing/heist franchise, it seems like a perfect fit, based on his acting credits.
After a few years of trying to prove himself as an actor, John Cena has come onto the scene as a full-fledged action/comedy star. That will only build up with a rumored appearance in James Gunn's The Suicide Squad and an upcoming blockbuster with Jackie Chan, and the Fast & Furious series would be lucky to have him on their team.
Because if they use John Cena appropriately, his sensibilities would be perfect for the franchise — much in the same way that fellow mega-star wrestler-turned-actor Dwayne "The Rock" Johnson has fit comfortable into the film, particularly with the spin-off Hobbs & Shaw slamming and crashing its way into theaters later this summer. Here are some films that prove John Cena has exactly what it takes to fit into this oversized, over-the-top blockbuster series.
The Marine
Admittedly, The Marine is not a great movie. As John Cena's first major acting credit and first lead role, it was an underwhelming experience for both the actor and his eventual star power, and it proved that his magnetic star power wasn't quite as easily translated to the screen compared to the ring. Yet, for all its faults, there is something to glean in John Cena's appearance. Even though it's ultimately one of his weaker movie efforts, it is evident that, even in subpar films such as this one, Cena has movie star screen presence, especially in the action movie world, and he made the most of it.
In the film, it's apparent that John Cena is not someone you want to mess with. With his bulky muscles, his mean-mugging glare and his desire for vengeance, The Marine did establish that if put into better movies, John Cena would be a legitimately threatening, ready-for-anything action star. And it's typical of action stars to not get their full due the first time around.
After all, do you remember Arnold Schwarzenegger for Hercules In New York? I didn't think so. It took a couple films before The Terminator and Conan the Barbarian happened, and the rest is history. Sure enough, John Cena found the films that played to his strengths in due time. The Fast & Furious series is definitely one that'll let him to flex his muscles — in more ways than one.
Trainwreck
Thankfully, while John Cena was trying to prove himself as an action star with underwhelming efforts like The Marine and 12 Rounds, Trainwreck finally gave the wrestler his chance to shine as an actor — albeit in a comedic fashion. In the role of Steven, an extremely muscular, if ultimately awkward, on-and-off boyfriend of Amy Schumer's Amy, the heavyweight champion proved he had a surprise knack for lighthearted comedy, and his improvisation experience taunting other wrestlers at the WWE proved to be extremely beneficial working on the set of this Judd Apatow rom-com.
While Trainwreck isn't ultimately a "John Cena movie" per se, with the actor playing a memorable supporting character at most, he did steal the show in the scenes he's in, and it was clear that Cena had more to give than producers initially gave him credit. With that, it was apparent that Cena needed to expand himself into more comedic roles, and that allowed the actor to appear in comedies such as Sisters, Blockers and Daddy's Home 1 & 2.
In a similar fashion, it took some time before the Fast & Furious fully embraced its goofiness with a gleeful spirit, and that desire for the cast and crew to own up to the silliness that audiences love will undoubtedly be even bigger and hopefully better with Fast & Furious 9. With that, John Cena made it apparent that in addition to playing up his tough guy side, he could also be a softy with a lot of laughs to provide. That'll certainly come in handy here.
Bumblebee
Having hit a streak of comedies after the success of Trainwreck, Bumblebee allowed John Cena to return to his action movie roots. And this time, it gave John Cena a platform that was way bigger than any of the other films he did before. Playing a critical antagonistic presence inside the world of the Transformers, it is still kinda weird to see John Cena in such a big-time film.
Yet, despite playing the third-lead at most, John Cena makes his presence known in a big way, often playing a time of sullen, menacingly determined figure that can go against the sillier and lighthearted characters he played. As Agent Burns, a government figure seeking revenge against these menacing figures who've arrived from the depths of outer space, John Cena plays up the menacing threat that hasn't been seen in his career since The Marine.
While Bumblebee isn't a perfect movie, this time around, it proved to be a lot more favorable for Cena than it was the first time. He is given a meatier, more weighted role, and he provides the stakes on a human level that allows people to see how the actor could use that sense of threat in the right context in Fast & Furious, depending on what role he plays in there.
Daddy's Home 1 & 2
Admittedly, in Daddy's Home, John Cena only makes a cameo. And in Daddy's Home 2, his role is still a supporting player. But with both of these comedies, John Cena would showcase a commitment to family in addition to providing the laughs based on his appearance and his surprise knack for quick retorts.
In the role of Roger, a new neighborhood who makes quick an impact, the rising actor wasn't able to provide his best work in either of these lackluster comedies, but I know speaking for myself when I say that his unfortunately minor appearances in each film are definitely highlights.
There is always something heightened about John Cena's appearance. When he's in the room, the stakes are raised and he has the impact to dramatically (or comedically) change the situation in any way he pleases. His taste for lowbrow humor and over-the-top confrontations is definitely seen in these two movies, and they will certainly have a big role to play when he finds himself in the ridiculous, goofy-as-all-hell world of Fast & Furious.
Blockers
There is a trend that can be found in most of John Cena's comedies: humor through loyalty. Whether it's trying to stay committed and true to Amy in Trainwreck, even though she prefers to keep things casual, or his desire to be a dependable, if overprotective, dad in Blockers, it's clear that John Cena knows how to milk laughs out of playing characters who go out of their way to make themselves silly or possible even embarrass themselves for the people they love. And it's particularly with his work in Blockers that John Cena showcased his love for staying true to family and playing a big hand in ridiculous, over-the-top comedy.
Playing Mitchell, an overbearing but deeply emotional and caring father who wants to stop his teenage daughter from losing her virginity on prom night, he was quick to make the whole situation even more ridiculous than it already was from the on-sight. There is something about John Cena that is instantly comedic in certain situations. While he would be in good company arm-to-arm with fellow muscular dudes like The Rock and Vin Diesel in Fast & Furious, in the suburban setting found in Blockers, it's instantly bizarre in just the right way. It's like Superman walking around in Superbad. It's just the right amount of ridiculous.
It's quickly apparent that John Cena is an oversized presence waiting to make an impact, and thankfully he provides big laughs in Blockers. That nice balance of family dedication and boisterous laughs through a complete willingness to commit to the material — no matter how silly it might be, and it will certainly be silly — that would make him absolute perfect for the Fast & Furious movies. At least, that's how I see it — based on these hit movies.
Through a variety of recent films, John Cena has continued to display a dedication and a commitment to his craft that proves that he's ready for bigger things. With that, it makes sense that he would set his sights on Fast & Furious 9. And while his presence might seem distracting to some, it is apparent from his last few films alone that he has both the action and the comedy chops to make it work, if given his time to shine.
The actor is prime to put himself into overdrive whenever the motion calls. And when it comes to Fast & Furious 9, he'll need to put the pedal to the metal more than he ever has before. Given the evidence seen in these movies, however, John Cena should have what it takes to be bigger-than-life in these huge movies.
Your Daily Blend of Entertainment News
Will is an entertainment writer based in Pittsburgh, PA. His writing can also be found in The Playlist, Cut Print Film, We Got This Covered, The Young Folks, Slate and other outlets. He also co-hosts the weekly film/TV podcast Cinemaholics with Jon Negroni and he likes to think he's a professional Garfield enthusiast.