The Batman: Would Macaulay Culkin Make A Good Joker?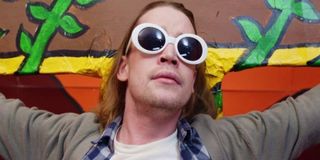 The time has come, once again, to reboot Batman. And it's clear that director Matt Reeves has some big, bold ideas in mind for his exciting new take on The Dark Knight. It was recently confirmed that Robert Pattinson has signed on to appear as the Caped Crusader, and while there are a few folks out there who are nervous or don't think this casting choice is fitting to their taste, the general conscious seems to be excitement about what this actor can do in this role. Certainly, there's great potential to change things up and provide a version of the familiar character that's different and fresh, which brings us to Macaulay Culkin.
With Robert Pattinson paving the way for a new portrayal of the well-revered (and well-chronicled) superhero character, Matt Reeves has an exciting opportunity to give a bunch of other DC Comic characters intriguing new interpretations. The floodgates have opened, and there is room for play with a variety of different possibilities. And one that's being championed throughout the Internet is certainly interesting: Macaulay Culkin as the Joker.
As it was reported by We Got This Covered, there are many fans out there who think Macaulay Culkin could knock it out of the park playing the Clown Prince of Crime. It's not entirely clear if The Joker is a part of this movie, and with several different versions of the character floating around at the moment, including Joaquin Phoenix's upcoming, reportedly R-rated character study, Joker, which hits theaters on October 4.
Still, it wouldn't be too big of a shock if Matt Reeves decided The Joker could sit this movie out. But if the character does get yet another interpretation in this new blockbuster, there are fans all around the interwebs who think that Macaulay Culkin would be a perfectly odd fit for such a twisted, iconic villain. And it does have potential.
But would it work? It's hard to say for sure. Let's break down the pros and cons of Macaulay Culkin playing The Joker in Matt Reeves' The Batman.
The Pros Of Macaulay Culkin Playing The Joker
Admittedly, some of the best casting decisions for the Batman movies have been met with early trepidation. Remember when people were hesitant about Michael Keaton playing Batman? Or when people thought Heath Ledger couldn't pull off the Joker? Clearly, these folks weren't prepared for what each actor could bring to their respective roles.
And while not every bold choice has paid off in the long-run, like Jared Leto's ill-fated portrayal of the Joker in Suicide Squad, DC is often at its best when it makes a brave decision and really runs with it, haters be damned. That's what makes the strange, yet beguiling, possibility of Macaulay Culkin playing The Joker all the more intriguing, and one that — if done well — could really do wonders.
This past weekend, I watched Seth Green's Changeland. Playing the role of Ian, a drunken, rambunctious, care-free boat captain in Thailand, it was a nice change of pace (no pun intended) to see Macaulay Culkin in such a fun, sporadic role such as this one. Being that it was the first new movie I've seen the actor appear in in well over a decade – in fact, 2004's Saved! was the last movie with Macaulay Culkin in it that I saw —it felt like being reacquainted with an old childhood friend. And in this film, I saw the potential that could be gleaned in the former child actor's second career phase.
While the movie is unfortunately an underwhelming experience overall, this independent dramedy finds Macaulay Culkin loosening up and having fun in a goofy, lighthearted supporting turn. There is a freedom, a liberation, to this role in Changeland that feels refreshing and comfortable, showing that the actor is finally ready to step away from the baggage of being a child star and opening himself up with open arms to new, daring possibilities as he gets intensely close to middle age. (I apologize if that sends anyone into a flood of existential panic.)
Having conformed to the expectations of everyone around him, including his parents, at a young age during his early days in Hollywood, Macaulay Culkin finally feels creatively liberated in a way that offers an array of possibilities for his future. The actor is starting weird bands centered around pizza, and making websites that focus on bunny ears. There is a goofiness and a playfulness to Macaulay Culkin these days that is joyful to watch. Yet, in the right director's hands, that spontaneous spirit and rambunctious attitude can be used to play a sinister, unhinged character like The Joker.
There are several different takes on The Joker, and it's hard to know what direction Matt Reeves would want to take with the character. But one of the core components of The Joker's character is that he uses his jokes and gags to mask his deep-seated pain from a troubled past. When everything is a joke, you can always put a smile on your face. After all, The Joker laughs so he never has to cry.
And beyond that, The Joker is also someone who finds twisted delight in the foul, maniacal plans that inform his decisions to cause havoc and chaos in Gotham. The right actor could channel that wild, strange sense of humor and play up the pure anarchy of that character. In that sense, Macaulay Culkin found find that inspiration pretty easily.
These things aren't an exact science, but there's reason to believe that Macaulay Culkin has the potential to play a distinctive, memorable Joker.
The Cons Of Macaulay Culkin Playing The Joker
There are some actors who will always be associated with their past characters. That's especially true when it comes to former child actors. People will always see Haley Joel Osment as the kid from The Sixth Sense. Jaleel White will always be seen as Urkel from Family Matters. And there are always going to be folks who instantly associate Macaulay Culkin as Kevin McCallister from the Home Alone movies, no matter how hard he tries to do something different.
Unfortunately, there is a concern that no matter how much effort Macaulay Culkin puts into The Joker, there will always be people who can't be drawn into the performance because all they can see is Kevin McAllister as an adult parading around in clown make-up. That's not fair, and it shouldn't discourage the actor from trying to push himself as a performer, but it's a sad reality of the situation that there will be folks that won't give the actor the same benefit of the doubt they gave Heath Ledger when he played the iconic part in Christopher Nolan's 2008 masterpiece, The Dark Knight.
There's also the concern that no actor — no matter how great they may or may not be — will ever be able to top the interpretations we've gotten in the past. At this time, there are already three great and legendary portrayals of The Joker: Jack Nicholson, Heath Ledger and Mark Hamill. It's hard to think that anyone will be able to bring their own spin on the character that matches what any of these fine actors have done with the part. Of course, it's not impossible; it's just very, very hard. And the sad truth of the matter is that Macaulay Culkin isn't proven as an adult actor — at least, not yet.
Macaulay Culkin is very infrequent as an actor these days. Like I said earlier, before I watched Changeland, I hadn't seen him in a movie since 2004. And there are many folks out there who probably haven't seen him in a movie since 1994's Richie Rich or 1992's Home Alone II: Lost in New York. It has been decades since many mainstream moviegoers have seen Macaulay Culkin, and it's be startling for many of them to see this one-time child actor for the first time in nearly three decades playing The Joker. Of course, that could work fabulously or backfire enormously. It's very hard to say.
Casting choices are always a gamble, and nothing is ever a guarantee in the moviemaking business. But there are a lot of people championing Macaulay Culkin to play The Joker. While there are many casting choices made by the collective hive-mind of the internet that are dubious-at-best, there are also some surprising casting choices that are kinda amazing – if the movie does them right. This is one that I, personally, could see working.
Of course, all this speculation could be for naught. Like I said earlier, it's highly possible that The Joker wouldn't even be in this movie. And it's also equally possible that if the character is in the movie, the director and producers already have a slew of casting choices in mind that don't involve Macaulay Culkin. In any case, if they do decide to put Culkin in the movie in this extremely famous role, it could prove to be another example of how, much like Robert Pattinson's casting choice for Batman, Matt Reeves and company could provide new, invigorating takes on well-known characters.
Do you agree with us that Macaulay Culkin could play a pretty interesting Joker? Are you more on the pro or con side of the equation? Let us know in the comment section below what you think of the possibility of Kevin McAllister becoming The Clown Prince of Darkness.
Your Daily Blend of Entertainment News
Will is an entertainment writer based in Pittsburgh, PA. His writing can also be found in The Playlist, Cut Print Film, We Got This Covered, The Young Folks, Slate and other outlets. He also co-hosts the weekly film/TV podcast Cinemaholics with Jon Negroni and he likes to think he's a professional Garfield enthusiast.