10 Underrated Netflix Movies You Really Need To See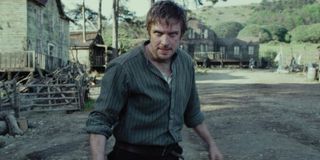 It used to be that Netflix would put out a movie or two every so often in order to entice viewers to sample some of their original streaming wares. But now, we're in a full-blown content frenzy, with the company dropping new movies and shows pretty much every week of the month.
As such, some titles might slip under the radar and continue to evade viewers due to their rather underrated status as Netflix Originals. And while there's nothing wrong with certain breakout titles getting their share of the glory, there's always that undercurrent of hidden gems that are just waiting to be enjoyed when you've finished binging Orange Is The New Black.
Submitted for your approval are the most underrated Netflix films you should be throwing into your queue immediately after you've finished this list.
The Fundamentals Of Caring
Drama and comedy mix well together, but you really need to know what you're doing in order to make it work. The Fundamentals of Caring is one of those movies that understands the balance that makes those two genres blend, and it boasts a cast that also knows how to play to the story's strengths. Centered around the characters of Ben and Trevor, played by Paul Rudd and Craig Roberts, respectively, the film starts out introducing this pair as caregiver and patient.
But with a road trip to the world's deepest pit being the tie that binds them through The Fundamentals of Caring's heartfelt plot, there's plenty of time for pranks and picking up fellow travelers like Selena Gomez's runaway Dot. A welcome spin on the time honored road movie, Ben and Trevor's friendship makes for a strong story of how two people can come together through similar brands off-beat humor.
I Am Mother
Robot apocalypses can be counted on to tell a story about what it means to be human. So it's no surprise to see I Am Mother jump into just that story. But the twist that turns the film into fresh blood in the sci-fi veins is the fact that Mother, a robot voiced by Rose Byrne, has actually raised her own human named Daughter, played by Clara Rugaard in her young adult phase.
Loyalty is tested when Hillary Swank's Woman comes into the picture, as she breaks into Mother and Daughter's safe haven, despite the environment outside being claimed to be lifeless by Mother herself. One senses that a twist is coming with I Am Mother's hook in play, and it isn't long before the truth is revealed, leaving its viewer to pick their jaw up from the floor in time to enjoy the film's big finale.
Set It Up
Romantic comedies tend to focus on one couple falling in love, through the forces of fate drawing them together in the name of that many splendored thing. But Set It Up isn't content to just sit back and let one couple fall for each other, as the film instead sets out to pull off a rare double romantic connection.
What starts as assistants Glen Powell and Zoey Deutsch trying to make their workaholic bosses Taye Diggs and Lucy Liu fall in love soon turns into an unbreakable friendship between the two leads. But then, as any good rom-com tends to do, Powell's Charlie and Deutsch's Harper start to fall for each other. To say any more would ruin Set It Up's charming plot, but just know that if you're looking for a solid romantic comedy fix, you won't be disappointed.
Dumplin'
There is pretty much nothing you can't do without a little bit of Dolly Parton's unique brand of optimism and pageantry. And strangely enough, the pageantry angle is what helps Dumplin' stand out from its YA competition, which is true for both Julie Murphy's literary source material as well as director Anne Fletcher's adaptation of that very book. That, and the film has a great, big beating heart occupying the spot other films would fill with too much quirk.
Much like Patti Cake$ before it, Danielle McDonald makes another impressive impression in Dumplin', a story that sees McDonald's title character competing in a southern beauty pageant to spite her beauty queen mother, played by Jennifer Aniston. Of course, with any good teen rebellion comes the point where our protagonist actually learns a life lesson, and the girl also known as Willowdean learns that lesson through her quest to best her mother's expectations, as well as the world's.
Mowgli: Legend Of The Jungle
Mowgli: Legend of the Jungle was supposed to be a theatrical blockbuster, but the Andy Serkis-directed film found its fortunes shifting once it was acquired by Netflix. But if there was ever an example of a movie that shines like a theatrical diamond in the hypothetical streaming market rough, it's this mature and grounded retelling of Rudyard Kipling's The Jungle Book.
Boasting a voice cast that includes Christian Bale, Benedict Cumberbatch, Cate Blanchett and Serkis himself, Mowgli: Legend of the Jungle is a darker beast than that of Disney's The Jungle Book. Rather than working the musical-comedy angle, this film aims to hew closer to the dramatic version of Kipling's original story. So if you're looking for a family treat you can share with younger children, you might want to look elsewhere. But if your children are older and have already seen Disney's version of the tale, it's a good time to show them how the same story can differ with the right change of tone.
The Babysitter
When starting The Babysitter, it feels like it's going to be a typical coming of age comedy with a bit of an edge to it. And then that edge takes a sharp left turn into a horror-fueled thrill ride about a bunch of teenagers trying to complete a demonic ritual. What follows is a darkly comic mashup between both of the genres present, with moments of gore, gags and gasps all taking turns entertaining you, the audience.
Just when you think The Babysitter has committed to being either a horror tale, a comedy, or a thriller, it shifts into another gear and revs up to the next twist. This one's perfect for a quick movie night at home or sharing with some friends in the name of fun.
The Ritual
Should you want a double feature that involves dark magic and unsuspecting prey, The Ritual is the perfect film to pair with The Babysitter. Although while that second film has more of a comedic punch to take the horror edge off, this literary adaptation dives headlong into darkness and fear. Based on Adam Nevill's novel, The Ritual sees four college friends reunite for a hike through Sweden, in the name of a friend who had been killed in a senseless murder.
What starts as an adventure turns into a fight for survival, as the woods that the gang seek to take as a shortcut turn into a treacherous battleground where reality isn't quite as it seems. That uncertainty is only part of what makes The Ritual an effective horror film, as what's hiding in the darkness is quite menacing once revealed.
Like Father
Rom-coms are a specialty when it comes to the Netflix Original canon, as you can see with our previous pick Set It Up. But not all of the films in that particular vein are created equal, as you'll see in the Kristen Bell/Kelsey Grammar dramedy Like Father. The film starts with Bell's protagonist being ditched on her wedding day, due to her workaholic personality. But rather than seeing Bell's protagonist, Rachel, paling around with a best friend in a drunken stupor, writer/director Lauren Miller's film takes a rather interesting twist.
Instead, her long absent father, played by Kelsey Grammar, is the one who accompanies her on the bar crawl that leads into an accidental vacation. As father and daughter get to know each other better, and Rachel starts to find a connection with a fellow passenger, Like Father is atypical for the sort of film it starts out as; and it continues to surprise throughout its course of events.
Apostle
Here's an interesting proposition: say you've just finished Good Omens on Amazon Prime and you're interested in some more Michael Sheen action. Well, if you're ready to see the man who brought Aziraphale the angel to life turn into quite the devil, Apostle is the way to go! Sheen's character is one of three figureheads of a secretive religious order, who live in their own community and follow their own rules.
But that starts to change when an outsider, played by Dan Stevens, comes looking for his lost sister, in hopes of freeing her from the order's clutches. It's not that cut and dry though, as the goings on in Apostle start to get weirder and more violent as time wears on. Stakes are raised, blood is shed and by the end of the film, nature may have a thing or two to say about what's transpired.
The Polka King
Truth can indeed be stranger than fiction, and what's stranger than the true story of a polka king running a Ponzi scheme? Taking its inspiration from the antics of Pennsylvania polka royalty Jan Lewan and his larger-than-life racket that saw his passions of polka, people and perseverance crashing into reality, The Polka King sees Jack Black playing Jan to the hilt.
Accompanied by Jenny Slate and Jason Schwartzman as his wife and friend who ride into the madness by his side, Black makes you laugh, and just may make you cry, as he wrestles with the schemes he engages in to please his loyal audience. Knowing when to play the clown, and when to play the man, Jack Black's portrayal of Jan Lewan makes The Polka King one of the most interesting biopics to hit the market.
If you've been looking for a reason to keep your Netflix subscription up to date, or are just interested in seeing something new and different on your TV screen, these ten films should be enough to provide your ticket to the excitement you're craving. And with new films debuting at a constant clip, these picks should inspire you to keep your eyes open for what's on the horizon, as any given week could drop your next favorite Netflix movie.
Your Daily Blend of Entertainment News
Senior Movies Contributor
CinemaBlend's James Bond (expert). Also versed in Large Scale Aggressors, time travel, and Guillermo del Toro. He fights for The User.