Spoilers Ruined Fantastic Beasts 2's Dumbledore Twist For Two Harry Potter Stars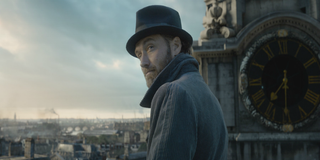 Book readers who thought they had Ancestry.com levels of knowledge about Albus Dumbledore's family history found themselves soundly humbled just a few months ago. During its final minutes, Fantastic Beasts: The Crimes of Grindelwald revealed that Ezra Miller's brooding Credence is actually Albus's brother Aurelius. While J.K. Rowling herself hinted at this twist long ago, it nonetheless came as a massive shock to many fans. Unfortunately, two people with even deeper ties to the franchise didn't know it was coming until it was spoiled for them.
Longtime Harry Potter actors Tom Felton and Oliver Phelps recently revealed to Elite Daily that while they weren't entirely surprised, they definitely didn't expect the twist.
Tom Felton, who played the sneering bully Draco Malfoy, said:
Oliver Phelps, known for his role as the wisecracking, prank-pulling George Weasley, had a bit more knowledge regarding the shocker and thought it was fascinating. He said:
2016's Fantastic Beasts and Where To Find Them wasn't all magical critters and harmless fun. The film acquainted viewers with one of the Harry Potter universe's most powerful villains: Gellert Grindelwald. But it left many of us wanting. Fantastic Beasts: The Crimes of Grindelwald swiftly followed, exploring Grindelwald and throwing in a number of additional twists that didn't pertain to Albus Dumbledore at all. Among them was the reveal that Nagini was once a kind young woman, a tidbit J.K. Rowling apparently had planned all along. She absolutely has more surprises in store, but we won't know what those will be until Fantastic Beasts 3 hits theaters.
Harry Potter and the Deathly Hallows revealed quite a bit about Dumbledore's family history, and after the release of The Crimes of Grindelwald, we now know even more. The film also reveals that, like Harry, Newt Scamander is one of Dumbledore's favorite students. There are more revelations in this film than we could possibly discuss in a news story, but we have you covered if you want to dive deeper into this engrossing series.
The currently untitled Fantastic Beasts 3 was recently pushed back, but we'll likely receive some updates on the film's progress in the coming months. Let's hope the studio makes this next one better than what came before it. We'll see if Johnny Depp returns, too.
Your Daily Blend of Entertainment News