Child's Play Ending Leaves The Door Open For Mark Hamill To Return In Chucky Sequel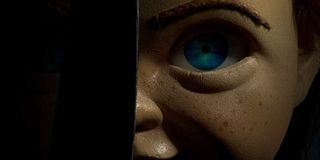 Warning: spoilers for Child's Play are at work. If you haven't seen the film yet, and don't want to be spoiled, turn back from this particular toy box and come back once you're ready to play.
The weekend box office was all about fun and games, as both Toy Story 4 and the Child's Play reboot took audiences on very different journeys involving what happens when the things you play with start to play back. In the case of the horror remake to the 1988 classic, there's actually plenty of room to grow the franchise, so I'm taking a look at where the series could go next.
Even better is the fact that should he want to return, and should fans demand that he do so, Mark Hamill could return as Chucky in a Child's Play sequel. How exactly this could come about is all thanks to the interesting way director Lars Klevberg and writer Tyler Burton Smith have altered the mythos of this iconic killer play thing.
Taking those alterations, and the ending of Child's Play into account, we have a feeling we know where things could head. So with that in mind, let's toy with the idea of just how Chucky can come back for another adventure, with Mark Hamill along for the vocal ride, starting with how the new movie plays out at the end.
What Happens During The Ending Of Child's Play
What was supposed to be the triumphant Black Friday-esque launch of the Buddi 2 turns the local ZedMart into a killing field. As his recent spate of odd behavior, and the murders/disappearances that have happened during said weirdness, have come to a head, Andy (Gabriel Bateman) is brought to work by his mother Karen (Aubrey Plaza), as she's working late for the Buddi 2 launch.
Things are further complicated when Detective Mike (Brian Tyree Henry) starts to pursue Andy, as he believes he's responsible for the death of his mother – who was murdered by Chucky in a fit of jealousy. Of course, no one believes Andy when he states that his new best friend is actually a menacing plaything with a jealous streak a mile wide.
It won't take long to convince them otherwise, as Chucky hijacks the Buddi 2 event by controlling all of the dolls currently on the ZedMart floor. Even worse, he enlists the aid of Kaslan products, such as drones, to help murder as many innocent shoppers as he can. Andy is eventually rescued by his neighborhood friends, but stays behind to save his mother, as she's Chucky's captive.
Andy narrowly saves Karen from being killed by Chucky, and the doll is eventually smashed in an alleyway, with the entire Buddi line being recalled. Though as we see in the final moments of the film, one of the confiscated dolls' eyes start to glow red, and Child's Play comes to an end.
How Chucky Could Return In A Sequel
Now while the original defective Chucky doll in this new Child's Play was created by a vengeful programmer who removed all the safety features, it was his exposure to violent media and kids being kids that ultimately turned him evil. So by the end of the film, his coding is radically different from that of any other Buddi doll, and the film suggests one of his other skills is turning other Buddi units into killing machines.
So, a Child's Play sequel would start to bring Mark Hamill's Chucky back thanks to some good old fashioned "ghost in the machine" weirdness. Not only can he control other dolls and products made by the Kaslan Corporation, but now he can apparently copy himself into another unit if he knows he's threatened.
Even worse, with just one doll infected with Chucky's bad programming, that entire warehouse of Kaslan "defectives" is going to turn into an army of robot doll darkness. Imagine a robot doll army, compete with access to drones, temperature systems, and even self-driving cars. An all-out assault on humanity could be at hand, and it's all because Chucky just wants to be Andy's best, and only, friend.
How Mark Hamill Could Return In A Child's Play Sequel
Even if the Buddi line of Kaslan products was to undergo a massive overhaul, with a new face, voice, and personality, all it would take is one Chucky to bring Mark Hamill's pipes back into the picture. Since Chucky could alter the programming of other dolls, his voice could be heard through any doll or Kaslan product with a voice that he controls. And with his own reservations now dispelled, the voice acting legend could really jump into some interesting territory in the future.
As long as Mark Hamill is willing to jump back into his newly-minted mantle of being the devil doll for a new generation, a bunch of Child's Play sequels could see him terrorize even more victims. And with director Lars Klevberg stating he really wants to dig into the Buddi Bear toys we saw towards the end of the first film, we could even get other variations of innocent toy voices done by Mark Hamill, allowing him to really flex his vocal muscles.
With good Mark Hamill, evil Mark Hamill, and any other Hamill variant in-between on the table for Child's Play follow-ups, the sky's the limit for what his memorable vocal skills could bring. Still, knowing the franchise's history pertaining to the original Brad Dourif voiced Chucky, as well as horror history in general, it's all probably going to lead to the same deadly results we're used to seeing when the toys come out to play in this universe.
As conventional wisdom has taught us, evil never dies. Rather, it just waits for a sequel to try and take us all down once again, and that's where the Child's Play reboot could be headed. It'll ultimately come down to how the film performs over time, but it shouldn't be that hard to bring Chucky back to the playground for another round of battle with Andy and his friends.
Which means that as many times as Mark Hamill wants to sing "The Buddi Song" for Child's Play fans that show up to his continuing antics, the position's pretty much his. And honestly, who could say no to that?
Child's Play is now in theaters, ready to become your best fiend.
Your Daily Blend of Entertainment News
Senior Movies Contributor
CinemaBlend's James Bond (expert). Also versed in Large Scale Aggressors, time travel, and Guillermo del Toro. He fights for The User.