How The Toy Story Characters Were Originally Going To Find Bo Peep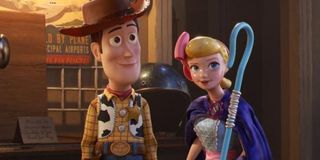 Spoilers for Pixar's latest can be found all over this article, including spoilers about what almost was but didn't quite make the big screen version of the film. If you haven't caught the new adventure featuring Gabby Gabby, Duke Caboom and more, please check out one of our other lovely articles.
It's been common knowledge for months now that Bo Peep was being brought back for Toy Story 4 after having been missing from Andy's toybox (or Molly's room) during the events in Toy Story 3. We've also learned that it was always planned to bring Bo Peep back for this movie. However, Toy Story 4 was a long time coming and a lot changed about the plot along the way.
For example, during an exclusive interview with Toy Story 4 producer Mark Nielsen and director Josh Cooley, the two told CinemaBlend that different drafts of the flick Bo Peep set up in different situations... including one draft where she was still in the antique store! Take a look at what Nielsen and Cooley had to say about how the plot of Toy Story 4 changed from the time writer Andrew Stanton first came up with the secret idea for the movie (seriously, he didn't tell anyone he was working on a fourth movie right away) to its final version, which we can now see on the big screen.
Ultimately, the antiques store does play a big part in Toy Story 4. Forky and Woody end up in the shop after Woody spotted Bo Peep's lamp on a shelf in the window. While there they meet Gabby Gabby and her Benson minions. However, Bo Peep is seemingly nowhere to be found. Later, she saves Woody, who learns Bo Peep and her sheep have been living in the wild, having decided they no longer need a kid. She's strong and brazen and just the type of character Woody needs to see as an example given he is a bit lost thanks to no longer being an important part of his current kid's life.
Mark Nielsen told us that in another draft of the animated movie, Bo Peep had been waiting around in the antiques store, hoping to be bought so she could impact another kid, similar to how Andy's toys are now Bonnie's toys. That's a totally different spin on the character we see in the final draft, as Bo Peep is tougher in that version. She no longer hopes or wishes for a kid and wants to maintain her current freedom to move and roam and not have to play dead when people are nearby. If she had still been in the antiques store, hanging out with the forgotten toys who are living there, she may not have been as tough or liberty-minded in the version Annie Potts voiced for the big screen.
Given Annie Potts told us she likes Bo Peeps survivorship and "heartful" nature in the final draft, it's likely safe to say this final version was the right take on Bo Peep's big screen return. Still, it's nice to think about alternate realities where Toy Story 4 perhaps had a different take on Woody and Bo Peep, particularly given this could always be the end of the franchise as we know it.
In addition, Josh Cooley mentioned to us that there was even an ad both Woody and Buzz were going to see on television that showed Bo Peep in the background and that set the two pals off on the adventure. Where that would have left Forky? I'm not sure, but given the advertising version of this narrative, it seems like Woody's journey could likely have been very different from start to finish.
Honestly, there were a lot of changes to Toy Story 4 as it was coming together. It was a years-long process that included incorporating a bunch of Pixar Easter eggs, working and reworking the plot, and even losing some characters the creative team loved, which seems like it would have to be difficult in some ways.
Related: Pixar Easter Eggs And References In Toy Story 4
Josh Cooley has been open about how the creative team ultimately had to cut a character they loved, a character that would have been "a crowd pleaser" but just couldn't be worked into the plot in a satisfying way. Cooley also told CinemaBlend during interviews in Orlando that he really wished the character had made it, giving us more details about what we could have expected from the "crowd pleaser," a Dancing Santa figurine.
Not all of the characters we've met over the years can make it into every Toy Story franchise movie, but the creative team did an admirable job working in a lot of fan favorites, including RC and Combat Carl. Plus there are a slew of new characters to still get excited about as well, even if Doomsday Santa didn't make the cut. Those characters include Forky, played by Tony Hale, Gabby Gabby, played by Christina Hendricks, and Duke Caboom, played by Keanu Reeves (and animated by a slew of Canadian animators).
You can catch all the characters new and old in action in theaters now.
In fact, Toy Story 4 had a pretty solid opening weekend, though we'll have to wait and see how Pixar's latest flick fares once there's more competition at the box office (including other Disney title Spider-Man: Far From Home, which officially hits theaters at the very beginning of July, just a few short weeks after Toy Story 4's premiere). It's been a long and blockbuster-heavy summer so far, but stay tuned and keep an eye on our movies schedule to see what's coming up next in 2019.
Your Daily Blend of Entertainment News
Reality TV fan with a pinch of Disney fairy dust thrown in. Theme park junkie. If you've created a rom-com I've probably watched it.