Why Diego Luna Was 'So Disappointed' At The End Of Rogue One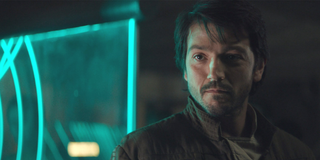 When Rogue One: A Star Wars Story was first announced, I was one of those people who wrote it off as a stupid, unnecessary, plot-hole-closing film that couldn't possibly stand a chance at the box office. Now, while the finished product is far from perfect, its final 45 minutes treats viewers to one of the greatest final acts ever written/executed in a Star Wars film. Unfortunately, while some of the actors involved accepted the ending, others were left utterly disappointed by the fates of their characters. The most tragic part? The film almost had a happy ending.
Here's a quick refresher for more casual viewers: In an effort to stop the Empire's Advanced Weapons Research director Orson Krennic, a ragtag group of rebels race to confront the Death Star, a super weapon of unequaled destructive might. Unfortunately, the mission proves costly, killing every member of the team but giving them one notable victory before they go, leading fans right up to the events of the first Star Wars film, A New Hope.
Diego Luna, who plays rebel fighter Cassian Andor, conveyed his disappointment during an interview with SYFY Wire. Of his on-screen death, he said:
So there you have it. It's worth noting that Diego Luna will return to the role in Disney+'s upcoming Rogue One prequel series, but knowing his ultimate fate kinda puts a damper on things (although it was a fitting ending for these characters). But let's also remember that Luna called Rogue One the most realistic Star Wars movie, which has a faint positive connotation attached to it and points to an obvious respect for the film. The prequel series will be one of a handful of the streaming service's live-action shows, alongside The Mandalorian and others. These will reportedly cost a ton of money so hopefully the expenditures will be worth it.
You can catch Diego Luna as he reprises his role as Cassian Andor when his series premieres on Disney+.
Your Daily Blend of Entertainment News