2019 Comic-Con Cosplay Photos Include Funko Pops And A Really Cute Dog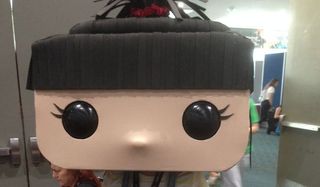 Here's the interesting thing about costumes during Comic-Con. You might expect, if there's a Game Of Thrones panel for example, that many, many more people than usual would choose to cosplay as a Game Of Thrones character on that day. For the most part, however, that doesn't really happen, at least in my experience. There may be a few more than usual, but on the whole, people just roll with whatever they want, whether it has any connection to Comic-Con or not. For example: why did I see a woman driving around a dog in a remote controlled car? I don't know, but it all works here.
You can take a look at some of the best photos we got today down below. Some of my favorites included Jessica Rabbit, an A+ balloon animal and the giant Funko Pops, including the one at the top of the article. Well played, everyone. We hope you had fun.
Image 1 of 33
Image 2 of 33
Image 3 of 33
Image 4 of 33
Image 5 of 33
Image 6 of 33
Image 7 of 33
Image 8 of 33
Image 9 of 33
Image 10 of 33
Image 11 of 33
Image 12 of 33
Image 13 of 33
Image 14 of 33
Image 15 of 33
Image 16 of 33
Image 17 of 33
Image 18 of 33
Image 19 of 33
Image 20 of 33
Image 21 of 33
Image 22 of 33
Image 23 of 33
Image 24 of 33
Image 25 of 33
Image 26 of 33
Image 27 of 33
Image 28 of 33
Image 29 of 33
Image 30 of 33
Image 31 of 33
Image 32 of 33
Image 33 of 33