The Internet Is Having A Field Day With Hobbs And Shaw's Flashbacks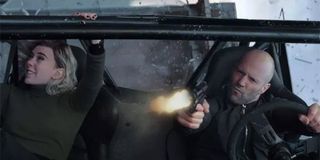 If you were one of the many people who saw Hobbs & Shaw in theaters this weekend, you probably saw a lot of truly unbelievable things during high-impact chases and fight scenes. However, what seems to have the Internet the most riled up is the age difference between Jason Statham and Vanessa Kirby, who play siblings Hattie and Deckard Shaw in the new Fast & Furious universe spinoff.
For many fans, it wasn't Idris Elba's "black Superman" or vehicles grounding a helicopter that turned them off, it was the age difference between Jason Statham and Vanessa Kirby that caused them to draw the line between what they saw as unrealistic fun and utter ridiculousness.
People seriously had a field day online pointing out that Jason Statham just so happens to be 52 while Vanessa Kirby is only 31 in real life.
The thing is, siblings are often years and years apart. In the Fast & Furious movies, Deckard Shaw and Hattie Shaw even have another middle sibling separating them who is played by Luke Evans, an actor who just so happens to be 40 years of age. He is a character that is the middle sibling and bridges their ages, but unfortunately he's not in Hobbs & Shaw at all.
So, I hope people aren't as mad about the age gap between siblings as they are with the way Hobbs & Shaw uses flashbacks in the movie. And this is where I start to get into some minor spoilers. Don't say I didn't warn you!
Apparently, Deckard Shaw and Hattie Shaw got into some grifts as kids, one of which is The Mick Jagger, a grift that is shown in flashbacks when Deckard and Hattie are kids before being used later in the movie. The issue is not the grift or the time period, but the fact that Deckard and Hattie are only shown to be a few minor years apart in the flashback. It's not like she's a 10-year-old kid running around with her 30-year-old sibling, which would be kind of weird anyway.
I suppose given actors play characters all the time outside their age range, that could be the attempt here. Jessica Rothe—who is roughly the same age as Vanessa Kirby—has been playing a college student in the Happy Death Day franchise in her thirties. Kirby has a pretty mature look and outlook in the movies, and could theoretically be playing older than she actually is while Jason Statham I assume is still trying to look as if he's in his forties and not his fifties.
At the end of the day, if that's the case, people even seemed to be personally affronted the movie would even attempt to pass the two actors off as being of a similar age. One person noted Vanessa Kirby wasn't the right age to play Jason Statham's wife, much less sibling.
I would like to take this moment to point out that in real life Jason Statham is engaged to Rosie Hungtington-Whitely, who is 32 years of age at the time of this writing. They have one child together, born in 2017.
Another even took the flashback gaffe as a sign that Hobbs & Shaw really saw no value in timeline continuity or believability.
The issue between the actual real-life ages of Vanessa Kirby and Jason Statham is something I noticed and thought was a little weird during the flashback scenes in my own screening, but to be totally honest, it didn't take me out of the movie all that much. I guess I'm just used to actors playing older or younger, but your experience may vary depending on how much this sort of thing bothers you.
That said, if you are expecting Hobbs & Shaw to place a lot of value on creating plotlines that make total sense, you may be out of luck. I personally still think it's a blast though.
This poll is no longer available.
Reality TV fan with a pinch of Disney fairy dust thrown in. Theme park junkie. If you've created a rom-com I've probably watched it.